Bobcat Bucket List
Dance to the Sound of the Bagpipes
The Lees-McRae community knows well the sound of a bagpipe. This instrument, symbolic of the College's Scottish ancestry, is played at the beginning and end of every major ceremony including convocation and graduation.

View the Bobcat Bucket List >>

End of Semester Announcements
Spring 2014 Exam Schedule
Saturday, May 3 - Wednesday, May 7

Click here to view the schedule >>

Extended Library Hours
| | |
| --- | --- |
| Monday - Tuesday, May 5-6 | 8 a.m. - Midnight |
| Wednesday, May 7 | 8 a.m. - 5 p.m. |
| Thursday, May 8 | 8 a.m. - 4:30 p.m. |
Food Service Hours of Operation

The Dining Hall will close after dinner (4:30-6:30 p.m.) on Friday, May 9.

Wily's Bar & Grill will close after dinner (5-10:30 p.m.) on Wednesday, May 7.

When to Leave Campus

Students are required to leave campus within 24 hours of their final exam or by 11 a.m. on Thursday, May 8, whichever comes first. For example, if your last exam is at 2 p.m. on Monday, your check-out time must be before 2 p.m. on Tuesday.

The only exceptions are for graduating seniors and those with responsibilities for graduation. If you have a responsibility for graduation, you must contact the Housing Office as soon as possible. College residence halls are closed during Commencement and the Summer Session.

Summer Storage

Lees-McRae College will not provide summer storage. Students are encouraged to contact businesses that provide this service in the surrounding community. A list of area businesses can be found on the closing information board in the Student Center.

Summer Classes

If you plan on taking summer courses at Lees-McRae College and need housing, please contact the Housing Office as soon as possible. Housing plans and meal plans are available.

Learn more about summer classes >>

2014 Commencement Information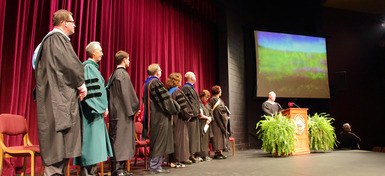 Presentation of Gifts and Commencement Rehearsal
Friday, May 9 at 1:45 p.m. on Tate Lawn
Rain location is the Williams Physical Education Center.
Attendance is mandatory.

Baccalaureate Dinner
Friday, May 9 from 4:30 to 6:30 p.m. in MacDonald Dining Hall

Normally, 300-350 people attend the dinner. In order to maintain a steady flow, doors will open at 4:30 p.m. We hope this will help eliminate longer lines at the buffet. The cost is: $14.00 adults, $7.00 children 6-12 yrs., and free for children 1-5 yrs. Graduates will receive a complimentary ticket for their meal at no cost. Guests must purchase a ticket in advance through the Registrar's Office to attend the dinner.

Baccalaureate/Hooding Service
Friday, May 9 at 7 p.m. in Hayes Auditorium

Students are asked to wear their gown, and bring their hood and cap to this service. Students will need to line up for this service at 6:30 p.m. outside of the cafeteria. If it rains, students will line up in MacDonald Dining Hall.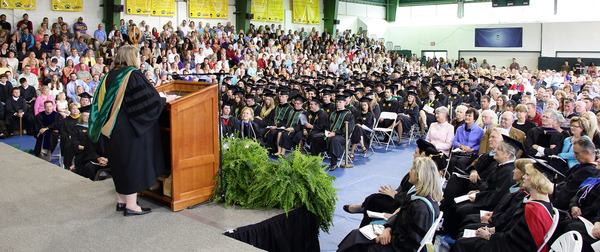 Commencement
Saturday, May 10 at 11 a.m. on Tate Lawn

Rain location is Williams Physical Education Center. Should weather conditions mandate a change, a decision will be made Wednesday, May 7 and posted on the Lees-McRae website.

Graduates need to be in Hayes Auditorium by 9:30 a.m. to robe and line-up. Sunday dress beneath academic robes is appropriate.

Lees-McRae College Board of Trustees member and former chariman, Thomas H. Brigham, Jr. '72, has been chosen as the 2014 Commencement speaker along with former Board of Trustees chairman, Jane B. Stephenson '57. Mr. Brigham will present his keynote address titled "Pursuing your passion and living life for significance," and then Ms. Stephenson will present her address titled "Leap into life and make a difference."

Parking

Parking will be available at the following sites: Chaffee Administration Building, Hayes, Avery and Williams Physical Education Center parking lots. Signs will be posted for shuttle service at each location. The College has reserved parking spaces for guests with mobility impairments; however, the total number of parking spaces is limited. To park in one of these reserved spaces, a valid permit is required.

Disability-Related Needs

Areas within the seating section have been reserved for wheelchair users and handicapped individuals. Up to two seats maximum, per graduate, can be reserved for handicapped individuals.

Photography

As each graduate is handed his/her diploma, a picture will be taken by a professional photographer. A free color proof will be sent to your current mailing address, including a password for online viewing. You are under no obligation to purchase prints.

To receive an email notification the moment your photos are online, please visit www.photospecialties.com to pre-register. If you do not receive a proof within a week of the ceremony, please contact info@photospecialties.com or call 1.800.722.7033.

Click here for more information about commencement >>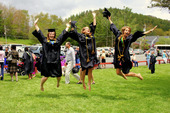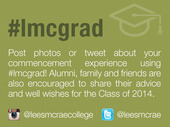 1-7

24-hour Quiet Hours in the Residence Halls

3-7

Exam Week

7

Wily's Bar & Grill closes at 10:30 p.m.

9

Presentation of Gifts and a Toast for Graduates (1:45 p.m. on Tate Lawn)





Commencement Rehearsal (2 p.m. on Tate Lawn)



Alpha Chi Inductions (4:30 p.m. in Evans Auditorium)

Baccalaureate Dinner (4:30-6:30 p.m. in MacDonald Dining Hall)

Senior Class Photo
(6:15 p.m. on North Carolina Building steps)

Baccalaureate Service (7 p.m. in Hayes Auditorium)

MacDonald Dining Hall closes at 6:30 p.m.

10

Commencement (11 a.m. on Tate Lawn)

15

Parking Permit Registration Begins

19

First Day of Summer Classes

26

Memorial Day - no classes
| | |
| --- | --- |
| 29 | Kiss Me, Kate (Summer Theatre) (June 29-July 6) |
| | |
| --- | --- |
| 4 | Fourth of July Holiday - no classes |
| 9-13 | ESCAPE 2014 |
| 16-20 | A Grand Night for Singing (Summer Theatre) |
| 24 | Last Day of Summer Classes |
| 25 | Summer Classes Final Exam |
---
Bobcat Celebrations

Congratulations, Sigma Beta Delta Inductees

On Thursday, May 1, students in the Division of Business Administration were inducted into Sigma Beta Delta, the international honor society for business, management and administration.
---
News to Note

Lees-McRae College signs cooperative agreements in China
Read more >>

Criminal Justice class experiences a simulated crime scene conducted by the Avery County Sheriff's Office
Read more >>

Performing Arts class performs Alice in Wonderland at three local elementary schools
Read more >>

Webb Named Conference Carolinas Outdoor Men's Field Performer of the Year
Read more >>