Lees-McRae Families,

The academic year is a off to a great start! The faculty and staff hope you are receiving good reports from your Bobcat.

This is your first installment of the Family Association e-newsletter. Monthly, you will receive an e-newsletter containing information just for you. The Lees-McRae experience is not only for your student, we want you to be engaged in and excited about what's going on here, too.

With questions, concerns, or thoughts, please don't hesitate to contact Dean of Students Allison Norris at NorrisA@lmc.edu or me at HartC@lmc.edu.

Go Bobcats!



Caroline Hart
Vice President for Advancement

---
Academic Affairs Updates
Based on student interest, marketplace demand and a generous commitment from Daniel and Dianne May, Lees-McRae College is pleased to offer undergraduate degree programs in Nursing and Allied Health, pending accreditation by the Commission on Collegiate Nursing Education (NNCE) and the Southern Association of Colleges and Schools (SACS). The first nursing cohort will enroll in fall 2013.

Plans are underway to implement a Retail Management concentration within the Division of Business Administration.

Based on the interest of current and prospective students, the College plans to reinstate the History major.

The Carson Library has been restructured to include the following student services: Career Services, Honors Library, Library Services, and Tutoring Services. The library has seen an increase in visitors since the restructuring. Approximately 1,500 visits are made each week.
Career Services News
Each Wednesday is Career Day at Lees-McRae College. Students and employees are encouraged to dress professionally from 8:00 am to 5:00 pm and participate in career education programs.

A Career Lunch and Learn Series will be held on the second Wednesday of each month from 11:30 am to 1:00 pm in the Heritage Dining Room.

The Graduate School fair is scheduled for Wednesday, September 26 from 12 noon to 4:00 pm in the Cannon Student Center.

The Job and Internship Fair is scheduled for Wednesday, October 24 from 12 noon to 4:00 pm in the Cannon Student Center. Many businesses will be present to talk with students, including the Home Depot Corporation. Representatives from Home Depot will also provide a special presentation to Business Administration students about the benefits of working for the Home Depot Corporation.
Student Development Updates
Students sometimes face both academic and personal issues while attending college. These issues can become intense and may interfere with academic performance and satisfaction of life. The College's counseling center provides a place for students to work through their concerns in a safe, confidential environment. Some like to think of counseling as taking a class on yourself, where the only curriculum is discovering your ability to thrive. To make an appointment, students may email Dr. Hall at hallj@lmc.edu or call 828-898-3155.
Counseling Staff:
Dr. Janice Hall, Director of Counseling and Disability Services
Ms. Catie Beaulieu, Counseling Intern
A Registered Nurse is available on campus daily Monday - Friday to assist the students in treating illnesses and injuries. Only over-the-counter non-prescription medications are dispensed from Davis Health Services (located in Cannon Student Center). There is no charge for a visit. The nurse will assist in obtaining a doctor's appointment or hospitalization, if needed. No appointment is needed to see the nurse.
A Nurse Practitioner is available every Thursday, at no cost or insurance required to see students. The Nurse Practitioner is able to write prescriptions. Students may make appointments to see the Nurse Practitioner by visiting health services, emailing Griewisch@lmc.edu or by calling 828-898-8862.

Health Services Staff:
Mr. Carl Griewisch, RN, College Nurse
Ms. Traci Knight, NP, Nurse Practitioner
The Student Government Association meets every Thursday night at 6:00 pm in Evans Auditorium. Every LMC student is a member of SGA and all students are encouraged to attend meetings to learn about campus events, voice praise and concerns, and/or to make a difference on our college campus. SGA is a great way for students to learn and experience what it means to be a leader!
SGA Contacts:
Ms. Cassie Messer, SGA President, sga@lmc.edu
Mr. Justin Kitts, SGA Advisor,Kittsj@lmc.edu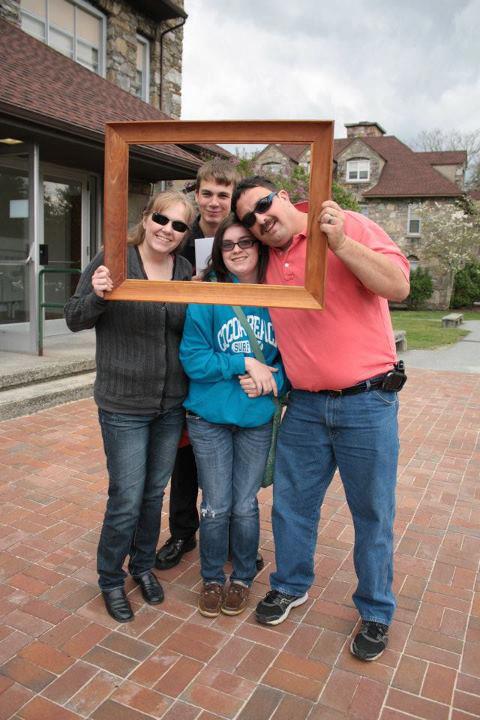 Dates to Remember
Every Wednesday: WOW (Worship on Wednesday) in Cannon Student Center
September 28: Last day to withdraw from a course
October 5 – 7: Homecoming
October 13 – 21: Fall Break
Did you know?
Lees-McRae College and the Banner Elk community is a very safe place to live, study, and visit. The College's Office of Security works 24 hours a day/7 days a week. To learn more about how safe your student is on campus, please go to http://www.lmc.edu/student_life
/security/.


Like Us on Facebook

Lees-McRae College
Family Association


Brrrr…It's Getting Chilly

The seasons are definitely changing in Banner Elk. Fall Break is a great time to round up cold weather clothes and bring them back to campus. Don't wait until Thanksgiving Break, because we could easily see snow in October!