Bobcat Bucket List
Take a Hike in the High Country
The North Carolina High Country is a perfect home for outdoor enthusiasts and those who just like a little fresh mountain air. With Grandfather Mountain, Hebron Rock Colony, Linville Falls and Linville Gorge, just to name a few, in close proximity to Lees-McRae, there is no excuse for not enjoying the College's beautiful location.

View the Bobcat Bucket List >>

Events You Don't Want to Miss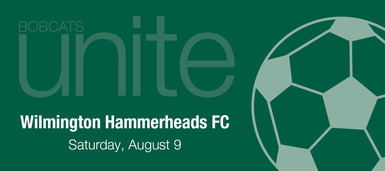 Meet us on the pitch with the Wilmington Hammerheads!
Saturday, August 9 from 6-7:30 p.m.

Join us for a complimentary BBQ dinner in a private party tent inside the stadium before the game begins at 7:30 p.m. Then enjoy complimentary entry into the game, courtesy of your alumni association.

Wilmington Hammerheads FC vs. Dayton Dutch Lions
2149 Carolina Beach Road
Wilmington, NC 28401

Please RSVP by Friday, August 1 to Jillian Rosato, director of annual giving and alumni relations, at rosatoj@lmc.edu or 828.898.2534.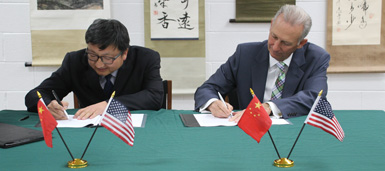 Lees-McRae welcomes Chinese delegation and inaugurates Chinese Culture Center in the James H. Carson Library

On Tuesday, May 20, Lees-McRae welcomed a small delegation of Chinese educators from Langfang Foreign Language School who inaugurated a Chinese Culture Center in the James H. Carson Library on the College's campus.

A small ceremony was held in Carson Library during which Lees-McRae President Barry M. Buxton and Langfang Foreign Language School Principal Xu Yonghui signed an agreement officially inaugurating the center. Faculty and staff were present for the event as well as Avery County Schools Superintendent David Burleson and Dr. Jensen Jen, a friend of the College who lives locally and has been instrumental in the establishment of the College's Chinese relationships.

Click here to read the full article >>

News from Academic Affairs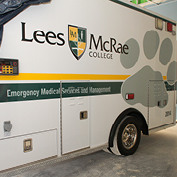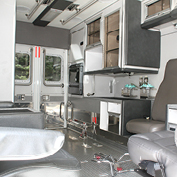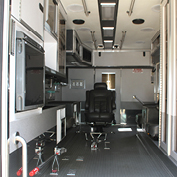 Ambulance Simulator for the proposed Emergency Medical Services and Management program arrives at Lees-McRae
In May 2014, Lees-McRae welcomed the newest addition to the May School of Nursing and Health Sciences -- an ambulance simulator to be used as part of the proposed emergency medical services and management (EMSM) program.

The ambulance simulator consists of the back half of an ambulance, known as an ambulance box, from Northwestern Emergency Vehicles in Jefferson, N.C. and has been placed on the first floor of the two-story May School. This ambulance, which will be fully equipped with all necessary medical supplies, will help students simulate the experience of working with patients and emergency medical interventions in an actual ambulance setting.

The EMSM program will be one of only twelve baccalaureate degree programs in the nation, and it will be the second program implemented in North Carolina. The EMSM program will also afford students opportunities to volunteer and work in their field while in college. Upon graduation, students will have 600 hours of clinical experience.

Click here to read the full article >>
---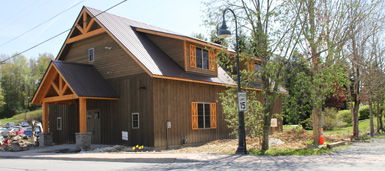 Lauritsen Technical Theatre and Design Studio dedication to be held July 17
Lees-McRae is proud to announce the Lauritsen Technical Theatre and Design Studio dedication will be held on Thursday, July 17 on site of the newly constructed building. The dedication will be free and open to the public. Following the dedication will be an invitation-only luncheon for donors and special guests.

The College broke ground on this newest addition in November 2013 and with construction still on schedule, the building will be ready for use by the staff of Summer Theatre for their anticipated line-up of musicals.

Thanks to a very generous lead donation from friends of the College, Kay and Jim Lauritsen, whose name the building will bear, this long-awaited dream is now a reality. The building will be used primarily by the Performing Arts department and Summer Theatre, but will also have secondary uses for the Communication Arts & Design program as well as other majors.

Click here to read the full article >>
News from the Alumni Office
It is not too late to be a part of the
Class of 2014 Bench Project!

The Alumni Office would like to offer you an opportunity to commemorate your senior's experience at Lees-McRae. We are in the process of concluding a "Bench Campaign." Each class has been offered the opportunity to purchase a bench in honor of their class. To date, six classes have purchased a bench.

These benches will be placed strategically around campus with each bench adorned with a plaque that recognizes the class supporting the bench. The cost of each bench is $800 and that includes the bench, delivery and installation. A Class of 2014 bench will serve as a lasting reminder for your student of their time spent on the Lees-McRae campus, and also, will be something they can visit when returning to campus for Homecoming and other special events. All gifts – no matter the size – are recognized and appreciated.

With questions or to make a donation, please contact Jillian Rosato, director of annual giving and alumni relations, at 828.898.2534 or rosatoj@lmc.edu.
Dates to Remember
| | |
| --- | --- |
| 29 | Kiss Me, Kate (Summer Theatre) (June 29-July 6) |
| | |
| --- | --- |
| 4 | Fourth of July Holiday - no classes |
| 9-13 | ESCAPE 2014 |
| 16-20 | A Grand Night for Singing (Summer Theatre) |
| 17 | Lauritsen Technical Theatre and Design Studio Dedication |
| 24 | Last Day of Summer Classes |
| 25 | Summer Classes Final Exam |
---

Lees-McRae is proud to announce a new partnership with AmazonSmile, which donates 0.5% of every purchase to the 501(c)(3) public charitable organization of the customer's choice. Head over to AmazonSmile to start shopping and supporting Lees-McRae!

smile.amazon.com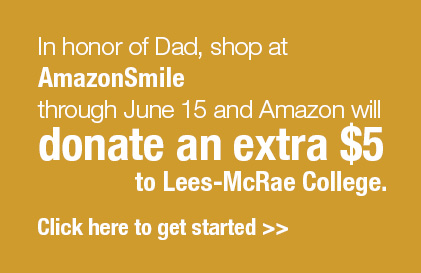 ---
Bobcat Celebrations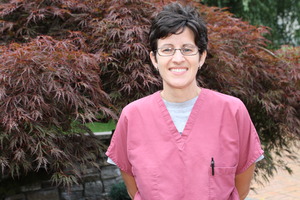 Lees-McRae Veterinarian Dr. Amber McNamara featured in Private University Products and News
Congratulations to Dr. Amber McNamara for being featured in Private University Products and News. Her unique work with acupuncture was showcased as well as the May Wildlife Rehabilitation Center.

Click here to read the article >>
---