---
Big News! Mama Gets Trashed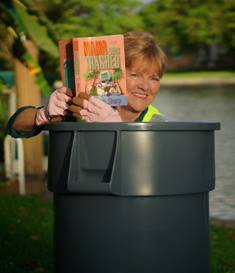 It's
me, Deborah Sharp, journalist turned author of the funny Mace Bauer Mysteries. That headline above refers less to Mama getting soused on sweet pink wine than to the release of
MAMA GETS TRASHED
, No. 5 in the series.
Finally!
Almost a year has passed since the last edition of this extremely occasional newsletter. Have you missed me?
With TRASHED now hitting bookshelves (and e-readers), it's a good time to catch up.
Read on for some news nuggets. (See? All those years as a reporter at USA Today didn't go to waste!) You'll find:
* Mama holding forth -- you knew she would! -- on the author and the gossip from Himmarshee, Fla.
* Tidbits on TRASHED, which RT Book Reviews calls highly entertaining.
* A contest for a free autographed book.
* Info on appearances, events and online connections. Let's stay in touch before another year flies past.
---
Mama Grabs the Microphone
As some of y'all know, Ms. Snippy Author has a problem with me speaking my mind. She's afraid if you compare her to Mama, Little Ms. Snip comes up short. I had planned to go easy on her, but her latest title sticks in my craw like a hair in a biscuit.
See how she's implying the whole mess started when I sipped one too many times from my box of pink wine? Trashed? I was barely tipsy!
Speaking of getting trashed, my nephew Bubba -- not the good Bubba, the bad one -- has fallen off the wagon. He showed up stumbling drunk for the young singles club at the Baptist church, stinking like a brewery. The preacher was madder than a mule munching bumblebees. The fact Bubba hooked up with one of the gals says something about the eligible bachelor pool in Himmarshee. Fortunately, she was driving his truck when they pulled out the parking lot.
Meanwhile, I'm savoring matrimonial bliss with Husband No. 5. One of my three girls has hit a rough patch, though. You can read all about it in the new book. You notice I don't utter its name? It took me long enough to get over the title of the first one, MAMA DOES TIME. The folds hadn't even fallen out of my orange jail jumpsuit before they let me go. And
I wouldn't have been incarcerated in the first place if
a certain detective had believed I knew nothing about that body in my trunk.
MAMA DOES TIME was the first of my life stories Ms. Snip stole for her fiction. The fact I speak up shouldn't surprise her anymore. You can watch her address that very topic in the first interview she did on the Today Show, back in 2008:
Mama steals the show, she told TV man Al Roker. She's the star.
Watch the evidence,
right here
To start the interview, hit the little arrow on Snippy's picture.
---
The Author Regains the Stage
The plot of MAMA GETS TRASHED makes more turns than a garbage truck backing out of a cul-de-sac. That's a good thing, according to early notices:
Publishers Weekly says, Readers will eagerly turn the pages . . .
TRASHED is . . .
a tightly plotted mystery with a great puzzle, plenty of tempting red herrings, and snappy dialogue,
notes More Than A Review
.
According to book critic Oline Cogdill . . . Deborah Sharp makes the humorous mystery look easy . . .
A short synopsis: After a tipsy Mama tosses out her wedding ring with the trash, she drags daughter Mace to the city dump to search. When they stumble upon the body of librarian Camilla Law, the straitlaced town is scandalized: Not only is a killer on the loose, but prudish Camilla is all done up in sexy black leather. Foul play and fetish wear in little Himmarshee, Fla? Mama is blushing fifty shades of pink!
Read the first chapter of MAMA GETS TRASHED,
here
---
So Maybe You Want to Buy a Book?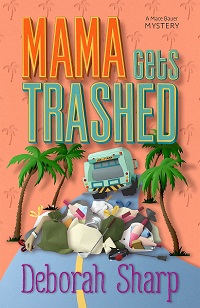 Use this handy clickable list for ways to buy MAMA GETS TRASHED, or any of the first four Mace Bauer Mystery titles. All are available in e-versions or in print, as trade paperbacks.
Could I ask a favor for novelists everywhere? If you're inclined to write a review after you read an enjoyable book, please do. Those multiple stars on websites like Amazon or Goodreads really mean something. Authors will adore you!
You can buy through
Amazon
Or,
Barnes & Noble
Want a personally autographed copy?
Murder on the Beach
will ship.
Order from your favorite bookstore, or check out
Indiebound
to support independent shops.
If you happen to be in my hometown, Ft. Lauderdale, pop into
Well Read
for a signed copy.
I love libraries, and support them whenever I can. Many carry the Mace Bauer Mysteries. If your local branch does not, ask if they can order one for you to borrow (or download!)
---
Upcoming Author Appearances
To those who come to see me or reach out online -- Thank You! I love meeting readers. I am booked in coming months at these fun events -- among others:
* Sept. 13 launch party for MAMA GETS TRASHED, 7 pm, at Murder on the Beach. How many ways can you wear a Hefty bag?
* Nov. 1, 6 pm, at the Vero Beach Book Center, in tandem with fabulous Elaine Viets.
* Nov. 15, 6 pm at Well Read Books and Gallery in Ft. Lauderdale.
* Nov. 23 or 24, Miami Book Fair (time To Be Announced)
* Nov. 30, 11 am at Sanibel Bookshop for the annual Thanksgiving weekend bash.
* Nov. 30, 4 pm, Barnes & Noble, Fort Myers
* Feb. 13, 2014, The Villages in Central Florida
* Feb. 15, 2014, 1-3 pm, Barrel of Books, Mount Dora, Fla.
Updates and details are on my
Events page
I also Skype with far-flung libraries and book groups. Contact me through my
website
Finally, connect with me --- and MAMA! --- on Facebook:
---
The Contest!
Did you think I forgot? Enter within the next week for a chance to win a FREE autographed print copy of MAMA GETS TRASHED. Email me (debsharp1@gmail.com) before Friday, Sept. 13, and you will be entered in the drawing. Put TRASHED NEWS CONTEST in the subject line.
The contest is restricted to U.S. entries.
I will inscribe to you, or to anyone you choose. Remember, books are great gifts!
Thanks for reading ...
Deborah Sharp
Author of Mama Gets Trashed
(PS from Mama: If I start a petition to change that title, can I count on y'all to sign it? How does MAMA GETS EVEN sound?)
---