JULY 2015 TIPS ARE READY
Annuals and the Best Use of Your Money
....(read more tips here)
We've been busy sprucing up the website!! Now you can find all the newsletters for the last year in one place and the tips pages have . . . well, you'll see! Take a look and enjoy.

Want to find more photos and tips? Check out our facebook page.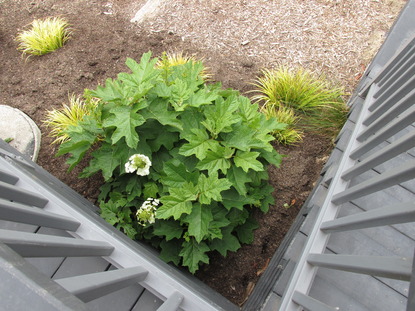 Large leaves of Hydrangea quercifolia and
thin leaves of Acorus gramineus 'Ogon'

View From Above
When you are designing your garden, remember to look at each planting area from all directions. If you have a two story house or split level decking, make sure to look at your potential plants from these vantage points before making your final plant placement decisions. Some plants even have spiral designs to them that one can only appreciate from above!

In this design the large leaves and the bright white, cone shaped flowers of the Hydrangea quercifolia give the viewer from the upper deck something delicious to view! The chartreuse color of the Acorus grasses really helps the deep green leaves of the Hydrangea to POP!

Ready to get some help making design decisions? Call Mary at 707.545.6863 for an appointment today!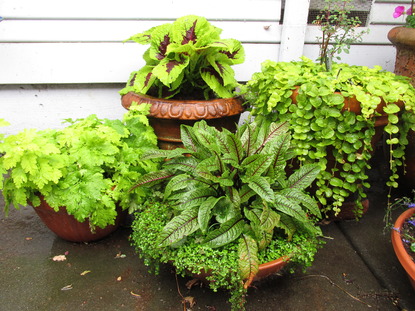 Clockwise from left side:
Feverfew, Coleus, Creeping Jenny, Dock with Baby Tears.
The containers in this photo were grouped just to get a photo,
they are part of nine containers grouped together.
Grouping Your Containers
Have you ever grouped some container plants together and then wondered why your design kinda fizzled out? You're not alone. There is nothing wrong with putting lots of different containers together with lots of different plants; sometimes though this can be disappointing. One key to creating pleasing design with containers is to keep it simple. Here are a few suggestions to get you started:

In order to bring the attention to your plants, be consistent with the type of containers you choose. In this photo the containers are all made of terra cotta. Although each container is a different size and shape they are still a consistent base for showing off different plants.

What do you do when you want people to focus on your eclectic collection of containers? You could place the containers in separate spots in the garden as little focal points. If you really want to draw attention to your collection all in one group, plant all the same plant in each container.

Designing with containers is the same as designing with in ground plants. Start with a triangle of containers then move this container a little to the right, this one a little to the left, add another container here and another there until your intuition says, "Ahhhh, that's it". Be patient with yourself and have fun!

Want to learn more about container gardening? Contact Mary for an appointment 707.545.6863


Something exciting is on it's way!
The Gardening Tutor will soon be
offering notecard collections!
Each collection will contain 8 notecards with envelopes.
These beautiful cards are great for any occaision.
There are 4 designs in each collection, the interior is blank.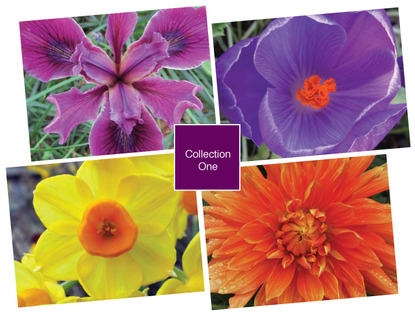 Notecard Collection One
Watch for pricing and availablity on our Facebook page and web site! We'll also be sending an e-postcard when our notecards are ready for purchase.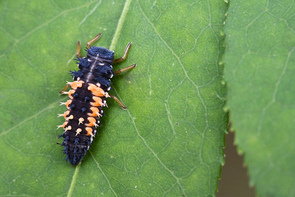 Guess what this is...
Is this a friend or foe for you garden? It is about 1/4 inch long. Is it . . .

A) Fly larvae
B) Moth larvae
C) Lady Beetle (Ladybug) larvae

Check out The Gardening Tutor Facebook page for more details.
Answer at the bottom of this page.

Plant Suggestions for July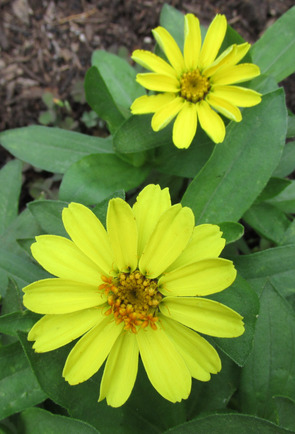 Zinnia

Zinnias
By now, your cool season annual plants are either completely dead or gasping their last breath! If you're wanting some color for your garden zinnias are such a great plant! Regularly removing the spent flowers (deadheading) will encourage your zinnias to keep blooming their little heads off into fall.

Other plants in the nursery this month
| | |
| --- | --- |
| • | Conifers |
| | (not all are junipers and some only grow 1/4 inch a year!) |
| • | Carex 'Auburn' |
| | (a wonderful genus of grasses) |
| • | Osteospermum |
| • | Liatris spicata |
| | (this will go dormant in winter) |
| • | Abutilon |
| • | Dicentra spectabilis |
| | (Bleeding Heart-winter dormant) |
| • | Felicia amelloides |
| | (Blue marguerite) |
| • | Sunflowers |
| | (plants or seeds) |
| • | Lettuce |
| | (shade in hot afternoon) |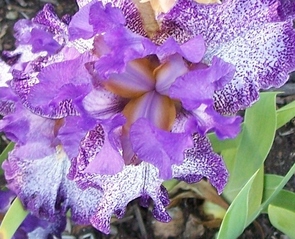 Iris
Iris
You can cut back your Iris leaves now if you like. Soon they will be looking pretty spent. Cut them in a fan shape about 3 inches high. Also, if your Iris clump is crowded you can divide the clumps now.

There is more to know about dividing and caring for Iris. Call Mary for a tutoring appointment today: 707.545.6863




Answer: C) Lady Beetle Larvae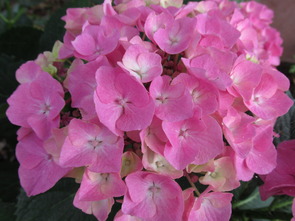 Hydrangea macrophylla