MAY 2015 TIPS ARE READY
Everyone's garden nemesis and suggested plantings for May
....(read more tips here)
Want to find more photos and tips? Check out our facebook page.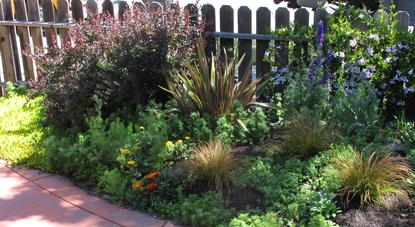 Very Low Water Planting
Do you like texture in your garden? How about flowers? Can you have both in a low water use area? Yes! Although, when first planted, these plants would need regular water to encourage them to get established they require very low water once they grow up. Let's talk about a few of the plants in the photo:

On the left side is Sedum 'Angelina'-this one gets a shower from my hose about once a week in the summer. Too much water and this ground cover quickly becomes leggy with floppy, yellow flowers. I want mine to stay low, so I don't give it too much water. If it gets too little water in summer it will look very sad but will probably come back with the rains and look beautiful for you all winter.

The tall purple shrub is Berberis thunbergii 'Atropurpurea'. This plant gets about one deep soak a month in the summer. It can be kept smaller by hard pruning (all stems down to three inches) in January or February. Watch out for the thorns!
Other plants in the photo-Sword leaved-Phormium 'Maori Queen', Vine-Clytostoma callistegioides, Grasses-Carex testacea, Flowers-Gazania, Calendula, Anagallis, Larkspur, Nigella (Love-in-a-Mist) freely reseeds-little to no water.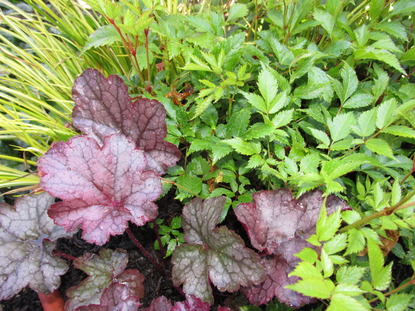 Rich Texture and Fluffy Flowers
Thriller, Spiller and Filler*
Here is an example of a "Thriller" a "Spiller" and a "Filler" (I did not make these terms up, I found them in Garden Gate magazine a few years ago) but these terms can really help you, especially when you don't know where to start when creating an exciting container combo!

The thriller in this combo is going to be the Astilbe (in the right back) when it grows taller and blooms fluffy, white flowers. The purple leaves of Heuchura 'Amethyst Mist' is the spiller and is only going to spill a little bit because it is a clumping form plant; this is a shallow pot and I don't need a long trailing plant here. The filler is the grass on the left side called Acorus gramineus 'Ogon'.

Remember: It's important to combine plants that prefer the same type of watering (although you can experiment with plants that need less water being planted on the outer edge of the container).

Want to learn more about container gardening? Contact Mary for an appointment 707.545.6863

*This is a new section for The Gardening Tutor newsletter! Each month we'll highlight some combination for your container gardening. Planting in containers is a great way to still have beautiful plants while controlling your water use. You can even have more thirsty plants in containers and not use as much water to keep them happy as you might if they were planted in the ground.



Small Watering Can


Made in Slovakia




$58.00
So beautiful, makes a great gift!
1.3 Gallon 28"
Overall Length 10.5" High

To purchase this product visit The Garden Shoppe, call Mary at 707.545.6863 or email Mary at mary@thegardeningtutor.net.

Save money on shipping!
You can pick up your product from Mary or she gladly delivers for FREE in the local Santa Rosa area.
Check out The Garden Shoppe and see more products for the garde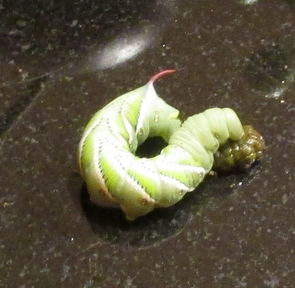 Guess what this is...
The first time I saw one of these, it took my breath away! Is it

A) Butterfly caterpillar
B) Slug
C) Tomato Hornworm

Answer at the bottom of this column.

Check out The Gardening Tutor Facebook page for more detail about this question.

Plant Suggestions for May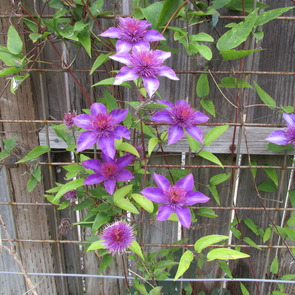 Clematis 'Multi Blue'

Clematis
May is a great time to shop for Clematis Hybrids because you will be able to see the color in person and not rely on the label photos that tend to be inaccurate. Clematis like to have a trellis that has pencil size or smaller diameter grids to climb upon. This 'Multi Blue' clematis blooms double flowers when you leave some older stems from the last year.

Other plants in the nursery this month
| | |
| --- | --- |
| • | Fuchsias |
| | (mite resistant varieties when possible) |
| • | Cosmos |
| • | Begonias |
| • | CA Native Monkey Flower |
| | (not all are drought tolerant but many are) |
| • | Citrus |
| | (many great as container plants) |
| • | Zinnias |
| • | Zucchini |
| • | Lemon cucumber |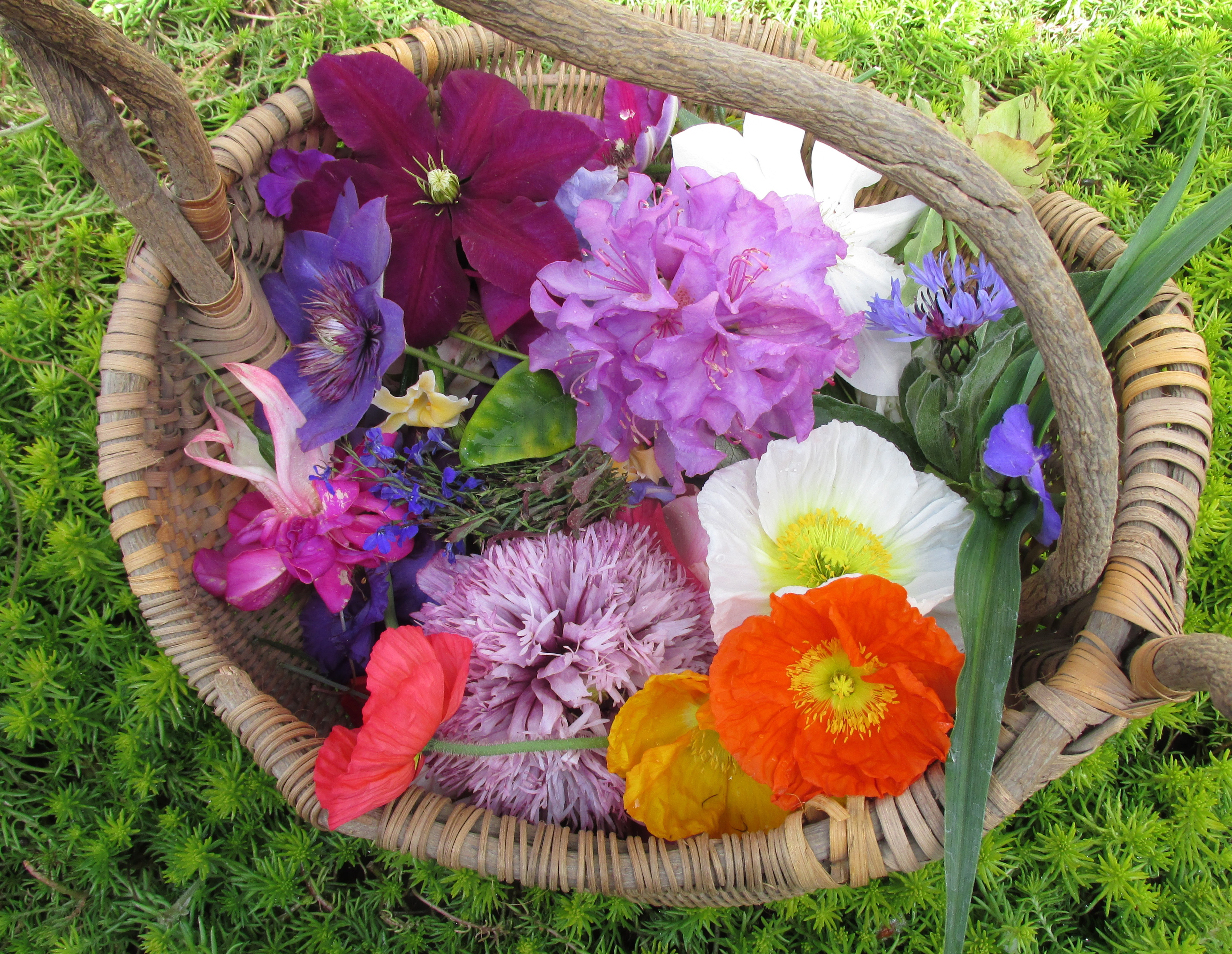 Pretty Harvest!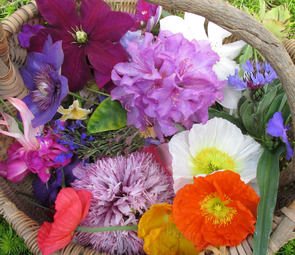 Drought Tolerant
'Drought tolerant' does not have to mean 'no flowers'. Watering deeply, mulching heavily and using water holding polymers can all help your garden use less water and still be beautiful!

Would you like to see ALL the flowers that are stuffed into this basket? Go to our facebook page for the video!




Answer: C) Tomato Hornworm