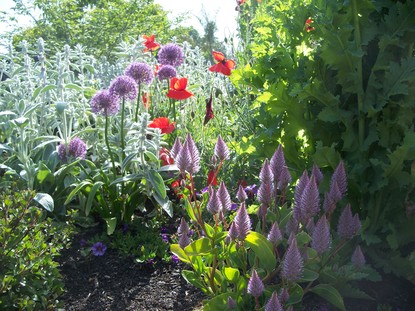 Morning in the Demo Garden

Silver Foliage
If you have a hard to find driveway, planting something with silver foliage alongside the entry will help your friends find you at night. The silver foliage becomes nice and bright on a moonlit night and when headlights shine on it. When I say 'silver' I'm talking about those plants with blushish gray leaves such as, stachys byzantina (Lanb's ears), Romneya coulteri (Matilija poppy), Cerastium tomentosum (Snow-in-summer) and lavender.

Silver foliage in an overall design is a little like using white (a little can go a long way). Try pairing silver with flowering plants of blue, violet, pink, white, or purple. Once you get your confidence up, you may even like the look of pairing silver with chartreuse!

In this springtime photo the silver lamb's ears in the background is really catching the morning light! The tall globe shaped flowers of the alliums and the little pointed flowers of Ptilotus exaltatus 'Joey' create a small space of whimsy in the garden.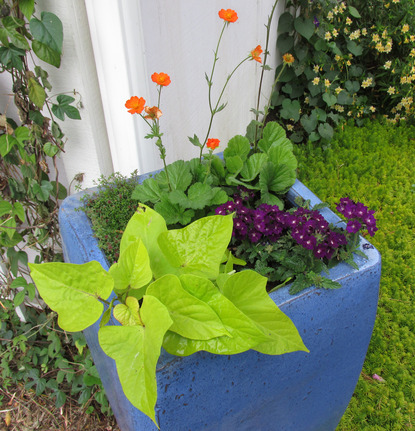 Hot!
Summer Heat
When your container sits in a sunny, hot spot of your garden-choose equally hot colored plants so their colors stay fresh in the glare of the afternoon sun! Here, the combination of purple, orange, chartreuse and soon to be violet is energizing! Just what I need to see as I leave to go to work and again when I come home.

In the front we have a yummy, saturated purple, Verbena Aztec Blue Velvet; this will spill over the side a bit once it matures. The Ipomoea batatas (Sweet Potato Vine) on the left is going to spill all the way to the ground if I let it. The deep orange flowers of Geum coccineum x borisii 'Queen of Orange' gives some nice height to this combo and will bloom throughout summer! It's a little hard to see in this photo but tucked in the back* is Thymus p. coccineus (Thyme), this too will spill over the edge a bit.

The sweet potato vine needs more water then the other plants so I added a little more water holding polymers to its planting hole then I added to the others. Watch The Gardening Tutor Facebook page for photos of this container once the plants have filled in more!

*This combo is viewed from three sides, so the thyme will be easily seen from the other side of this container. Remember to bait for pests when you plant your new combos (pests can hitchhike from the nursery)!

Want to learn more about container gardening? Contact Mary for an appointment 707.545.6863


Chrome Snips




$15.00
Usually used in the home as thread snips, I have found this to be the best little tool I've found for deadheading my pansies and other soft stemmed plants! Just hold them in the palm of your hand and slip your ring finger in the hole then turn your hand over and start snipping away! Remember these little critters are sharp; don't snip yourself!
Approximatly 4.5" Long

To purchase this product visit The Garden Shoppe, call Mary at 707.545.6863 or email Mary at mary@thegardeningtutor.net.

Save money on shipping!
You can pick up your product from Mary or she gladly delivers for FREE in the local Santa Rosa area.
Check out The Garden Shoppe and see more products for the garde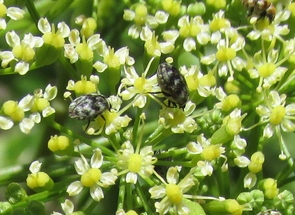 Guess what this is...
These are small insects that I found on my parsley flowers. Are they...

A) Squash Bug
B) Carpet Beetle
C) Aphid

After quite a bit of research I had to contact my pal Rachel at The Buggy Botanist for help to ID them! Thanks Buggy Botanist!

Check out The Gardening Tutor Facebook page for more details.
Answer at the bottom of this page.

Plant Suggestions for May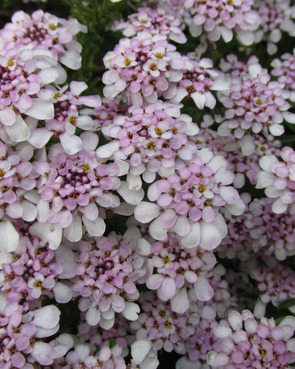 Iberis 'Pink Ice'

Candytuft
If you want the hardiest of hardy little perennials, try this pink Iberis sempervirens 'Pink Ice' (Candytuft). I have almost completely neglected this plant in the Demo Garden and with a few deep soaks it came right back to its low growing glory! The plant is evergreen and has small, glossy, deep green leaves. The mounding form makes it perfect for the front of the flower bed! Shear after blooms fade.

Other plants in the nursery this month
| | |
| --- | --- |
| • | Hydrangeas |
| | (lots of different types-check out Hydrangea quercifolia!) |
| • | Amaranthus |
| • | (add some drama to your garden) |
| • | Agastache |
| | (for the hummingbirds) |
| • | Lantana |
| • | Carnation |
| • | Nasturtiums |
| • | Trachelium caeruleum 'Hamer Pandor' |
| • | Dill |
| • | Basil |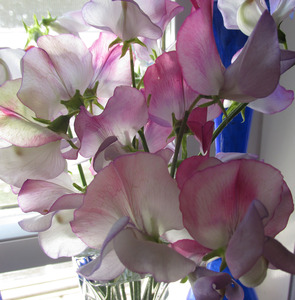 April in Paris
Sweet Peas
Do you want more flowers from your sweet pea plant? You'll want to harvest the flowers from this cool-season, annual vine every few days to encourage it to make more flowers; if you leave the flowers on, once the flowers fade they will start to put energy into making seeds instead of making more flowers.
Sweet peas like rich, well draining soil and regular watering too but boy are they worth it!




Answer: B) Carpet Beetles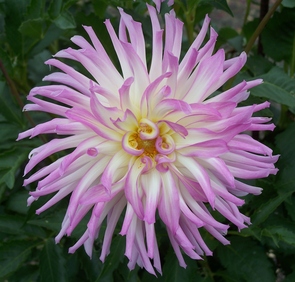 Dahlia