February 2014 TIPS ARE READY
Buy summer flowering bulbs now....(read more here)
If all goes well, next month Mary has an article has an article about Container Gardening coming out in the Sonoma County Gazette's Gardening Issue. Stay tuned for more information about where to find a copy of the article.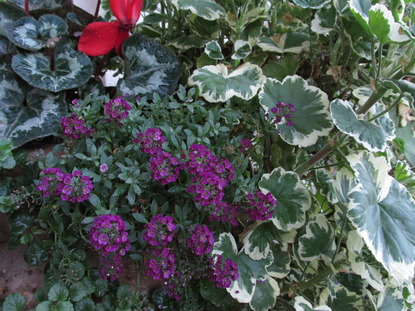 Diane N. wins the Ladybug Award this month for having such a cheerful and colorful entryway full of container plantings! At this time of year her containers are stuffed full with primroses, cyclamens, ornamental cabbage, pansies, pulmonaria, carex grass, and Yerba Buena. Since the weather has been so unusual, the containers still have geranium in leaf and alyssum in flower (both shown in photo).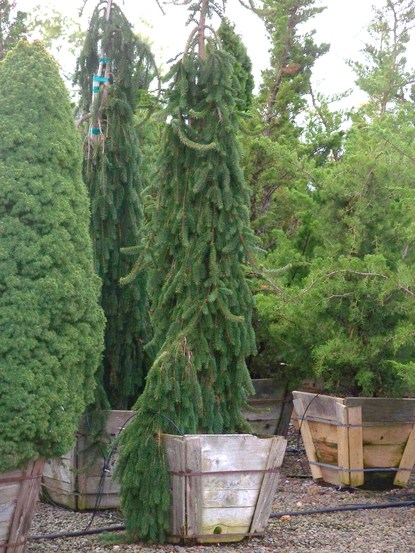 Conifers
Evergreen conifers can be the backbone that holds your garden together throughout every season and especially in winter (when many other plants lose their leaves). Here is the key to using these underappreciated plants in your garden design: know the mature size of the conifer you choose. Knowing the mature size will help you decide where to plant it so that it can grow without much (if any) pruning. Not all conifers grow at the same rate, some grow only about a quarter inch a year! Knowing the rate of growth will also help with placement in the garden. Lastly, remember that when you do need to prune a conifer, not all conifers recover from pruning into bare stems.
Velcro Tie Tape




$3.00
Velcro tie tape is strong and reusable. I especially like to use this on climbing roses because it's quick to connect before the thorns get me! I use the tips of my Chrome Thread Snips to cut the Velcro Tape when I'm in the garden.

To purchase this product visit The Garden Shoppe, call Mary at 707.545.6863 or email Mary at mary@thegardeningtutor.net.

Save money on shipping!
You can pick up your product from Mary or she gladly delivers for FREE in the local Santa Rosa area.
Check out The Garden Shoppe and see more products for the garden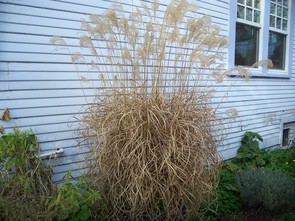 Dormant Miscanthus sinensis 'Morning Light'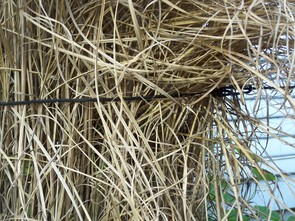 Grasses
When it's time to prune your dormant grass you can make the task easier on yourself by wrapping a rope around the whole plant and pulling it tight. Then you can use a gas or electric hedge trimmer to make a straight cut across the entire plant (leaving about three inches of growth). This makes clean up a breeze.
Some people leave a foot or more of old growth on their Miscanthus when they prune but there is no need to do this unless you are trying to leave a 'corset' to help hold up a grass that falls open every year (might be better to replant it deeper instead). Over time, leaving so much dead growth will create so much thatch that sunlight will not be able to get to the inside of your plant to stimulate new growth.
Remember, not all grasses need cutting back every year.

'Good Guys' or 'Bad Guys'?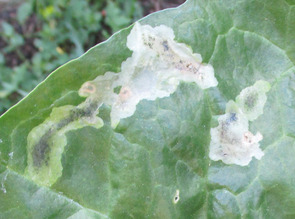 Leaf Miners in Swiss Chard
Hold the Pesticide
Do you ever see this type of damage on the leaves of your plants? In the Demo Garden I see leaf miners mostly in spinach, Swiss chard and columbines but many other plants can become infested by leaf miners. Leaf miner adults are yellow and black flies. If you are like me you may rarely see the flies but will see the evidence of the larvae that are eating their way through the leaf, just under the surface. Keeping your plants vigorous and healthy is the best fight against leaf miners. Also, prune out damaged leaves and dispose of them in the garbage (not the compost pile or compost bin). By observing your plants often you can prune out leaf miner infested leaves early to keep your plant healthy.

For more on how to control pests, call Mary for a consultation 707.545.6863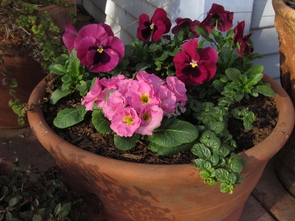 Primrose and Pansies
The happy flowers of winter!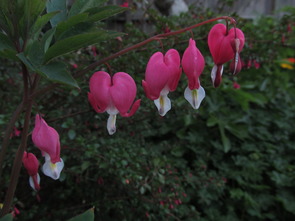 Dicentra spectabilis (Bleeding Heart)
Happy Valentine's Day!