January 2014 TIPS ARE READY
Bare Root Season....(read more here)
Remember, Mary offers a personal shopper service. Take Mary with you when you shop for your plants or send her to do your shopping for you!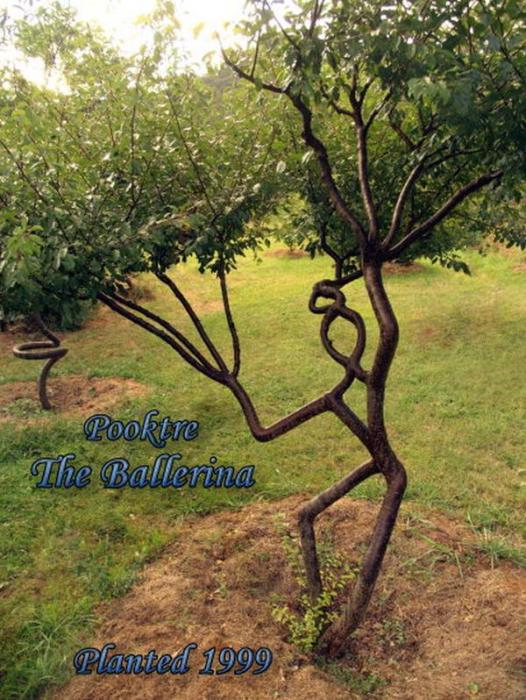 The Lady Bug Award this month goes to Peter Cook and Becky Northey of Australia! Their amazing arborsculptures are fun and inspiring! You can see more of their creations at their website pooktre.com.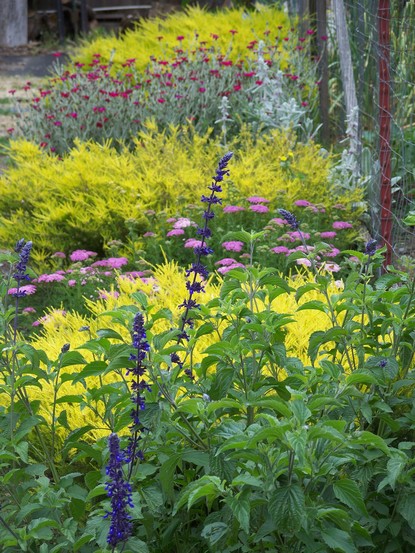 Rhythm in the Garden
Repeating the same color in the garden creates a rhythm for the eye to follow (similar to the bass note in a music piece) and can also give the eye a place to rest in between other more complex combinations of foliage and flowers. This rhythm can be the same plant or different plants that bloom the same color at the same time; for instance, red flowering plants dotted throughout the garden to bring the eye along. Even the same art piece repeated throughout an area of your garden can be used to create rhythm. Rock On!
Gift Certificate


You choose
your amount
The perfect gift for the beginning gardener or anyone who just needs a little help learning what to do in their garden. For local customers who may want to pick up a gift cerificate as a last minute gift, feel free to call Mary 707.545.6863 to schedule a pick up.

To purchase this product visit The Garden Shoppe, call Mary at 707.545.6863 or email Mary at mary@thegardeningtutor.net.

Save money on shipping!
You can pick up your product from Mary or she gladly delivers for FREE in the local Santa Rosa area.
Check out The Garden Shoppe and see more products for the garden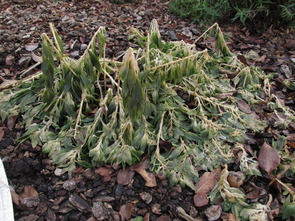 Frost Damaged Foliage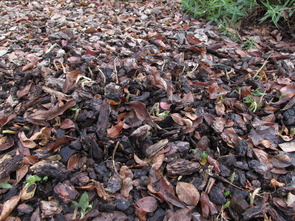 After Removing Frost Damaged Foliage
Herbaceous Plants
This Alstroemeria, with its foliage looking 'melted' from the frost, is an example of an herbaceous plant. Herbaceous plants are non-woody plants that die back to the ground each winter. Once you see the frost damage you can remove all the foliage without hurting your plant. In spring, herbaceous plants grow new stems from the crown of the plant. Remember to protect the new growth from pests because most pests (like snails) will be hungry and would love the new, tender growth of your plant! Also, protect your plants with a good three inch layer of compost around the plant (you can put about one inch of compost on the crown too).

'Good Guys' or 'Bad Guys'?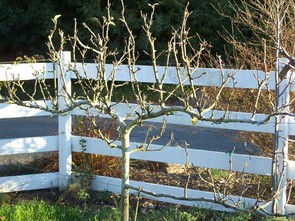 Dormant Fruit Tree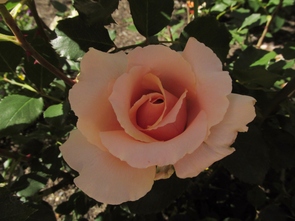 Rose
Remember to spray your fruit trees and roses while they are dormant with a dormant oil spray. Also, spray the soil around and under your plants to help smother the overwintering insects and fungal spores. Follow the directions on the package and remember to do the follow-up spray too!
For more on how to control pests and best practices for keeping your sprayer happy, call Mary for a consultation 707.545.6863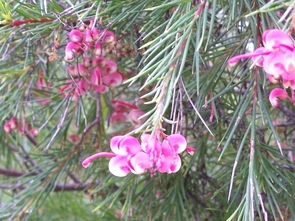 Grevillea
A super hummingbird attractor! Grevillea is also drought tolerant (once established), evergreen and does not need much (if any) pruning! Grevillea have quite a range of sizes, so plan ahead and plant yours in a spot where it will be allowed to grow into its natural shape. In order to keep the natural shape, if you must prune for size, remove the branch from its origin instead of cutting midway on the stem.