APRIL 2015 TIPS ARE READY
This a great time of year to apply a nice layer of compost to your garden. If using as a weed suppressant you'll need to make certain to apply at least a 3 inch layer of compost so the sunlight is cut off from the dormant weed seeds. A thick layer of compost will also help your plants get through the drought. If you just want to fertilize your plants you can apply an inch of compost on top of soil or mix the compost into the top inch or so of soil....(read more tips here)


As you may have noticed, March tips were delayed. They are now posted, enjoy!

Want to find more photos and tips? Check out our facebook page.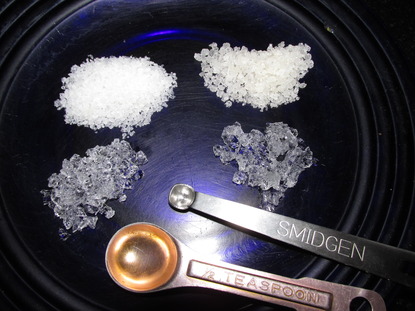 Water Holding Polymers

You can save water and lengthen the time between watering your plants when you use these water holding polymers in the planting hole. In the photo, see how just a smidgen of polymers added to a half teaspoon of water puffs up the polymers? When dry they look like rock salt and when wet they look and feel like clear gelatin.

The polymers plump up when you water your plants and as the soil starts to dry they release their stored water. Follow package directions for quantity of polymers. Careful! More is not better. Generally I put about a teaspoon of polymers into each planting hole when planting 4" plants. These are super helpful when planting containers!

You can buy polymers at your local nursery or buy small bags from The Gardening Tutor (phone order only).
Call Mary for more information 707.545.6863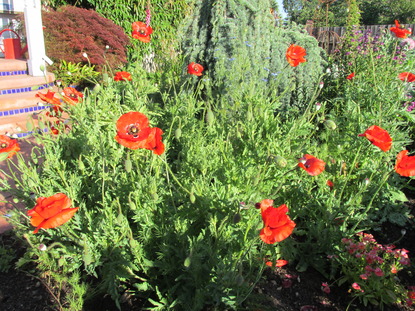 The Memorial Garden

When a loved one dies, planning and planting a garden to remember them by can be the most soothing thing you can do. Each year the Flander's poppies in this photo come back in spring to remind me of my sister Amelia. We passed out wildflower seeds to everyone who attended her memorial back in 2008. Each year I let the poppies go to seed again so I can enjoy the blooms again the next year.

This year my mom died and I'm thinking of creating a spot in the Demo Garden with lots of pink blooming flowers to remember her by, plants that will bloom at different times of the year. Finding just the right plants and bulbs and digging in the soil to plant them all is going to feel really good, like heart salve!

Thank you to each and every one of you who has waited for me to continue working with you. Thank you also for the sweet cards and emails sent my way; they were all very healing!


Velcro Tie




$3.00
Velcro tie tape is strong and reusable. I especially like to use this on climbing roses because it's quick to connect before the thorns get me! I use the tips of my Chrome Thread Snips to cut the Velcro Tape when I'm in the garden.

To purchase this product visit The Garden Shoppe, call Mary at 707.545.6863 or email Mary at mary@thegardeningtutor.net.

Save money on shipping!
You can pick up your product from Mary or she gladly delivers for FREE in the local Santa Rosa area.
Check out The Garden Shoppe and see more products for the garden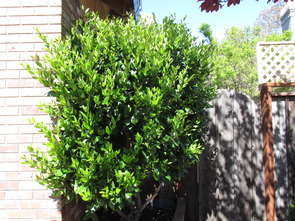 Before pruning Ligustrum japonicum 'Texanum'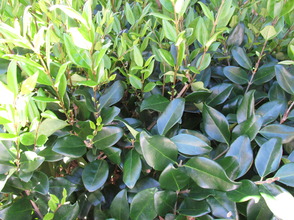 Half Pruned
Texas privet (Ligustrum japonicum 'Texanum') is a super useful evergreen shrub in the garden. Unlike it's cousin Glossy Privet (Ligustrum lucidum) this shrub does not spread and take over with lots of seedlings! Texas privet can be kept on the small side and makes a really great hedge. With the large leaves of Texas privet avoid using your hedger to prune back; instead, use your hand pruners or pinch out new growth with your hands.
In photo number two you can see the deep green natural beauty of the leaves once I hand pruned out the new growth (shown in the upper portion of the photo). Pruning out early in spring will sacrifice the blooms in order to keep a nice green form. If you want, you can let it bloom its white flowers and then use your pruners to remove the new growth.

Contact Mary when you're ready to learn more about how to train a hedge.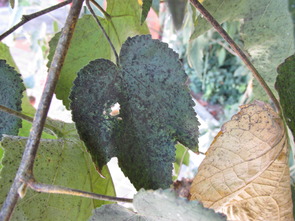 Top side of leaf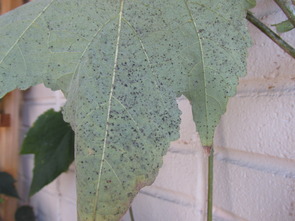 Underside of leaf

Guess What This Is?
Here is a new section for the newsletter. For years I've been showing you and than filling you in on which "Good Guys" and "Bad Guys" are in the photos. Let's have some fun and see how well you do at detecting what's in the photos.

Do you see the black stuff on this leaf? If you have this on a plant you will usually see that your plant is infested with honeydew exuding (sticky substance from their back sides) insects like aphids. What is it:

A) Black Spot
B) Sooty Mold
C) Rust

The answer is at the bottom of this column.

S
ee more about this topic on The Gardening Tutor
Facebook
page.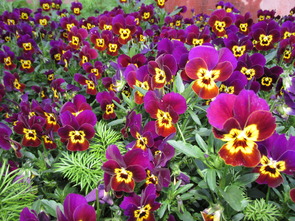 Violas
When violas (pansies) are planted in October (before the weather turns the soil cool) they bloom all winter and really fill in by springtime!

Violas are cool-season annuals; once the weather turns hot pansies can start to suffer. Unless you just want some quick color for a few weeks, now is not the time to plant pansies in the garden. It's time for warm-season annuals to be planted so you can enjoy their blooms all summer long!

Either way, remember to deadhead (remove spent flowers and their stems) your pansies so your plants keep blooming instead of going to seed.



Answer: B) Sooty Mold