OCTOBER 2015 TIPS ARE READY
To Fertilize or Not to Fertilize
....(read more tips here)
Notecards will be here next week!
You can start purchasing your Notecard Collections on Wednesday October 21st in The Garden Shoppe.

Want to find more photos and tips? Check out our facebook page.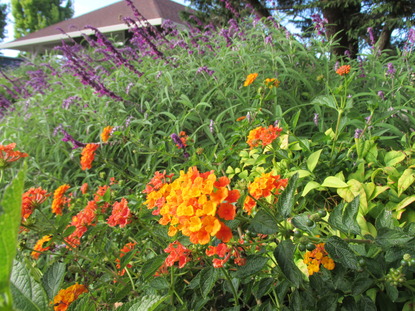 Lantana-orange. Salvia leucantha-purple spikes.

Designing with Orange

Have you ever used orange colored flowers in your garden design? There was a time when I would not use orange in the garden and then one day I saw orange combined with pink and I was smitten!

A little orange can go a long way. When you're ready to try some orange, pay attention to how much orange you use in combination with other colors. The orange flowers in the photo are taking up about one third the space in this section of garden, while the purple salvia flowers take up the other two-thirds. The feeling would be completely different if the amounts of color were switched. Also, notice that there is a little yellow in the flowers of the Lantana; yellow and purple are compliments (opposite) of each other on the color wheel. Blue is the compliment of orange.

White and orange can go well together too but it can be tricky to get the design just right; you may need to add some yellow or cream in there to help the colors to meld.

When you're ready to learn how to design your own garden, contact Mary 545.6863 for a consultation date!





Coreopsis and Lantana
Swap Summer Flowers for Winter Color!

Although the Lantana and Coreopsis in this beautiful container combo (by Lynzie) was a knockout during the summer months, it will soon go dormant for winter. For your winter containers, try Pansies and Iceland poppies or fill your container with lots of yellow and orange Calendula! If your calendula suffer later in the season with powdery mildew, you can swap the calendula out for some Cyclamen.

With our first frost generally arriving close to Halloween, it's important to get your cool-season annuals in the ground as soon as possible!

Just in case we do get the rains that are being predicted, you can plant your plants a bit high (just above ground level-an inch or even two) to ensure that your plants can avoid being rotted out by standing water. Use compost to mulch around the plants so their roots are not exposed though.

Contact Mary for an consultation when you're ready to learn more about container gardening. 707.545.6863



On Wednesday October 21st you can
start purchasing you Notecard Collections
in The Garden Shoppe!
Each collection will contain 8 notecards with envelopes.
These beautiful cards are great for any occasion.
There are 4 designs in each collection, the interior is blank.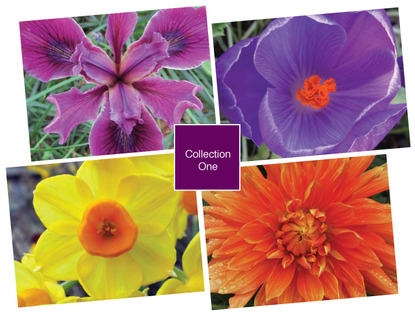 Notecard Collection One
Watch for pricing and availablity on our Facebook page and web site! We'll also be sending an e-postcard when our notecards are ready for purchase.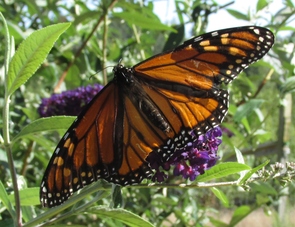 Monarch Butterfly on Buddleja Flower
Guess what this is...
Of the three choices, which flower type do butterflies prefer:

A) Umbel
B) Panicle
C) Deeply Tubular

Check out The Gardening Tutor Facebook page for more details.

Answer at the bottom of this page.

Plant Suggestions for October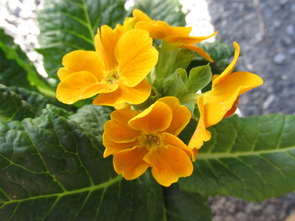 Primrose
Do you know that yellow flowering primrose smell delicious? Not all primrose are fragrant but the yellow ones will bring a welcome scent when planted near your front door in winter! Provide primrose with at least a few hours of sun and good drainage. Remove spent flowers and any leaves that start to look ragged. Also if needed, you can fertilize primrose during their growing season, even though it's the cold weather time of year when you would not be fertilizing other plants.

There is more to know about primroses and other cool season plants for color. Contact Mary 707.545.6863 for a consultation.

Other plants in the nursery in October
California Natives
•
Mimulus
•
Sisyrinchium californicum
•
Pacific Coast Iris
Annuals
•
Primrose
•
Calendula
•
Pansy
•
Iceland Poppy
Perennials
•
Lavender
•
Chrysanthemums
•
Achillea (yarrow)
•
Aster
Veggies
•
Beets (plant seeds)
•
Carrots (plant seeds)
•
Radish (plant seeds)
•
Swiss Chard
•
Peas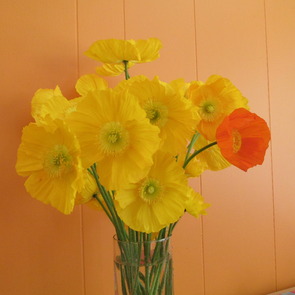 Iceland Poppy Bouquet
Poppies
When you cut your poppy flowers make sure to singe the cut end for a few seconds with the flame from a lighter or stovetop before you put them in water. This treatment will help your poppies last longer in your vase!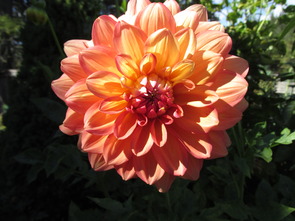 Dahlia




Answer: A) Umbel
Butterflies are attracted to umbel shaped flowers (flat-topped or umbrella shaped) and flowers that are clustered (like butterfly bush flowers) that have short flower tubes.