Jennifer C. wins the Ladybug Award this month with her great eye for design combinations. Here, these early blooming, bright white Narcissus are blooming in front of a deep cobalt blue bird bath for a stunning show! I came around the corner, saw the blue and white, stopped in my tracks and took a nice deep breath. Ahhhhh!

Do you have places in your garden where you can create something divine? If you're stuck with how to begin or continue your garden design give Mary a call for a Design Tutoring appointment 707.545.6863.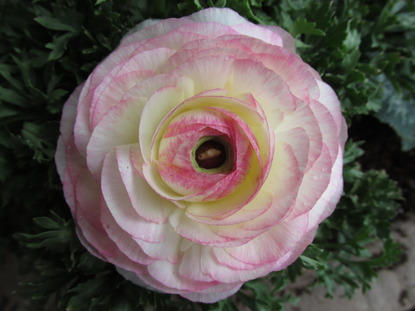 Spring Flowering Bulbs
If you missed buying spring flowering bulbs to plant back in October and November there's good news, nurseries plant bulbs for us and sell them now as potted plants! This Ranunculus is just about to pour on the blooms so it's the perfect time to buy it. Make sure to get to your local nursery early for best selection and choose plants that are healthy looking and full of leaves and buds. Pass on the plants that look as if they are just about finished blooming because you want the blooms to happen at your house, right?

Bulb-type plants such as Ranunculus, Anemone and Freesia should give you lots of blooms before going dormant. When the bulbs are happy, they'll come back year after year. If you buy Daffodils or other Narsissis try to buy them when they are still in bud so you get the longest bloom time. Remember to protect all your new plants from snails, slugs, earwigs and sowbugs! Also, check to make sure you haven't brought in some hitchhikers (snails and slugs etc.) on the plants from the nursery.

Note: Ranunculus come in many different colors: red, yellow, orange, hot pink (as well as the blush white in the photo).
Velcro Tie




$3.00
Velcro tie tape is strong and reusable. I especially like to use this on climbing roses because it's quick to connect before the thorns get me! I use the tips of my Chrome Thread Snips to cut the Velcro Tape when I'm in the garden.

To purchase this product visit The Garden Shoppe, call Mary at 707.545.6863 or email Mary at mary@thegardeningtutor.net.

Save money on shipping!
You can pick up your product from Mary or she gladly delivers for FREE in the local Santa Rosa area.
Check out The Garden Shoppe and see more products for the garden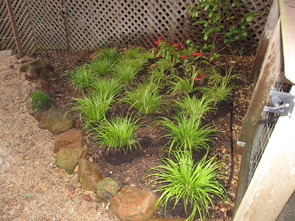 Acorus gramineus 'Ogon' Newly Planted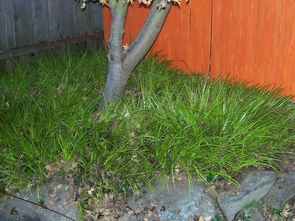 Acorus gramineus 'Ogon' Filled In Over Time
To Prune or Not to Prune
In general, the only 'pruning' this beautiful grass needs is to gently but firmly pluck dead leaves from the mother plant. Sometimes though, freezing tempratures can damage the leaves and it's time to shear all the plants back to about an inch or two high. Also, Acorus can spread slowly over time and at some point the plants will benefit from being dug up, separated and replanted.

Note: Crush a leaf of this Acorus and smell the wonderful fragrance. Create a little fragrance surprise in your garden by planting Acorus alongside a path where it might be stepped on a little to release its spicy scent!

'Good Guys' or 'Bad Guys'?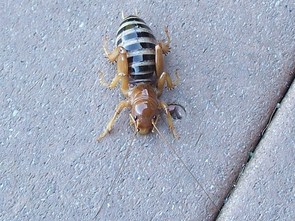 Stenopelmatus Fuscus
Friend or Foe?
The first time you are face to face with a Jerusalem Cricket (aka-Potato Bug) you might freak out a little but it will probably freak out too and run away. At this time of year I see one or two of these in the soil but generally they are not a pest in the Demo Garden. In fact, Jerusalem Crickets do aerate the soil which can improve drainage and they usually eat plant material that is already in decay. They may even eat some pests with those strong mandibles of theirs.

If you do feel this is a pest you could pick them up (careful-they can bite ya) and put them in hot soapy water to kill them or put them in with your chickens (they'll probably take care of the problem).

Need help figuring out what pests you have in your garden? Call Mary for an appointment today 707.545.6863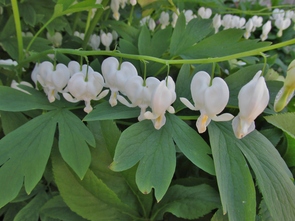 Dicentra spectabilis 'Alba'
Look for The Gardening Tutor article about Designing with White in the February Sonoma County Gazette.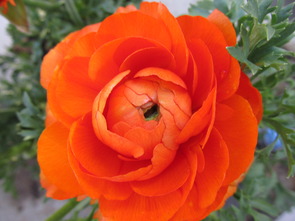 Ranunculus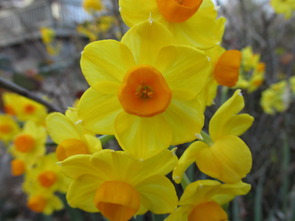 Narcissus