ICA at MECA
Through August 5

Francis Cape: Utopian Benches
Twenty reconstructed benches originally designed for American utopian communities.

Lisi Raskin: Motor Park
Raskin will create a truck house which will be utilized as a studio, classroom, and performance space.

The Art Department: Lazer Hotel
The front gallery is transformed into a magazine office for Lazer Hotel Magazine, a new publication created by The Art Department, a nonprofit for artists with intellectual and developmental uniqueness.

ICA exhibitions

Rachel Eastman
Through August 24
Charlie Thomas Gallery, Porteous, 2nd Fl.
Closing reception: August 24, 2pm

Coastal Presence is an exhibition of drawings and paintings by alum Rachel Eastman '94.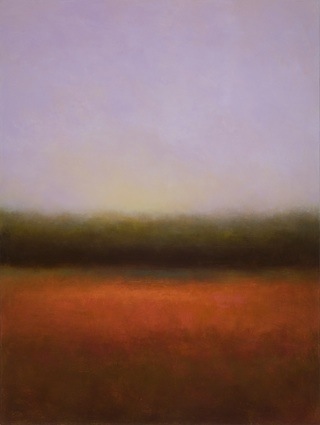 Rachel Eastman '94 exhibits her paintings in the Charlie Thomas Gallery at MECA through August 24.
MFA Visiting Artist Lecture Series
Each summer, MECA invites visiting artists, curators, and scholars to participate in MFA curriculum. In addition to critiques and studio visits with students, Visiting Artists deliver a free public lecture in Osher Hall at 6:30pm.

Radcliffe Bailey
Monday, July 2
Radcliffe Bailey creates his mixed media paintings by piecing together ancestral photographs, collected objects, and painted words and maps. His work is permanently installed in the Atlanta Hartsfield-Jackson International Airport and in the collections of The Metropolitan Museum of Art, The High Museum of Art, and The Art Institute of Chicago.
Amze Emmons
Monday, July 9
Emmons is one of the co-founders of Printersting.org. He is an artist, illustrator, curator, living and working in Philadelphia, PA. He and his partners at Printeresting are organizing a zine exposition at Space Gallery from July 20 - August 23 featuring work from 60 talented artists, designers, and publishers from around the world.
Stanya Kahn
Monday, July 16
Stanya Kahn is an interdisciplinary media artist working primarily in video, with a practice that includes performance, writing, and photography. Her work is currently on view at The New Museum in New York.
Francis Cape
Monday July 23
Francis Cape was trained as a woodcarver before receiving his MFA from Goldsmiths College, University of London. He has exhibited his work at the P.S.1 Contemporary Art Center and the Aldrich Museum of Contemporary Art. Cape is represented by Murray Guyin New York City. His Utopian Benches are on view in the ICA at MECA.
Denise Markonish
Monday July 30
Denise Markonish is the curator at MASS MoCA where she has curated the exhibitions of Nari Ward, Petah Coyne and Inigo Manglano-Ovalle. Markonish also co-edited with Susan Cross the book Sol LeWitt: 100 Views. Previous to her work at MASS MoCA, Markonish was the curator at Artspace in New Haven, CT.
Generous support for the lecture series is provided by the Quimby Family Foundation.

Full Visiting Artist schedule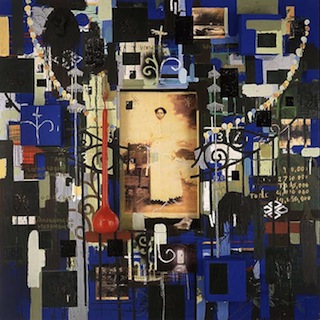 Painting by Radcliffe Bailey, MFA visiting artist. Bailey gives a lecture on July 2.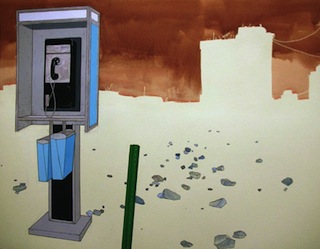 Print by Amze Emmons, one of the co-founder of Printeresting.org. Emmons gives a visiting artist lecture on July 9.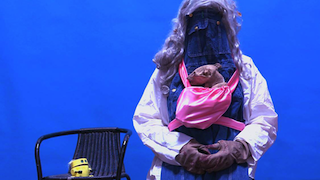 Stanya Kahn, whose work is currently on view at The New Museum in New York, gives a visiting artist lecture on July 16 in Osher Hall.
Alum Vivian Beer '00 and Associate Professor of Metalsmithing & Jewelry Jeff Clancy were selected to participate in 40 under 40: Craft Futures at the Renwick Gallery of the Smithsonian American Art Museum from July 20 - February 3.

Painting alum Justin Richel '02 has a solo exhibition at Ross+Ross Galerie in Germany through August 21.

Adunct Assistant Professor of Illustration Jamie Hogan illustrated A Warmer World: From Polar Bears to Butterflies, How Climate Change Affects Wildlife.The work is included in an exhibit of children's book illustrations by Maine artists at the Atrium Gallery, University of Southern Maine, Lewiston-Auburn College through August 3.

Alum Matt Moore '06 designed the graphics for the Coke campaign for the London 2012 Olympics.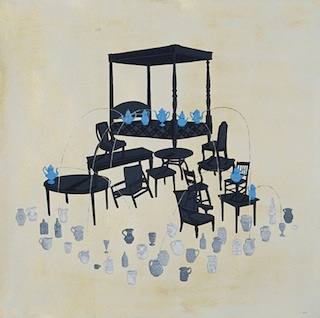 Justin Richel '02 has a solo exhibition in Germany.