Hello EAC Action News Readers!

Welcome to the new and improved EAC Action News. Our new format should be more user-friendly with various email clients while still also offering an online version for those preferrring to read it in their browser. We hope you like the new format and look forward to hearing your feedback at eac@ecologyactioncenter.org!

Now taking registrations for August Rain Barrel workshops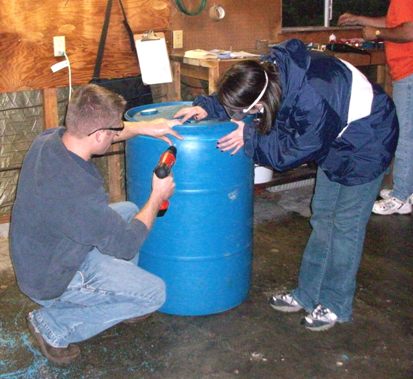 The Ecology Action Center is excited to announce dates for the ever-popular hands-on workshop where individuals build their own water saving rainwater collection and storage container. Rain Barrels are an ancient technology undergoing a great resurgence as they not only help conserve water but also reduce storm water runoff contamination of water supplies.

Workshops are scheduled for Monday, August 17 or Thursday, August 20 at 5:30 p.m. or Saturday, August 29 at 10 a.m. or 1 p.m. The EAC is offering these workshops at a cost of $30.00 for members of the Ecology Action Center or $40.00 for non-members. New this year is an included overflow fitting and hose.

Workshop space is limited and pre-registration is required; registration forms are available for download at www.ecologyactioncenter.org or by stopping by the Ecology Action Center at 202 West College in Normal.

The Ecology Action Center also has available ready-to-use rain barrels from Prairie Rain Harvester. At $95 each with sales tax included (or $80 for EAC members), these locally made 55-gallon rain barrels are economical compared to other commercially available rain barrels. Prairie Rain Harvester Rain Barrels are available at the EAC during regular business hours, 9 a.m. To 5 p.m. Monday through Friday.

EAC Joins McLean County Radon Awareness Program
The Ecology Action Center is proud to announce its involvement in the McLean County Radon Awareness Program as the local distributor of inexpensive Radon test kits.

Radon contributes to thousands of lung cancer related deaths each year. In fact, radon is the second leading cause of lung cancer in the United States today, surpassed only by smoking. Many who have died from radon-induced lung cancer never heard of radon or realized they had a radon problem in their home until they had already developed advanced stages of lung cancer.

Though you can't see or smell radon, you can find out if you have a radon problem in your home by performing a simple, inexpensive test. If you find that your home has a radon problem, there are cost-effective solutions.

You can purchase an inexpensive short-term testing kit from the Ecology Action Center for only $10.00. The price includes lab fees. To order a test kit, print out the coupon available at the EAC website, fill it out and mail it with a check for payment.

Give more without spending more
Share your passion and donate to the Ecology Action Center with your everyday purchases. We've partnered with Capital One® Card Lab Connect to bring you our newest fundraising program, which helps us earn money effortlessly every day! Just carry one of our custom credit cards (it comes with a competitive rate and no annual fee), and 1% of purchases made with the card will be donated to our organization. We'll also receive a $25 bonus donation when you make your first purchase. And not only will you be donating to our cause with each purchase you make, you'll be helping to spread the word when people see your unique card, one of three designs created specifically for the Ecology Action Center.

Click here for more information or to apply
"Growing the Greenways Plan and Trail" Conference
Save the Date: Friday, November 6, 2009
Davis Lodge at Lake Bloomington

Please pencil in the date for the "Growing the Greenway Plan and Trail" conference which is sponsored by the McLean County Greenways Advisory Committee, the Illinois State Section of the American Planning Association as a citizen planner workshop, and the Normal Public Library.

The conference will provide insight into what is happening at the Illinois Department of Natural Resources (IDNR), sustainable greenway design, education on stream buffers, multi-jurisdictional trail planning, connecting kids with nature, and a multi media presentation of the recently completed McLean County Greenways Plan.

The $20 price of the 9:00 AM – 1:30 PM conference will include lunch. Davis Lodge is approximately 10½ miles northeast of Normal, IL between I-39 and I-55. After the conference, there will be an optional walking tour along the Mackinaw River at the nearby Merwin Nature Preserve.

Confirmed speakers include Marc Miller, Director of IDNR, James Patchett, founder and president of Conservation Design Forum, Jane Gerdes, PE, City of Peoria Engineer, John Chambers, AICP, Planner with the Tri County Regional Planning Commission and Angela Smith, Director, Sugar Grove Nature Center.
For more information and registration information, please contact Mercy Davison, Planner, Town of Normal at (309) 454-9590, mdavison@normal.org or check the APA website at http://www.ilapa.org.


As always, we look forward to seeing you at the Ecology Action Center! Please stop by anytime Monday - Friday 9 a.m. to 5 p.m. or call us at 309-454-3169 for information on our latest programs and events or to get answers to questions on recycling, household hazardous waste, clean water, and more!