March 5, 2012
Dear Supporter,
The deadline for bills to get out of committee in the Illinois House and Senate is the end of this week. Most bills that are not able to meet this deadline will not be able to proceed further this session. Many pro-environment bills have passed through committees in the last few weeks. Here are some highlights.
Shark Fin Ban - HB4119 - passed through the Illinois House Consumer Protections Committee.
HB 4119 will end Illinois' contribution to the
shark
fin
trade by banning the sale, trade and possession of
shark
fins. Globally, sharks are being killed in appalling, unsustainable numbers, an estimated 26-73 million sharks every year, simply for their fins. HB 4119 addresses the unsustainable killing of sharks for the primary purpose of making
shark
fin
soup. This legislation is part of a national and international movement to reduce
shark
fin
demand. Rep. Sara Feigenholtz has introduced this legislation. It will be up for a vote in the Illinois House soon.
Other legislation that moved out of committee this past week includes the following:
Benefit Corporation Act - HB4708 and SB2897 - passed through the Illinois House and Senate Judiciary Committees. Read a previous article about this bill. (Rep. Sara Feigenholtz and Sen. Michael Frerichs).
Local Food Support Resolution - HB734 - passed through the Illinois House Agriculture and Conservation Committee. (Rep. Kelly Burke)
Agriculture Pollution Prevention - HB5539 and SB3436 - passed through the House and Senate Agriculture and Conservation Committee. This creates a voluntary tax on agricultural products to fund agricultural pollution prevention efforts.
The following legislation must be passed out of committee this week or it likely will not be able to proceed this session.
Oppose Animal Facility Recording Offenses - HB5143 - to be heard in the Agriculture and Conservation Committee.
This bill creates criminal offenses for creating or possessing audio or visual recordings of an animal facility in Illinois. Many environmentally concerned citizens across Illinois have been working to document pollution offenses of large Concentrated Animal Feeding Operations (CAFOs). If this law passed, it would not only be a criminal offense to document these occurrences, but also to distribute or possess this material. IEC is working with many organization to oppose this legislation.
Support Prohibiting BPA Receipts - HB5373 - to be heard in Environmental Health this week.
This bill prohibits the sale or use of Bisphenol-A (BPA) containing receipts. BPA is a chemical that has been linked to reproductive problems, learning disabilities, hormone disruption, and cancer. BPA readily transfers from receipts to skin. Many retailers have already switched to BPA free receipt paper.
Update on Hydraulic Fracturing
Support (HB3897/SB3280) Senator Frerichs/Representative Jakobsson
Oppose SB3534 (Sen. Jones) and HB5853 (Rep. Winters)
New, horizontal hydraulic fracturing (fracking) for natural gas has made national news because of pollution concerns. During the fracking process, a deep well is drilled and chemicals and water are injected in order to break apart deep horizontal layers of shale deposits. As the shale fractures, natural gas is captured. States like Ohio and Pennsylvania have tens of thousands of wells. Groundwater pollution has been a tremendous concern.
While this type of fracking has not began yet in Illinois, the state of Illinois has two shale formations from south of I-80 to the southern end of the state that have potential for fracking. Five counties already have land leased for fracking. Last year, Faith in Place worked with Senator Frerichs and Representative Jakobsson to move a bill concerning disclosure of the chemicals used in hydraulic fracturing, new standards for well casing, and water storage standards. While the oil and gas industry had worked to negotiate this legislation last year, the industry organizations have stepped away from the table to introduce their own legislation - SB3534 and HB5853. These bills contain standard legislation proposed by the American Legislative Exchange Council, a non-partisan think tank that has worked to weaken environmental protections in many states. IEC and its member affiliates are opposing these bills.
Concurrently, Faith in Place and the Illinois Chapter of the Sierra Club are working with the Department of Natural Resources to propose even more comprehensive regulations. While negotiations are still occurring, this important legislation is likely to advance out of committee this week.
For updates on bills during this important deadline week, be sure to follow the Illinois Environmental Council on facebook and twitter where we publish updates when important bills begin to move.
Register today for IEC's 2012 Environment Lobby Day!
Join us on Thursday, March 29 in Springfield for Lobby Day!
As a supporter of the environmental community, the issues that you care about are frequently up for debate in Springfield. This year hydraulic fracturing (fracking), Confined Animal Feeding Operations, Stormwater, Green Business Development, Renewable Energy and Energy Efficiency, Recycling, and many other environmental issues are being considered by the people that represent you.
You can make a difference on issues critical to our community by joining us for IEC's annual lobby day in Springfield. Environmentally concerned citizens from all over Illinois will join IEC's member affiliates for lobby day on Thursday, March 29.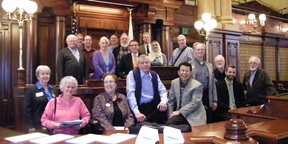 Often, we make the largest gains on environmental legislation on lobby day. Your stature as a constituent helps us get co-sponsors, supporters, and forward momentum for the policies that the environmental community support. On lobby day, you will play a crucial role in our efforts to pass meaningful environmental legislation.
If you have not had the experience of lobbying, please do not be concerned, as we will have staff and volunteers to help guide you throughout the day. If you're interested in coming, please register.
You have a choice of coming the night before (March 28) for a training and reception with legislators. If you only want to spend one day in Springfield, Faith in Place will be chartering buses leaving early on Thursday from Oak Park and the south side. Amtrak is also a convenient op
tion. We will send you more information after you register.
If you need any assistance with travel or lodging logistics, we are happy to help. Contact jwalling@ilenviro.org for information about training on the evening of March 28, travel, and lodging opportunities.