Join us on Thursday, March 29 in Springfield for Lobby Day!
As a supporter of the environmental community, the issues that you care about are frequently up for debate in Springfield. This year hydraulic fracturing (fracking), Confined Animal Feeding Operations, Stormwater, Green Business Development, Renewable Energy and Energy Efficiency, Recycling, and many other environmental issues are being considered by the people that represent you.
You can make a difference on issues critical to our community by joining us for IEC's annual lobby day in Springfield. Environmentally concerned citizens from all over Illinois will join IEC's member affiliates for lobby day on Thursday, March 29.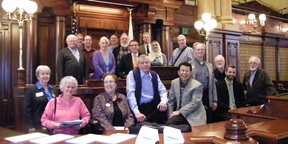 Often, we make the largest gains on environmental legislation on lobby day. Your stature as a constituent helps us get co-sponsors, supporters, and forward momentum for the policies that the environmental community support. On lobby day, you will play a crucial role in our efforts to pass meaningful environmental legislation.
If you have not had the experience of lobbying, please do not be concerned, as we will have staff and volunteers to help guide you throughout the day. If you're interested in coming, please register.
You have a choice of coming the night before (March 28) for a training and reception with legislators. If you only want to spend one day in Springfield, Faith in Place will be chartering buses leaving early on Thursday from Oak Park and the south side. Amtrak is also a convenient op
tion. We will send you more information after you register.
If you need any assistance with travel or lodging logistics, we are happy to help. Contact jwalling@ilenviro.org for information about training on the evening of March 28, travel, and lodging opportunities.