This week saw the beginning rehearsals of A MIDSUMMER NIGHT'S DREAM, the first of our two free summer productions. We've assembled a terrific cast, take a look...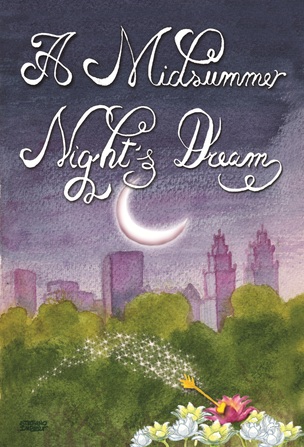 A MIDSUMMER NIGHT'S DREAM
Directed by John Greenleaf
Featuring William John Austin* (Oberon), Jeff Burchfield* (Starveling), Miles Butler (Francis Flute), Caleb Carlson* (Theseus), Laura Darrell* (Hermia), Edgar Eguia (Snug), Bret Richard Hoskins (Lysander), Cassandra Johnstone (Hippolyta), Adriana Jones (Lavender), Annalisa Loeffler* (Titania), Dan Lovley* (Snout), Uriel Menson* (Egeus), Scott Michael Morales* (Puck), Kristin Patton (Helena), Vinnie Penna* (Nick Bottom), R. David Robinson* (Peter Quince), Spencer Scott (Demetrius) and Barbara Drum Sullivan* (Philostrate)
Love, jealousy, and meddling parents force four teenagers to flee to the forest, right into the middle of a hissy fit between the King and Queen of the fairyland. Can the right pairs of lovers find each other?
Assistant Director: Danielle Demisay
Stage Manager: Sarah Lahue
Assistant Stage Manager: Kat Meister
Costume Designer: Jessa-Raye Court
Assistant Costume Designers: Ashley McDonald and Maxine Preston
Fight Direction: Joe Mathers
Props: Rachel Langton
Illustration: Stefano Imbert
Saturday and Sunday afternoons at 2pm
June 21st thru July 20th in Central Park (no show July 5 or 6th)
More details to follow on the special location for this production!
Admission is FREE!
No lines, no tickets, no waiting!
Just bring yourself, a blanket or even a picnic, and enjoy the show!
This summer marks Boomerang's 16th summer of free Shakespeare in New York. We look forward to seeing you in the park this year.
Meet our two new staff members!

We're really pleased to announce that Cailin Heffernan and John Hurley will be joining Boomerang as Associate Artistic Directors. Both have a long history with the company, and we're very excited about working with them on future projects.
You can read the full story here!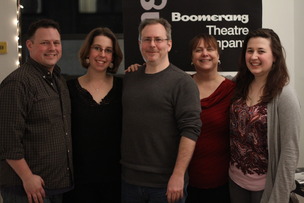 (l to r, Tim Errickson, Sue Abbott, John Hurley, Cailin Heffernan and Danielle Demisay)
With so much going on for Boomerang this summer, would you be able to make a tax-deductible donation to help support our programs?

100% of your donation goes directly to funding costumes, props and rehearsal space. Your continued support makes the parks come alive with theater each summer!
Can you donate $250? $100? $50? Or something else?
Your gift helps continue to make New York City the most exciting town in the whole world. If, as Will says, "All the world's a stage...", then your support helps make it that way. Click here to make your contribution. Thank you!