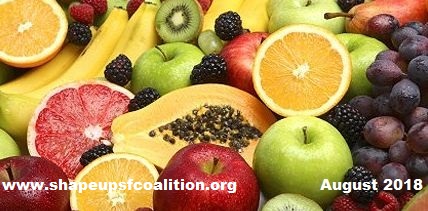 Dear Shape Up SF Partners,

Thank you all for attending the July Shape UP Coalition Meeting! We were glad to see many of our partners, and some new community members in attendance. We had the pleasure of hearing reports from our 2017-2018 partners funded to do Healthy Eating Active Living work. Sarah Nelson presented on the success of 18 Reasons' Cooking Matters program, which strategically taught people how to grocery shop, prepare healthy foods, and read nutrition labels. We also had the opportunity to hear highlights from Lyslynn Lacoste on the success of BMAGIC's Park Prescriptions program, which brought together 4 health clinics and 3 parks in Bayview. And to close out the presentations, Karen Lally presented on Community Grows BEETS program, which facilitated academic sessions, provided gardening skills, and job training. This has been a successful year for our partners, and we're excited to welcome 10 new partnering organizations to our coalition through the 2018-2019 Culture of Health grants! We're excited to see the work that will proceed, and the collective impact that will be created through these collaborations.

We've been looking at the strategic direction of our coalition, and the ways that we can better impact the city of San Francisco. We've formed two action teams to support us in our efforts: the Capacity Building Action Team (CBAT) and the Policy, Systems, Environments Action Team (PSEAT). Both teams have collectively looked at ways to strengthen HEAL focused work by leveraging our collective assets and expertise to support policymakers, community organizations and funders. In order to do this, we must continue to elevate chronic disease prevention as a key priority for the city of San Francisco. We hope you're ready to roll up your sleeves so that we can progressively move closer to our goals of increasing our collective capacity and strategically approaching advocacy work through a health equity lens.

Lastly, have you checked out the updated SUSF Coalition website? There is a new page to describe our strategic directions, coalition structure, and action teams. Check it out!

The next Coalition meeting is on October 10th 2-4pm 25 Van Ness, room 610

We look forward to seeing you all there.

With gratitude,

Roberto Vargas, Shape Up SF Coalition Co- Chair


Sugary Drinks Distributor Tax Advisory Committee (SDDTAC)
Check out the Agenda and Rules and Regulations (Draft) from the last SDDTAC meeting from August 3 ,2018!
Minutes from July 2018 meeting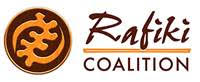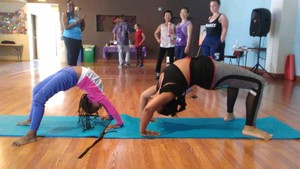 August Programs
Tai Chi

Tai Chi practices essential principles of mind integrated with the body; control of movements and breathing; generating internal energy and mindfulness.

Thursday, August 9th at 5:00 pm
Thursday, August 16th at 5:30 pm
Thursday, August 23rd at 5:30 pm

Soul Yoga

Enjoy the healing powers of stretching and strength building movements while listening to Soulful rhythmic sounds.

Saturday, August 18th at 9:30 am

Haitian Dance

Deeply connected to Haitian music, the dance of Haiti is filled with community, emotion, spirit and history mixing African styles and cultural traditions.

Saturday, August 11th at 9:30 am
Saturday, August 25th at 9:30 am

Qigong Intensives

Qigong, often referred to as Chinese Yoga, is a
traditional wellness system designed to optimize
one's entire being.

Part 2 of Training Intensive

Long Tendons, Long Life, Saturday, August 18th,
11 am – 2:00 pm
BAYVIEW GROWERS MARKET Opens -Brings Locally Grown Crops to the Locals!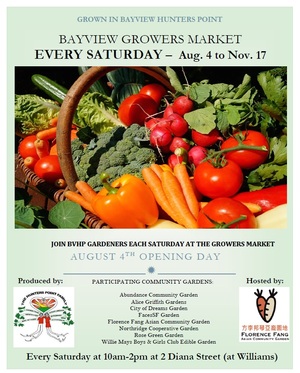 Eight community farms offer their fresh vegetables grown right in the Bayview for local residents – Saturdays Aug. 4 to Nov. 17


WHAT: The new Bayview Growers Market will be open to the public every Saturday! The first day will be Saturday August 4. The Bayview Growers Market is a collaboration of eight Bayview community gardens to share their freshly grown fruits and vegetables with the local community. The local urban farming operations grow a wide variety of produce from collard greens to strawberries, bok choy, Chinese chives and many more. The Bayview Growers Market will be held every Saturday from
10 A.M. to 2 P.M.
WHY:
Bayview Hunters Point has the highest rates of obesity and being overweight in San Francisco. The USDA has rated the neighborhood an urban food desert with SF's lowest access to healthy foods. Less than 5% of food sold is fresh produce.
Local community urban farmers have been thriving and are growing fresh produce in the neighborhood. Now they have been brought together by Hunters Point Family to share their crops with residents, promote healthy eating, and bring the neighborhood together.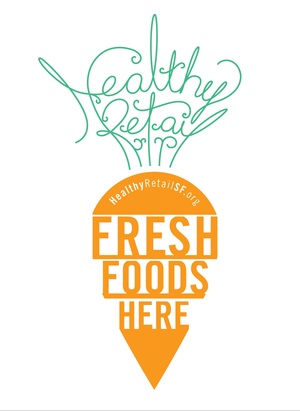 Newest HealthyRetailSF participating store, Sav-Mor Mart in the Bayview, went through a redesign process last month. A new refrigeration unit provided by the program has enabled the store owners to stock fresh fruits and vegetables, and a new metro shelf has created more space for high-fiber snacks and other healthy products in the store!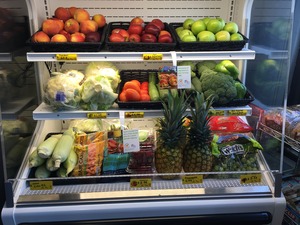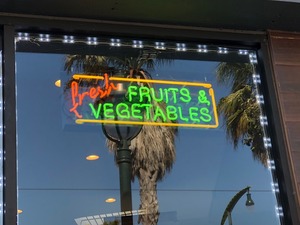 *COME SUPPORT!
A Grand Re-Opening community event will be held at Sav-Mor on Friday, August 10th, from 12-2pm, at 4522 3rd Street in the Bayview! There will be a ribbon-cutting, free food samples, and games with prizes! Hope to see you there, and please feel free to share. See attached SavMor Grand Re-opening postcard in English, Spanish and Chinese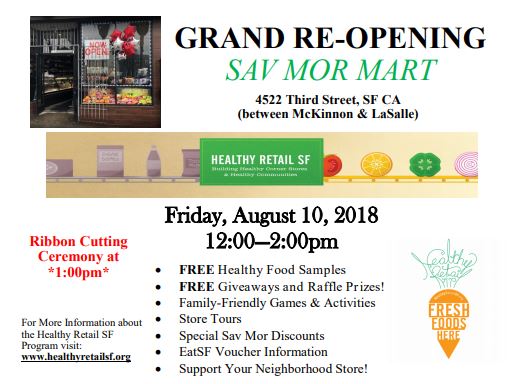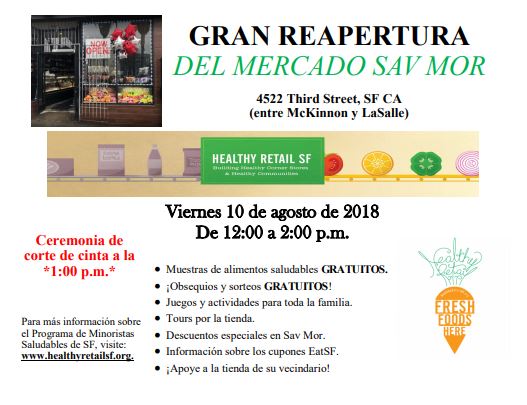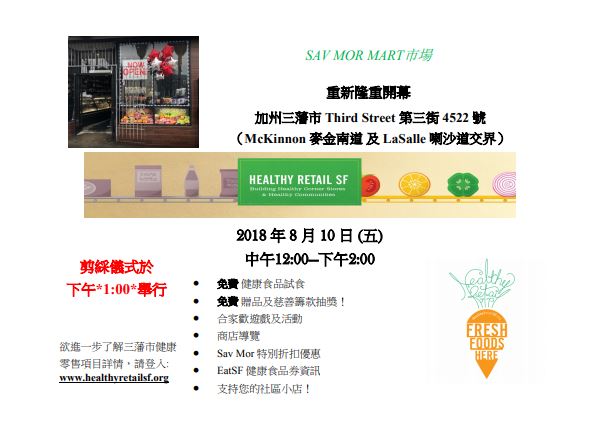 Econo Market in the Tenderloin is tentatively scheduled to be reset on Wednesday, August 22nd. HealthyRetailSF community partner, the Tenderloin Healthy Corner Store Coalition and resident Food Justice Leaders, are currently conducting customer surveys to help inform what new healthy products will be sold at Econo Market. Stay tuned next month for more information on the upcoming redesign!

For more information about the HealthyRetailSF Program, please see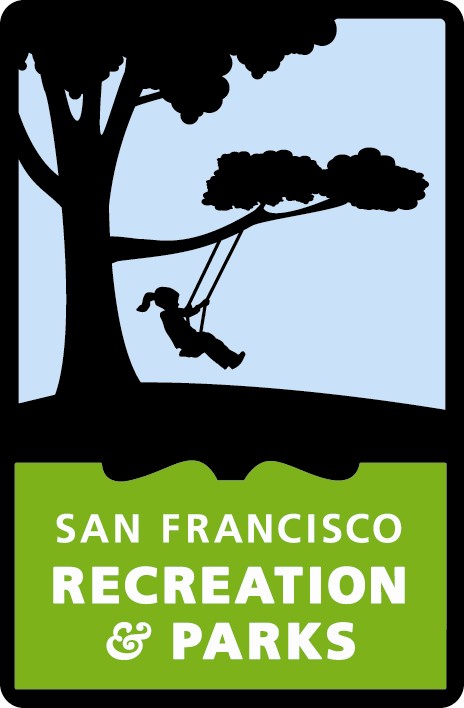 Garden Resource Day and Community Garden Workshops

Get your garden ready and join the San Francisco Recreation and Parks Department for FREE community garden workshops this summer and fall, including our third Garden Resource Day of 2018 at Alemany Farm (700 Alemany Boulevard) from 10 a.m. to 1 p.m. on Saturday, August 18. Grab some compost, mulch and more for your garden! Can you dig it? For the full list of community garden events and to RSVP, click here.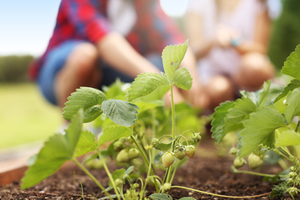 SAVE THE DATE!

Sunday Streets on Sunday August 19, 2018!
Sunday Streets is excited to announce the first NEW route in five years, s
panning Folsom Street from Essex to 10th Street.

Home to the Leather & LGBTQ and SOMA Pilipinas Cultural Districts, as well as the East Cut, SoMa West (coming soon) and Yerba Buena Community Benefit Districts, South of Market borders Potrero Hill and the Mission and contains many smaller neighborhoods, including South Park, South Beach and Financial District South. Pick up an Explore Local Guide at Sunday Streets info booths for a map of local businesses and resources.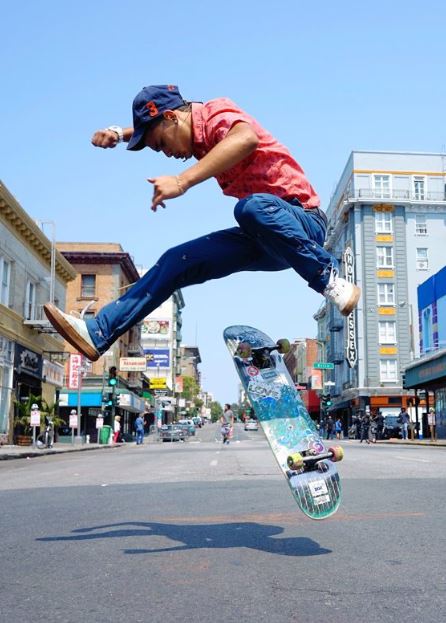 Dance the night away at DNA Lounge, visit the collection at the Prelinger Library, tour world-class museums and arts centers like MoMa, The Contemporary Jewish Museum, The Museum of the African Diaspora and Yerba Buena Center for the Arts. Enjoy a meal at SoMa Streat Food Park. Support community organizations like United Playaz and the Pilipino Senior Resource Center. And don't forget to explore the area's tucked-away alleys, expansive murals, small businesses and turn-of-the-century industrial architecture.
Sunday Streets 2018 Schedule:

August 19- SOMA
September 9- Western Addition
September 23- Tenderloin 2
October 14- Excelsior 2.0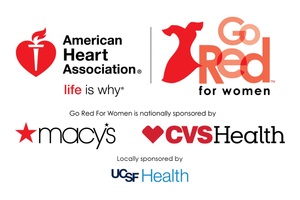 We'd like to inform you that UCSF Health and the American Heart Association Greater Bay Area are once again partnering to bring BetterU, the Go Red Makeover that can change your life. We would love for you and/or a friend to join the upcoming 2018 class!

What is BetterU? BetterU is a free multi-week program that focuses on women's heart and brain health. Throughout the 12-weeks, these women will experience a series of activities, demonstrations and classes that will ultimately improve their overall heart and brain health, and set them on a path to longer and stronger lives.

Participant requirements:
Attend at least 75% of classes (various San Francisco locations, Wednesdays at 6pm for 1 to 1.5 hours)

Must be 18 years or older to apply
Program information:
Start date: August 29th

End date: November 14th
Apply for the program today at https://www.heart.org/en/affiliates/bay-area-go-red-betteru!

Program to include:
Hands-On Cooking with AHA Chef

Transforming Stress Presentations

Strength Training

Laughter Yoga

AND MORE!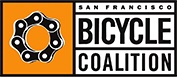 Nancy Buffum, Family and Schools Program Manager, SF Bicycle Coalition


Did you enjoy more time on your bikes this summer? Keep up your child's improved skills and start the school year with a new healthy habit: bike to school together!

Benefits
Children who walk or bike to school arrive awake, alert and ready to learn. Studies show that physical fitness contributes to academic success. 10-15 minutes of activity first thing in the morning translates into up to four hours of calmer, more focused attention in the classroom. You, the parent, are also getting that natural energy boost from starting your day with some fresh air and movement. Each car that stays at home–or parks a few blocks away from school–helps decrease traffic and reduces the car exhaust close to school.

Barriers
Too much traffic? No bike lane? Children up to age 13 may ride on the sidewalk, while the adult rides parallel in the street.
It's hard to get everyone out of the house? Pick a regular day to bike or walk and make it special by bringing along a friend, starting at a playground, or getting a reward like a sticker or a healthy treat upon arrival at school.
Distance? If your route is not bikeable for a young child, taking transit to school also provides the benefit of morning exercise. So does parking your car a distance of at least four blocks from school, then biking or walking from there.
Time is the biggest concern for parents on weekday mornings. When you build in the time to walk or bike with your child, your commute is special and less stressful. The whole family will build community at your school: you can meet and greet friends and other parents, and hear school announcements in the yard.

Safe Routes to School
Ask at your school office if there's a Safe Routes to School program at your school. You'll meet other biking and walking families in the program, or help start something new. Get tips on the Four Fun Ways to get to school--walking, biking, transit and carpooling--at sfsaferoutes.org.
Bayview Hunters Point Annual Back to School Celebration!

Check out event information on the San Francisco Bicycle Coalition Website