---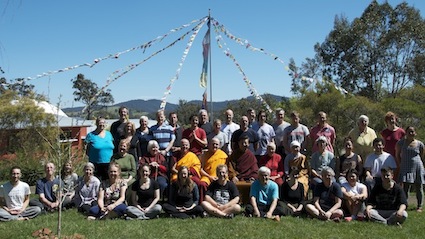 There has been two major retreats at SIBA Retreat Centre recently, the 10-day Calm Abiding Meditation retreat and Medicine Buddha retreat. Both we lead by
Lama Choedak Rinpoche

You can click here great photos of the retreats as well as the reports from those who took part including this years Training the Trainer.
Go to the
EVENTS
page on our website for a list of
retreats
including:
Intensive Tibetan Language Course 4 - 17 January 2013 Canberra
Family Week 9 - 13 January 2013 SIBA
White Tara 22 - 27 January 2013 SIBA
Yoga 22 - 24 February 2013 SIBA
4-day Calm Abiding Meditation 7 - 11 March 2013 SIBA
Ngondro Preliminaries 28 March - 1 April 2013 Virupa
Easter Health & Wellness 28 March - 1 April 2013 SIBA
Tai Chi & Meditation 13 - 17 April '13 SIBA
Nyung Ne Fasting and Purification Ritual 10 - 13 May '13 SIBA
Meditation and Motivation
Teaching by Lama Choedak Rinpoche
---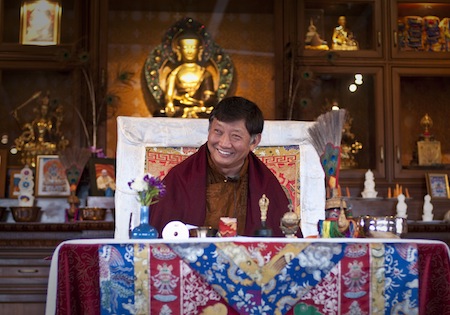 "...Our way of being in meditation carries over to the rest of our life, but it requires concerted effort to do this all the time. Try to relate better to those around you. This means we operate with good will and carefulness and try to be mindful of others. This means we take the carer AND the cared for into consideration. Nagarjuna said that one who is heedful is happy and one who is not is not. There is no certainty that happiness comes from what one does unless it is done with good motivation..."
This is a teachings extract written by Lama Choedak Rinpoche.
Go to the website
to read the full article.
Complete Tibetan Buddhist Canon

Enshrined at Virupa Retreat Centre
---
The complete Tibetan Buddhist canon was unveiled at Virupa Retreat Centre on the day of the 10th anniversary celebration held there on 14 October.
Lama Choedak Rinpoche, Spiritual Director of the SLCD said, "The unveiling of these books is a really significant event for Australia. This special library edition of 238 volumes of the Kagyur and Tengyur is a complete collection of the Buddha's teachings, and is the only one of its kind to be housed in Australia. It is a valuable treasure for the Tibetan Buddhist community to have this edition in Australia."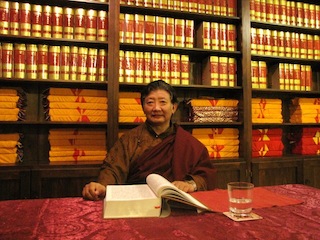 The canon is written in Tibetan, the only language that has fully protected and preserved the original Buddhist teachings for over 2,500 years ago. Tibetan language is considered very important for the understanding of Buddhist thought as most of original texts in Sanskrit were lost.
Rinpoche teaches directly from these during his meditation and philosophy classes at the Society's Canberra centre at Evatt. To date, less than 10% of these works have been translated into English and Rinpoche explained the benefit and appeal for the wider community. 

"Non-Buddhists and Buddhists alike can gain enormously from the teachings in these books. There are many opportunities for people to increase their knowledge as the canon's subjects include medicine, linguistics, botany, psychology, metaphysics and Buddhist philosophy. Modern science is only now catching up on some of the things the Buddha taught thousands of years ago."


The Tibetan Buddhist canon will serve as an excellent reference for keen Tibetan language students who wish to study and translate the texts. Rinpoche, who teaches Tibetan language is eager to form a team of translators to engage in translation of these works. Some students have been translating these works already.
The books have been arranged in the specially ordered bookshelves. 


Sponsoring the production of scriptures is regarded as one of the most meritorious deeds. You can sponsor a small amount or individual volumes by
clicking here
.
---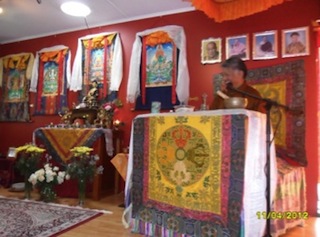 Padma Buddhist Centre - Formal Opening of new premises for Hervey bay
Padma Buddist Centre in Hervey Bay has fantastic new premises that were officially opened and blessed by Lama Choedak Rinpoche and State MP for Hervey Bay Ted Sorensen. Rinpoche also did a blessing of the local dragon boats while he was there. more >>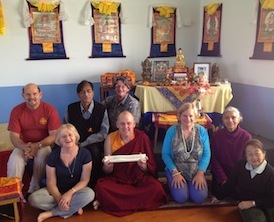 Ananda Buddhist Centre, Rockhampton gets Tibetan Kangyur
Rockhampton had it's dharma centre made more complete with the arrival of the Tibetan Buddhist canon recently in the form the Kangyur more >>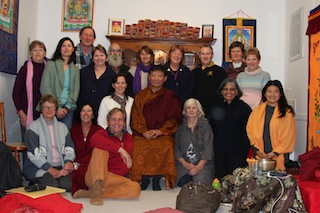 Damchoe Dogu Ling settled into new premises in Forster
"...We took up tenancy of two lower floor rooms six months ago. There is plenty of light from a large window fronting the main street through which you can see our shrine. At night it looks great as The Buddha is lit up and there are heaps of pictures of lamas and teachers from the Sakya school. Prayer flags and auspicious hangings abound. We've a little shop and there is room for 15 to 20 people to meditate though I'm sure we could double that if we had to. We painted all the walls white which helps give a feeling of light with the two large old fashioned flouro lights.... especially good for remedying dull abiding. The space is shared with a local yoga group which runs Friday mornings making for a real community effort." more >>
---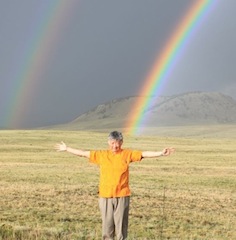 Rinpoche spent several weeks in July and August touring the USA and Canada giving public talks and leading meditation retreats. He also met with many teachers there from the Sakya Tradition as well as other traditions of Buddhism.

Read Rinpoche's report and see photos of his visit by clicking here
---

Venerable Jamyang Tsultim takes a look into the various names by which Lord Buddha was known, as is preserved in the sanskrit text Mahavyutpatti
"Coming from the Sanskrit root budh-, Buddha simply means 'woke'; hence, 'Awakened one'...

more >>