February 2012


Art & news cocktail would not be possible without the support of members of Open Concept Gallery and donations from individuals like you.

---
Neon Sculpture from Ugo Rondinone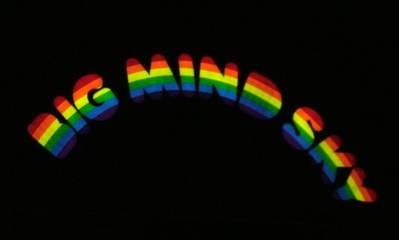 Open Concept Gallery partnered with Pro Helvetia – Swiss Arts Council to install the work of Ugo Rondinone. Neon sculpture which will light up downtown Grand Rapids until late April 2012.
"Ugo Rondinone's art work was recognized by curators from some of the foremost contemporary art institutions in the world - The New Museum in New York, Yokohama Museum of Contemporary Art, Sydney Museum of Art and others," noted Open Concept Gallery's Executive Director, Dr. Zora Carrier. "Our mission is to bring world-renowned contemporary artworks and artists to the vibrant, local art scene. We are honored to curate this important piece of Ugo Rondinone's work here in Grand Rapids."
---
Jackson Pollock, 100 year Anniversary
Even a century after his birth, American
"splatter artist"
Jackson Pollock still provokes heated debate about the very definition of art. Was a
man who placed a canvas on the floor
and dripped paint straight from the can actually creating a work of art? "It's very hard if you try to build the paint up to this extent with this many colors and not achieve mud," says National Gallery of Art curator Harry Cooper. For a comprehensive tribute to the artist's work and life see the
website
produced by international curator Denis De Gloire.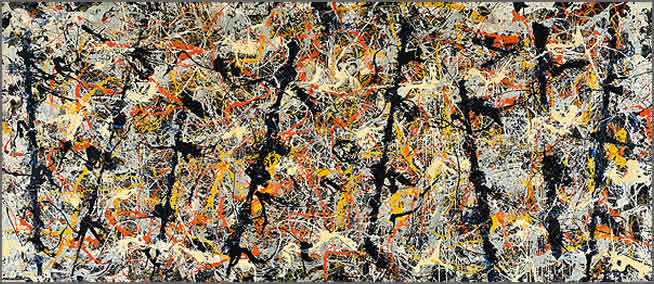 ---
in Denmark's ARoS Art Museum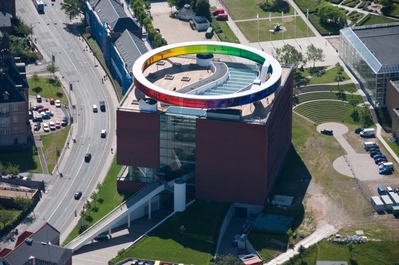 Eliasson's practice is characterized by a ceaseless exploration of human interaction with the surrounding environment. Creating work in a place where many academic and sensory realms intersect - science and aesthetics, rational deliberation and sensory experience, culture and nature – Eliasson's work calls our attention to the ways in which we orient ourselves, both physically and mentally to a work of art and its surroundings.
---
Homophobic Attack in Contemporary Gallery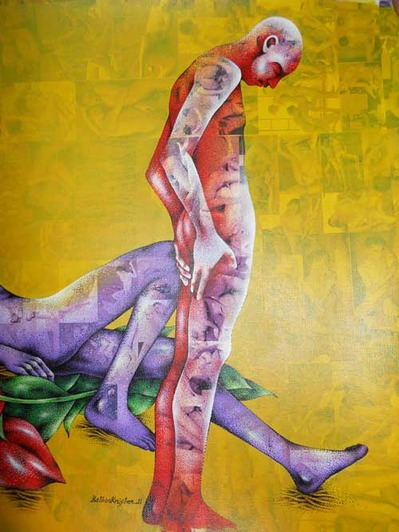 Indian artist Balbir Krishan
was viciously attacked recently at a government supported New Delhi gallery where his work, exploring themes of homosexuality, was on view. Krishan dedicated the show to
Bhupen Khakhar (1934-2003)
, India's best known gay artist, who controversially represents homosexuality in his work through reinterpretations of Hindu scripture. The exhibition later transferred to a private gallery, where the show ran its course without disruption.
---
EVA & ADELE: The Artist = A Work of Art
Performance in public spaces including social critiques in the form of photography, video, and painting are the main arena of artistic activity for
EVA & ADELE
. The
artists
have performed together since 1991, when they appeared at the opening of the exhibition
Metropolis
at the Martin-Gropius-Bau in Berlin. Ever since, they have been ubiquitous at many significant artistic events and openings such as the Venice Biennale, Documenta in Kassel or the art fair in Basel. Because of their innovative and insightful practice they have become a sine qua non element of the contemporary art world.
---
Celebration of BIG MIND SKY
MARCH 30th 2012, Friday 6-9PM
Opening night
will be a celebration of public art in Grand Rapids! Open Concept will be featuring two exclusive exhibitions in our new gallery space, as well as a presentation on the work of featured artist, Ugo Rondinone. There will also be a silent auction and a raffle featuring art as well as gift cards to local businesses.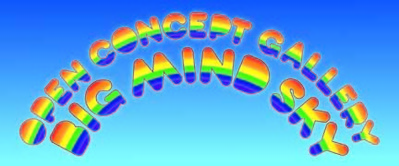 click here to find out about yard signs sale
---