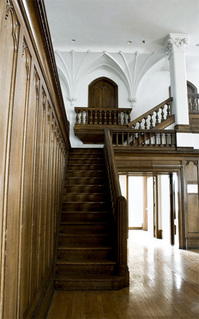 Art & news cocktail would not be possible without the support of members of Open Concept Gallery and donations from individuals like you.

---
Art Vandalized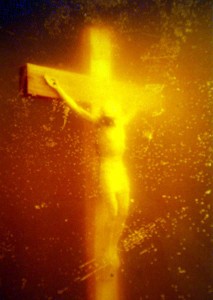 Recently, the provocative photograph,
Piss Christ
,
by Andres Serrano
was damaged
by Christian protestors with a hammer while it was on display at the Collection Lambert in France. This incident comes just after
Two Tahitian Women
,
a painting by Paul Gauguin,
was vandalized
by a mentally unstable woman at the Smithsonian's National Gallery of Art.
These attacks raise questions concerning methods of display, security, and censorship of controversial art that museums must confront. Yet, most importantly they reveal the power we place upon images and art objects in our culture once they have left the hands of the artist.
---
Silent Evolution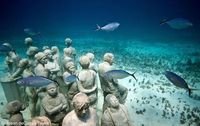 British artist, Jason deCaires Taylor, created an impressive collection of life size sculptures of people from around the world that have been installed in the waters of Cancun National Marine Park in Mexico. DeCaires Taylor says of his undersea project, "
The installation portrays a gathering of people, illustrating how we are all facing serious questions concerning our environment and our impact on the natural world."
---
Oil Money Fueling Museums
"If you have spent any time in an art gallery recently, you are likely to have BP to thank for the experience. A major donor to the British Museum, the Royal Opera House and the Tate galleries, it also supports the National Maritime Museum and the Science and Natural History Museums. . .
As it happens, whilst funding is often complicated – all sorts of individuals, religions and organisations want to use the arts to promote their own interests – in recent times corporate funding has been far less meddling than state funding." - Dr. Tiffany Jenkins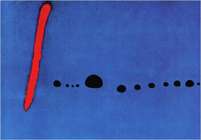 Joan Miro, Bleu II, 1961
please, click on the image for short documentary about Joan Miro
---
Laura Ford at Frederick Meijer Gardens & Sculpture Park
June 3 - August 21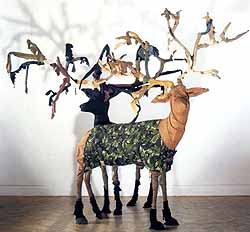 ---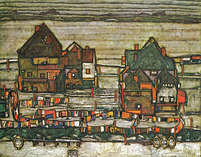 Egon Schiele
Sotheby's has announced that it will be selling Austrian artist Egon Schiele's 1914 work Hauser mit bunter Wasche (Vorstadt II), a painting of a cityscape of stacked houses and colorful laundry. It is regarded as one of the most important works by the early Expressionist artist ever to go on the market. The painting has had only two owners: Schiele's friend and patron Heinrich Bohler who purchased it in 1914, and then Rudolf Leopold, founder of the Leopold Museum in Vienna, who bought it in 1952 and is currently offering it for sale. With an estimate pre-sale of $36-$50 million dollars, it is set to be one of the prime lots of the London high-end art auction scheduled for next month.
---
Unique Space For Your Extraordinary Event
Open Concept Gallery is an elegant and unique architectural space located in downtown Grand Rapids that is available for rent for any special event or gathering. For more information, please click on the image below.
---