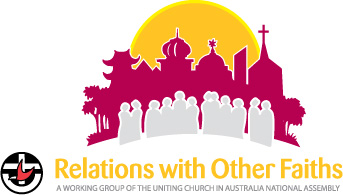 Greetings!
Welcome to the November E-Newsletter of Relations with Other Faiths, a Working Group of the Uniting Church in Australia National Assembly.

New Resources on the Website
New book review of The Dignity of Difference: How to avoid the clash of civilizations, by Jonathan Sacks
Documents from Dominican Centre for Interfaith, Ministry, Education and Research
Yours faithfully: Christ, Cronulla and the Common Good by Clive Pearson, given at the conference Challenging Islamophobia: Towards Social Justice & Inclusion
The Significance of the Multifaith Environment for the Christian Confession of Faith and Mission by Paul Tonson and Response by Sandy Yule, previous publication in Cross Purposes

What's New
Australia hosts the Fifth Regional Interfaith Dialogue with additional photos here

Upcoming Events
Living with the Neighbour who is Different 21 November (NSW)
Walking Humbly: A Journey to the Murray 27-29 November (Victoria)
Parliament of the World's Religions 3-9 December (Melbourne)

Resources Available from Relations with Other Faiths
Neighbourhoods of Difference: The Uniting Church in Australia and Interfaith Relations (DVD) Please contact us to obtain a copy.

Please visit the website often, as it will continue to be updated with new resources, news, and upcoming events related to the Uniting Church and interfaith relations, which you will receive updates of in these periodic e-newsletters. We look forward to working together with you as we continue the exciting journey of interfaith relationships.

---
Warm regards,
Uniting Church in Australia National Assembly
Working Group on Relations with Other Faiths

A: PO Box A2266, Sydney South, NSW 1235
P: 02 8267 4482
F: 02 8267 4222
E: rof@nat.uca.org.au
W: www.assembly.uca.org.au/rof/