CarbonfreeDC is excited to announce new speakers and entertainment for the Extreme Green Gala!

Speakers

Lou Leonard, World Wildlife Fund's Director for US Policy for International Climate Affairs has joined the speaking slate at the Extreme Green Gala on Friday, October 9th -- he'll be joining us still jetlagged after a two week United Nations negotaition session on climate change. Lou will give us an exclusive update on progress toward reaching a global deal in Copenhagen this December and the imperative to take actions to curb global climate change (learn more about Lou below). Other speakers include George Hawkins, former Director of the District Department of the Environment and the region's most respected environmental bureaucrat. More to come!! Learn more and/or register
Talent
Also, the beloved local band Kid Goat will provide musical entertainment for the evening. A "real American Rock and Roll" band, Kid Goat will jam out with blues, country, rock-n-roll and Americana. Other musical talent at the Gala includes Tony Philips, a well-respected jazz player and song writer. Learn more and/or register

So please join us for an exciting night of A-list speakers, music, food, art and celebration. Proceeds will contribute to "greening" twenty low-income homes through CarbonfreeDC's Extrem Green Neighborhood Makeover initaitive. Why delay? Purchase your tickets before they sell out.

Lou Leonard - In Brief

Lou Lenoard began his career working on endangered species and Native American water rights issues for the U.S. Department of the Interior. This was followed by several years in California tackling legal challenges surrounding energy and water development at the local, state and federal level. He joined WWF in November 2008 after serving as an environmental policy analyst and field organizer for the "Obama for America" campaign. As an environmental lawyer and climate policy expert, you can imagine the list of "to-do's" he has for the new administration.


Purpose of the Extreme Green Gala
With proceeds from the Extreme Green Gala on Friday, October 9, we'll be able to extend our renovations to do major improvements like better insulation, new windows and new efficient appliances. We expect to cut their energy bills by 20-30% with these improvements -- but we need your help to do it.
Please, take part in the cause and invite your friends to join you at the Extreme Green Gala, the pre-party to the DC Green Festival! There will be live music, organic food and great nationally recognized environmental leaders (hold your hats!). But best of all, your ticket proceeds will help fight poverty and global warming pollution at the same time.
Don't miss your spot... Purchase your ticket today!
~
Forward this message to a friend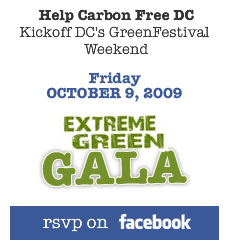 Upcoming Film Event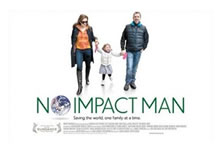 CarbonfreeDC is proud to host the Washington DC premiere of the celebrated documentary "No Impact Man." The film follows a young family living in NYC that goes to extremes to nix their environmental impact.
Join us at the E Street Cinema on Friday or Saturday night for the screening and a discussion lead by CarbonfreeDC sustainability experts.

RSVP HERE

Follow CarbonfreeDC Online
Keep up with the Extreme Green Neighborhood Makeover and more by following us on the web.