Aloha Friend,
This IS the newsletter about our Chinese student, Mr. Shumin Wang, with the 30,000 square feet of aquaponics farm that Susanne promised for this week. Shumin finally contacted us, told us that it all looked correct, so we have a go! First, a photo of Shumin's farm to give you a feel for it: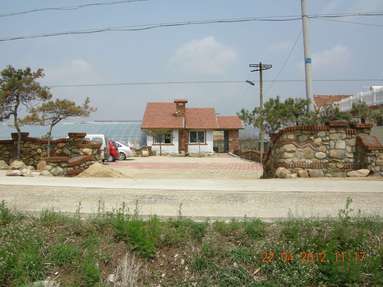 The entrance to Shumin's farm. All construction is brand new. You can see the ridgeline of one (of three) of his 11,388 square foot greenhouses going off to the left of the farm house.
Our Last Newsletter Covered Organic Certification:
Before Susanne dives into Shumin's awesome farm, we just want to remind you that we covered the subject of organic certification for aquaponics farms in depth in our last newsletter. In case you missed it, here's the link to it:
Commercial Newsletter #7
.
When writing the newsletter, we checked the Atlanta, Georgia, USDA terminal reports on 5-14-2012 for three produce items that you can grow anywhere in the world in aquaponics systems. We found that the price for all three was slightly
more
than double when they were organically certified. Even if you think you know what "organic" is, you may benefit from reading this newsletter.
You will definitely benefit from it if you're thinking about taking that "commercial aquaponics training" someone else offers. Read the newsletter, then ask them how many of their students have been certified organic, and if their farm is certified organic. To the best of our knowledge, none of them or their systems have ever achieved certification. It's kind of hard to understand how they can teach it to others if they don't have it themselves.
However, you can attend any of these trainings and learn how to grow aquaponic produce that is worth
half as much
, if that seems like a good business decision to you.
Our courses, our DIY materials, our website, our USDA Organically Certified aquaponics systems, and this column are designed to remove as many of the barriers as possible between you and your success in commercial aquaponics.
There are many teaching "commercial aquaponics" who have never operated a commercial system that their livelihood depended on, and definitely not a USDA Organically Certified one. We gave you verifiable income, expense, and profit numbers for Zac Hosler's aquaponic farm in Honaunau, Hawaii, in our
April 17th newsletter (click here to read it)
.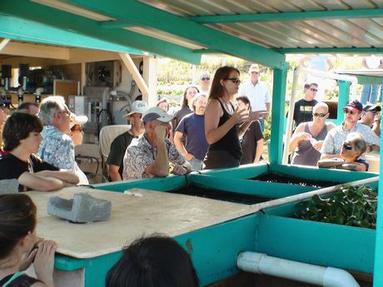 If the teacher you're considering can't provide numbers for their economically successful students, we'd love to meet you in person at one of our live
Aquaponics Technology Trainings
(only $495) For those of you who can't free up the time to come to Hawaii, our
Commercial DIY Training
has all the information combined in our Aquaponics Technology and Commercial Aquaponics Trainings together, along with complete information and guidance on the USDA Organic Certification process. It allows you to duplicate our success anywhere.
If you're in Florida or nearby, Sahib's Aquaponics is offering two-day urban aquaponics courses on June 9th and 10th, you can contact Sahib Punjabi at his website,
SahibAquaponics.com.
Now, for the "main course", we are honored to present to you our student and his amazing accomplishment:
Down On Shumin's Farm

Shumin Wang attended our October, 2010 Commercial Training. I remember him as a remarkable tall man, who sat and beamed a huge smile at almost everything I said. He absolutely glowed with pleasure, and asked very few questions. When he spoke, he apologized for his English, which I assured him was better than my Mandarin. B
ecause of the possibility of language difficulties, I was uncertain how much he actually understood. As it turns out, I need not have worried!
Shumin sent an email to me on March 5th, telling me he would be in Honolulu with his family, for a holiday at the end of April. He asked if he could come to the Big Island to visit us for a day, and we were honored and delighted to say "of course!"
On May 1st, Shumin arrived. We sat around the kitchen table and "talked story" for a while, as we say here in Hawaii. At one point, he asked if we would like to see photos of what he had built. Nothing in our entire experience of learning aquaponics for five years, and teaching it for four even remotely prepared us for what he showed us. Even now, three weeks later, Tim and I are still absolutely stunned.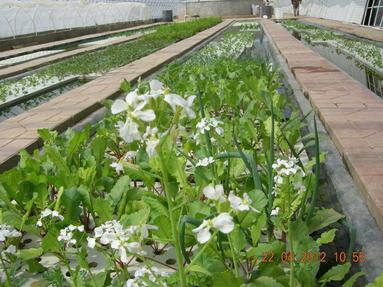 This photo gives you an idea why we were stunned when Shumin showed us the pictures. Look for the tiny human figure in the far right distance; it will give you an idea of the scale of Shumin's operation. This is only ONE of the three 11,388 square foot greenhouses he is currently operating., and these troughs only go HALFWAY down the length of the greenhouse!



Shumin started out by doing exactly what we recommend our students do: he went home and built a small test system. He spent $10,000 building his test system inside a rented greenhouse, and tested many things; "water vegetables" (as he said, not knowing the English words for the cultivars he grew), and most notably ginseng. After six months of testing, Shumin was ready to move on to his larger project, the first phase of which is now complete.
Shumin found land in a small village called, in English: Chikan Village, and in Pinyin, is called Chikin Cun Wei Hui. Chikan Village is in Yulindian Town, which is in Mouping District, in the Yantai Municipality, in the Shandong Province, in Northeastern China, on a peninsula that juts into the East China Sea.

Yulindian Town covers an area of 129 square kilometers, and in 2004 had 22,000 people. When we viewed his farm using Google Maps, it appeared to be in a very rural area. Here he built what is (to our knowledge), the largest aquaponics facility in the world. In May of 2011, Shumin moved his project here, on to a piece of land that is 20,000 square meters (4.9 acres).
The first phase of his ambitious and well-thought out project is three greenhouses, each 11.5 m x 92 meters (37.7' x 301.8'), for a total area under each greenhouse roof of 1058 square meters (11,388 square feet). All three greenhouses combined have a total area under roof of 3174 square meters (34,164.7 square feet), or almost one third of a hectare! And this is only phase one! Phase two will be built out of cash flow and will double the size to six greenhouses.
Inside each greenhouse, Shumin has built an integrated system that combines aeroponics, deep water culture on both polystyrene and hand made bamboo rafts, and gravel bed. Each greenhouse is divided in half by a huge, 5.5 meter (18 feet) diameter, concrete fish tank, each stocked with 200 kilos (440 pounds) of fish. Half the greenhouse is devoted to aeroponics, growing ginseng eight months of the year, and strawberries the remaining four months, when the ginseng is put into cold storage.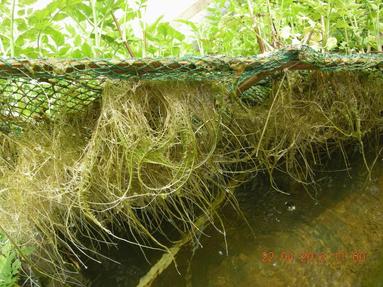 A bamboo raft of Shumin's, showing vegetables and roots growing below the raft.



The aeroponics units he designed (and produced himself in his plastics molding factory; he's a resourceful fellow!) are two and a half meters tall (8.2 feet), allowing workers easy access by short ladders to vertical growing units that allow for thousands of plants per greenhouse.
On the other side of the greenhouse, are four 45 meter (147.6 foot) troughs; three are raft, one is gravel, as well as one covered germination area one meter (three feet) wide that runs the entire length of each greenhouse (92 meters/301.8 feet).
Shumin has what we call in the States a CSA (Consumer Supported Agriculture) with 40 members, who each pay the equivalent of $1500 US per year for produce, strawberries, chickens, and eggs. This provides Shumin's farm with a solid, guaranteed income of $60,000 per year. The area required to raise the food for the CSA only takes up 25% of his current greenhouse space, leaving another 25% of his production for him to sell to local markets. He has a full 50% of his greenhouse space left for the ginseng and strawberries project.
They are also raising 600 chickens, to sell both meat and eggs.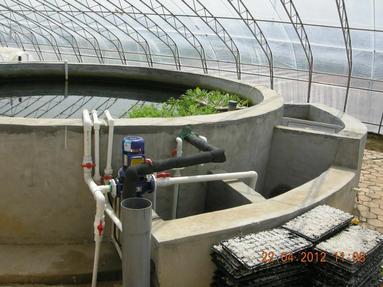 One of Shumin's concrete fish tanks, with integrated solids settling, net, and degas tanks. Shumin has REALLY cheap fish food, electricity, and labor, with GOOD fish prices, so this HD system makes the most sense for him to use. If you're NOT in China, you need to learn more about what an HD system is, before you just build one and lose your shirt raising fish.



Using aquaponics water, ginseng has a three year growth cycle, rather than the five to six it takes to grow in the ground. It is very easy to tell how old the ginseng is, because the little plants have three leaves the first year, six leaves the second, and nine leaves in the third. Shumin's farm will also produce ginseng seed, baby ginseng, and young plants, which are at present very expensive and almost impossible to acquire. This is a smart business move, and gives his farm one more stream of income.

It cannot be overstated how both medically and culturally significant ginseng is in China. The demand for quality ginseng products always far outstrips supply. From the ginseng operation alone, they project to bring in $150,000 US per year, beginning in the third year, and continuing every year thereafter. The strawberries are projected to bring in $75,000 US per year, beginning this year. Operating costs, including labor, are projected to be $60-80,000 per year for the entire operation, including the CSA, ginseng, strawberries, and the 25% of his production that goes to local markets.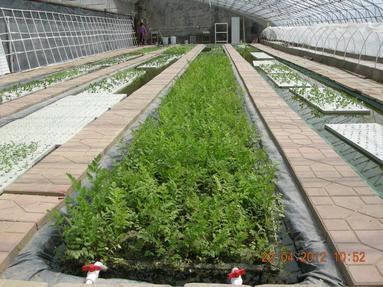 Another greenhouse, another set of troughs with different vegetables. You can see the back wall of the greenhouse covered with aeroponic piping, waiting for the racks that hold the plants to go in.



His entire cost of construction has been $250,000 to complete the first phase, and as mentioned previously, the second phase will be built out of cash flow. Currently, the greenhouse fish tanks are heated with hot water pipes that run underneath them, with the water heated by running a boiler. They will switch to solar hot water soon, as cash flow allows.
Having had many years in business as the owner of a plastics extrusion factory, Shumin's business background is very strong. While some of these numbers are projections, they are based upon his many solid years as a successful business owner. Shumin has invested his own money in a project that he believes will make him money while serving his community.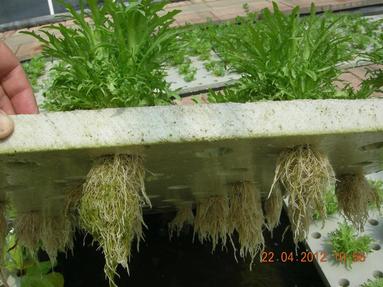 Raft with plant roots, with more troughs and rafts in background.



Shumin and his family are also deeply involved in philanthropic endeavors utilizing aquaponics. Along with Shumin's brother, they have already built an aquaponics system in an orphanage in Thailand.
There are simply no words to express our gratitude to Shumin for attending our training, taking everything we had to offer, and creating something so unique and amazing that Tim and I are still stunned. It is good to know you are in the world, and your aquaponic farm as well. It is a great honor to know you, and to have been involved even a little in your success in aquaponics. Thank you, from the bottom of our hearts.
Aloha, ***Susanne
***
We hope this has been useful to you. If you have any additional questions you would like us to answer in this continuing series of Commercial Aquaponics newsletters,
please email them to Tim
.
Click to see our new Video!
............................................


Purchase Trough Liner Directly From Manufacturer!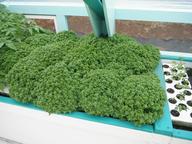 Pistou basil growing in our Aquaponic Solar Greenhouse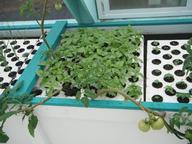 Large-leaf basil interplanted with tomatoes equals yummy pesto in the future!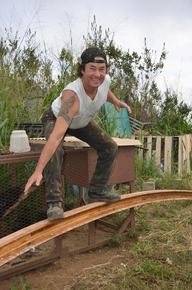 Tim joking around, but really showing off the strength of the 20-foot curved beams used in the Aquaponic Solar Greenhouse.

Special Offer!
Sign up for our June 28-29
Aquaponic Solar Greenhouse Training
or our June 24-26th Aquaponics Technology Training, and receive our Micro System package for free so you can begin studying aquaponics! ($99.95 value)
More Information on Hawaii Aquaponic Solar Greenhouse Training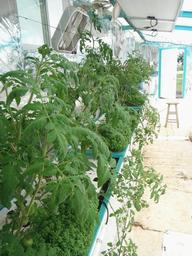 Tomatoes on the north wall of the Hawaii Aquaponic Solar Greenhouse; the wall reflects light and provides a built-in tomato trellis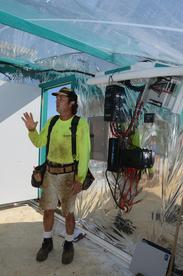 Tim with the PV system charge controller, inverter, breakers, and cabling from the PV panels on the wall to the right. The roll-down white plastic cover (rolled-up in this picture) keeps all this (black) equipment from heating up too much on a sunny day.
"The Fish's View"

It was 1983, and I was fishing off the northwest coast of the Big Island near Mahukona, in "Jada", a little 24-foot displacement hull boat I'd designed and built to be fuel-efficient, inexpensive to build, and comfortable and capable out on the fishing grounds.

I thought the world needed fuel-efficient workboats, and would beat a path to my door for design work, and to have many more Jadas built!

How wrong I was! But that is another story, and this story is about a day out on the crystal wate, and a starry night heading home with the day's catch.

It was a normal fishing day for me. I had no crew on board today. I didn't need one on this little boat, because an extra hand didn't catch any more fish for the type of fishing I was doing, but needed to be paid! I was setting a short, shallow flagline with live bait for mahi mahi and ono.

My flagline was about a mile of long, 1/4-inch diameter rope with hooks on leaders snapped to it at intervals. It had floats snapped on about every 600 feet or so, with flags on some of the floats, hence the name "flagline".

The night before, I'd anchored in about 20 fathoms of water over a sandy bottom at my "secret" spot, and using little feather jigs on a 30-pound test monofilament handline, had caught a live bait well full of akule and halalu (mature and juvenile big-eyed mackerel scad, for those of you who don't know Hawaiian fish).

I got a little sleep, but the main thing was that I had all the live bait I needed for the next day's fishing.

I motored out to the spot I'd chosen to set my flagline just before dawn, and had the entire line baited and set by the time it was light. The akule make a croaking noise when you hook them, for they don't like it (who would?), but live bait outfishes dead bait by a factor of twenty to one or more, so live bait it was.

Besides, everything in the ocean is always trying to eat something smaller, so I figured they knew the risks when they took a whack at my little jigs the night before.

I had about forty pieces of bait, so I set all forty, leaving none for later rebaiting, and unclipped the unused flagline, leaving it in the line bin. The whole line had about 90 hooks on it. Then I threw my littlest sea anchor and hung on it after a breakfast of rice and Portuguese sausage, napping intermittently until about ten or so.

I had kept watch down the length of my line when I was awake, and didn't let myself nod off until I was satisfied that the line and my little boat were drifting at roughly the same speed in the same direction. I had no radar back then, and to get separated from one's flagline meant possibly not being able to find it again, an expensive mistake!

You also didn't just tie off your 3,000-lb boat to the flagline, because then fish that hooked themselves had something solid to pull against and break free. With the line floating free, a big fish only had the line itself to pull against; and your fish tended to stay on the line. So you had to stay near enough to the line to spot it, but not tied to it.

The long story short of it is that I caught three mahi-mahi, one 42 pounds, and a 36-pound ono that day. They were all worth $3.95 a pound to the fish buyers, so I had about $500 worth of fish on board.

For a boat that only cost $22/day of fuel and ice to run, this felt good, and I headed home quite satisfied and comfortable after pulling the line in just before dark. I remember thinking it had been a good day. I got the last of the line in just as the sun hit the water, and immediately turned on my running lights to head home.

The day wasn't over yet, not until I tied up, iced down the fish with more ice (waiting in my truck at the dock) and could just collapse into a dry bunk. I was about fifteen miles from the harbor, and at ten knots, I had an hour and a half's run back home.

It was a quiet night; there were no other boats out on the water, and I just ran along under the stars, the diesel thumping away, and the night sky turning overhead.

After about an hour, I was getting close to the harbor, and for some reason I decided to stick my head outside the cabin, looking forward along one side of the cabin, and steer from that position using my left hand.

I'd only been doing that for about five minutes when I saw something ahead of me that just about stopped my heart: the head of a humpback whale was coming out of the water about sixty feet ahead of my bow!

The whale was going the same direction I was going, but LOTS more slowly. I dropped the wheel and grabbed the shift lever with my left hand, slamming it from full forward into full reverse in about a second. Not exactly recommended operating procedure, but neither is running into whales (I found out the next day I'd cracked the stainless steel shaft coupling in half).

If I hadn't been so shot through with adrenaline, I might have done some math: 1-1/2 tons of plywood boat hitting 35 to 45 tons of whale at eight knots,

equals what?

Not something I'd want on my resume, that's for sure.

The engine screamed, the boat shuddered, and we were still doing about four knots forward through the water when we gently drifted over the place the whale's tail had just disappeared. We missed kissing it by about 15 feet. It looked HUGE and black in the starlight, and about twenty feet across.

I idled back the engine, put it in neutral, and shook for a good long while. I think I used the s*&t word a lot, for I had to get rid of the nervous energy somehow.

When I did put her into forward again, I had my damn head outside the coaming the entire way back into the harbor. I also think I ran at 3/4 throttle rather than full.

The most amazing thing came afterwards, when I had time to think about it. When I went diving, I can hear powerboats, especially diesels, hundreds of feet away underwater, because sound carries so well. I'd always thought whales had an incredible sonar "picture" of what was going on all around them.

Was this a "deaf" whale, a stupid or careless one? Do humpbacks have a "blind spot" directly behind them? Because that's where I'd come up on the whale from. I never figured it out, and whale experts I talked to about the incident were baffled by it.


More fishy stories in the next newsletter!