My Horse Major Dude, Part 2 (NOT An Aquaponics Nugget) Have you ever ridden a 2,000 pound, 18-1/2 hand horse?
One day as we were leaving the farm on errands, we noticed Major in the pasture with his head down, looking very lethargic. We stopped and checked him, and his gums were blue, and his nose was running. I may have gotten the exact symptoms wrong here (my medical wife Susanne knows the correct term) but this means his circulation was poor and he was quite sick. We took him to the vet.
This began a two-week ordeal during which the vet gave him five different antibiotics and three other medications, without coming up with a hint of a diagnosis first. The vet didn't know what was happening, and couldn't treat it. He went completely blind, had large localized infections develop in two places in his ribcage where the vet took lung fluid samples, and finally got laminitis.
Laminitis is diagnosed when there is a line of blood all around the horse's hooves where they join to his leg; usually the condition gets worse. It almost always ends with the horse's hooves falling off and needing to euthanize the horse.
It's almost impossible (and incredibly expensive) to recover a horse from laminitis: it takes months for the hooves to grow back so the horse can use them, and the horse cannot stand on its feet while this process is going on, they have to be hung in a sling that supports the horse's whole weight without cutting off their circulation. It would be like you walking on a broken but unsplinted leg.

You can't just let them lie down while their hooves heal, because being on the ground for more than an hour or two can kill a horse: their circulatory system is designed for them to be upright all the time. We knew if this went any further, we would lose Major.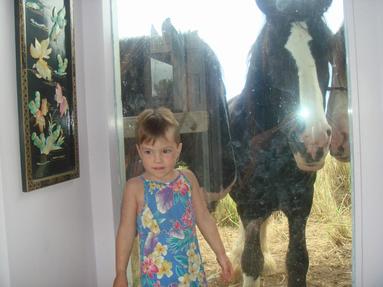 I had gone home the first night we left Major at the vet's, but the next day, when I came back to check him and found that things had gotten worse, I told him I would stay with him until I brought him home. I talked to him and told him that I'd either bring him home after he'd gotten well or bring him home to bury him, because he was my horse. I called Susanne and told her about the committment I'd made to Major, and she supported me completely: brought me hot meals, books, and new batteries for my flashlight. I slept in the back seat of my pickup truck just outside Major's stall.
Susanne was just learning about essential oils at the time, and gave him several of those in various forms. We may never know what made the difference, but about seven or eight days after we brought Major to the vet, he'd gotten a bit better, and so we took him home. The vet never came up with a diagnosis for the problems.
We put him in a stall lined with as much soft hay as we could round up, and he stayed there for the first week or so after he got home. He ate well, which is always a good sign with a sick animal, and gradually recovered his strength. About two months after he came home, he was running around in the pasture with our three Shire mares. He was completely blind; although we'd hoped his condition was temporary and would improve, he never recovered his vision.
(Part Three of Major Dude next week! After that, I'll cover HOW to do a valid experiment in Aquaponics to try out that great idea you have; WITHOUT ruining your large commercial system in the process; and in the very next newsletter, I'll cover exactly how much fish you DO need in your aquaponics system for good vegetable growth. Hint: it's a LOT fewer than you might guess! Thanks for listening!)

The photo below is our Solar Greenhouse. It's cool when it's hot, and warm when it's cold (hope that makes sense to you, it's the best greenhouse we've ever seen!).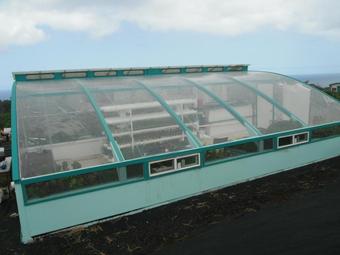 Friendly Aquaponic's FIRST Aquaponic Solar Greenhouse in full bloom, Honoka'a, Hawaii, March 2012, (on a grey rainy day) showing PV panels and growing plants.