Aloha Friend,
Whoopie! We're in Florida!! (Why is that so cool?). Well, when I was here for the last Friendly training with Gina and Tonya of Green Acres, I got to eat some "Alligator Nuggets" at a little waterfront crab shack (by now I'm certain you know this is Tim, as Susanne has MUCH better taste!), and they were GREAT!.
The people who just say "it tastes like chicken" are all wrong: chicken is tough, dry, and full of unnatural hormones; alligator nuggets are a tasty combination of lobster and chicken with a wonderful texture like fried menpachi (THAT'S a Portuguese word for a Hawaiian squirrelfish, IT'S tasty too!). Anyway, in Florida it is only a hop, skip, and a jump to a platter of alligator nuggets, so my reward for that miserable redeye flight is at hand.
We were suspicious about the redeye at first, but after Susanne spent an easy half hour checking out flights to Florida, we were absolutely certain: the game is rigged! There's NO way to get from Hawaii to Florida without taking a redeye, unless you want to spend a half-day layover in San Francisco or Los Angeles breathing airport fumes.
So we spent thousands of dollars to fly (instead of sleep) all night long, jammed into narrow seats in which it's impossible for anyone constructed along normal human lines to get comfortable for more than 10 minutes in a row, let alone to sleep; then we got to watch a second-run movie to which we wouldn't have bothered going if it was in a normal theater, and to top it off, got fed peanuts and reconstituted orange juice, because they don't allow you to bring your own liquids anymore!. We counted our lucky stars and imagined how long it would have taken to row that distance; all of a sudden we felt like were sitting in the lap of luxury,
First, we are headed for the Aquaponics Association Conference in Orlando from the 16th to the 18th. After talking ourselves hoarse there, we have a half hour to pack and travel the 85 miles to get ready for the Florida Friendly Affiliate training at Green Acres with Gina and Tonya.
While we're in Florida, we'll continue to answer emails and write the newsletter. If you have any questions, or are interested in the trainings or the Conference, please
email me (Tim) at Friendly Aquaponics.
If you're interested in commercial scale aquaponics, please take a look at our
Commercial Aquaponics Trainings
(Special Offer in right sidebar of this email), where you will learn more about real-life operation of a commercial aquaponics system than you can anywhere else in the world. The next training is in Florida in September 2011. For smaller home backyard and apartment systems, please read on:

Purchase Construction Plans and Operating Info for 4 Different Sizes of Apartment/Condo Aquaponics Systems $49.95
Our Apartment/Condo System package includes new and easy-to-understand building instructions and complete operating information for 4 different sizes of small aquaponic systems based on our years of experience operating a commercial aquaponics farm. Anyone can build a system out of plastic barrels, but operating one successfully without good
and
easily-understood information can be frustrating. You simply use the "Daily O
perations Checklist" in the manual and follow the step-by-step
instructions on your way to success.
We spent hundreds of thousands of dollars, hundreds of hours, and built our first commercial aquaponics systems with FAR less information than this manual contains. We included all the information learned from that experience in this manual so you don't need to make any of the same mistakes we did.

Aquaponics Nugget #53:
Hybrid Aquaponics/Permaculture Sustainable Food Production Systems
We described one of these hybrid systems last week, and this week I'll describe another such system that is even simpler.
let's say you already have an aquaponics system that is operating smoothly, but are interested in growing crops in the ground that you guess or know won't grow well in aquaponics systems. Bananas and orange trees, for instance!
This "system" consists simply of feeding the fish in your aquaponics system more than you normally would, and taking the excess nutrients thus created and feeding them to plants you've planted in the ground. You simply irrigate the plants with aquaponics system water and replace the system water used with new water. We've found that the "ground" part of this is extremely forgiving; you DON'T need to have beautiful fertile soil for this technique to work; it works just as well in rocks and sand.
Here's an example of a 2-year-old banana in rocky soil, this is its first bunch of bananas. This is NOT an example of what we're explaining here, it's just what happens with normal watering and soil conditions at our location.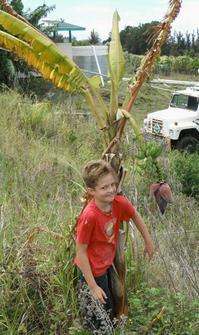 Next is an example of another two-year-old banana, from the same root stock as the first one, planted in the same rocky soil. The only difference is that

this

banana was watered with aquaponics system water.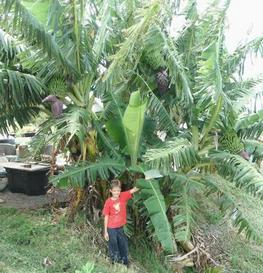 This

banana has given us six 60-pound bunches of bananas in the last year, and has five more on it right now.

In our location, a newly-planted banana normally takes two years before it bears any fruit. The banana here not only started giving fruit after a year, but has given us the same amount of fruit a normal fo
ur- or five-year-old banana would have. We've seen this same pattern in EVERY soil-grown plant watered with aquaponics water: they all grow in about half the time and bear two to three times the weight of edible vegetables that they normally would have,

even when fertilized using good organic fertilizer

!
The best part of this arrangement is the financial side: you would have had to purchase or supply both fertilizer and irrigation water for those in-ground crops ANYWAY. Instead of fertilizer, you're buying fish food, AND getting additional fish yields from the additional fish food you're expending on your fish. This is in addition to the increased yields and faster maturities you're getting from the in-ground crops. This is a simple system that only combines two elements that are often found independently in
backyards and farms.
Can you see what we're doing here? We simply
implemented this system using ingredients
we already had
,
in a different way, with a different understanding.
Think of additional ways YOU could combine systems so the output of one can reduce the need for inputs in another.
(Next week, more system thinking: "Hybrid Aquaponics/ Permaculture/Sustainable Food Production Systems" Part 3)
Click Here To See Our New Aquaponics Video!
.......................................................

Back Issues Of Newsletters Now Available, Click Here!
.............................................
Free Farm Tours

..............................................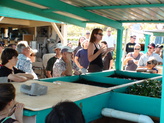 Aquaponics tour at the Friendly farm!
We hold a free workshop on our farm the FIRST Saturday of every month, focused on growing food with aquaponics and permaculture.
Click here
for information. See you there!
If you are a school, a non-profit organization, an organization working with the poor, Native Hawaiians, or ex-inmates, or if you are a church, we will hold a free farm tour for you anytime. You DO need to email us first to schedule, or we might be out on errands!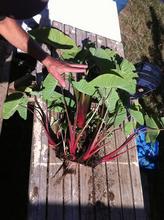 3-1/2 pound kalo (taro root) grown in a 2" net pot (little bump at bottom)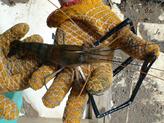 4-month old prawn (macrobrachium rosenbergii) grown in hydroponics troughs of our aquaponics systems
Special Offer!

Sign up for our our September 2011 Florida Commercial Aquaponics Training, OR our

October 2011 Hawaii Commercial Aquaponics Training

now, and we will email you our Micro System package so you can begin studying aquaponics! ($99.95 value)



More Information on Hawaii and Florida Commercial Aquaponics Training
In
The Farmily
My wife Susanne had a great idea seven years ago which was to start breeding Shires; similar to the "Budweiser Clydesdales". They're black and white with "feathers" on their hooves, and look like 2,000 pound quarterhorses; they have a beautiful gait, are super gentle around children; and there were none on our island, which meant we had a corner on the market. We got a lot of inquiries for colts from the Shires, then our stallion got sick.
He didn't die, which was lucky, but unfortunately he lost his eyesight as a result of the illness. Except for this, he's a regular horse. When he shows an interest in dating one of the "girls", they simply wander a few steps away from him, and he's left holding his flowers and candy and saying "baby, where did you go?".
So, we're investigating artificial you-know-what. But with cheap oil receding in the distance, we're REALLY GLAD we have four of the biggest draft horses in the world on our farm!