Aloha Friend

First, An Update from Susanne on the Value-Added Opportunity:
THANK YOU so much for your response to our Value-Added Opportunity. I have received a literally overwhelming response - I was expecting 15-20 replies, but have received several hundred! I am far behind in my responses, but be on the lookout over the next few days, as there's light at the end of the tunnel!
Thank you for those of you who have returned the NDA/NCA to me already, and for your patience as I get through all the responses, one-by-one, as this is NOT an automated response - it's all done manually, by a Real Person (me!).
Thanks! ***Susanne***
Our Affiliate Program:

For those of you who aren't yet aware of our Affiliate programs, here's the deal: we're the ONLY aquaponics professionals who teach our students how to teach aquaponics, AND let them use our manuals (under license) to teach others with. In fact, there are two Micro System trainings being given by our affiliates right now (see sidebar). If you read below the turquoise box in the middle of the newsletter, you'll see that we also encourage and work with "Commercial" level affiliates to teach our Commercial Aquaponics and Solar Greenhouse Trainings. No other aquaponics teachers offer this, but you can partner with us to do so if you wish!

In today's "Nugget",
we continue our series with
Part 4
about Wayne Hall, a friend of ours, and an aquaponic producer in the Bahamas; and his experience getting a commercial aquaponics operation started there. If you'd like to refresh your memory, you can read
Part One
,
Part Two
, and
Part Three
of this series to start.
Our "In The Farmily" column today
is about MONEY in the Farmily, by Tim.
Aquaponics Nugget #129, Part 4: Wayne Hall; Profile Of An Aquaponics Producer

I finished construction at the beginning of September and started to plant in earnest, my goal being to seed 2,100 units a week at 350 per day. At the end of September I had a total of approximately 10,000 units. The system was performing amazingly, and everything was growing by the day.
Of course there always has to be some excitement and Hurricane Sandy decided to take vacation in the Bahamas, by the time she passed over the northern Bahamas she was a Category 3 hurricane.
All I could hope for was that I had built the structure soundly and it would hold up, so I proceeded to drop the water levels in the troughs, so that the plants in the boards were below the edge of the trough, and moved all the trays of seedlings inside to wait it out.
Sandy didn't stay long and passed overnight and thankfully was headed back out into the Atlantic within 24 hours.
The following morning after the wind had passed I went outside to survey the damage. Amazingly the structure held along with the entire aquaponics system and I only suffered minimal damage and lost a total 300 romaine heads (5%), of the over 6,000 plants already growing in the trough.
Unfortunately the other local farmers were not so lucky and suffered major losses.
I had my first harvest in the middle of November just before the beginning of the tourist season.
Of course my initial research indicated that whole heads was the desired product and my initial configuration was based on that, however there was a greater demand for baby mixed salad greens in the consumer marketplace.
In the current configuration of 4 units per sq ft this only yielded a total of 16 lbs per week, the market price I was getting was $10 per pound. I needed to make adjustments as I was operating at a loss of $150.80 per week.
Income @ $2.50 per unit x 64
$160.00
Packaging Expense @ .95 per unit x 64
$60.80
Operating Expenses @ $250 per week
$250.00
Net Weekly Income
-$150.80

(Editors note: We'll leave you hanging here until the next newsletter; Wayne WILL explain how he adapted and changed his operation until it was showing a profit, and will detail expansion of operations from his current 3,000 square feet to 20,000 square feet of trough area in 2013. But ya gotta wait, we ran out of room!)

(Below) Photo of Wayne Hall's farm location on the island of Abaco, in the Bahamas, from Google maps).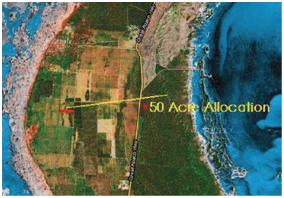 (Part "Final" of Wayne Hall's story next week (but not really; Wayne's saga will continue as his farm grows); thanks for listening!)

For smaller home backyard and apartment systems, please read on:


Purchase Construction Plans and Operating Info for 4 Different Sizes of Table Top Aquaponics Systems $49.95
Our TableTop System package includes easy-to-understand building instructions and operating information for 4 different sizes of small aquaponic systems based on our years of experience. Anyone can build a system out of plastic barrels or IBC totes, but operating one successfully without good
and
easily-understood information can be frustrating. You simply use the "Daily O
perations Checklist" in the manual and follow the step-by-step
instructions on your way to success. We also cover how to make aquaponics systems out of weird things like old refrigerators and door frames; this makes aquaponics
much more
economical to get started in, and fun too!
We spent hundreds of thousands of dollars, hundreds of hours, and built our first commercial aquaponics systems with FAR less information than this manual contains. We included all the information learned from that experience in this manual so you don't need to make any of the same mistakes we did.

Friendly September 2013 Commercial Aquaponics Training Schedule: Tennessee:

These Tennessee trainings are $1,495 per person for five days of the most comprehensive and profitable Commercial Aquaponics and energy efficient Solar Greenhouse technology on the planet. If you can't wait until September to learn about profitable commercial aquaponics, check out our Personal Intensive trainings in Hawaii.

SPECIAL OFFER: First 25 registrations will receive 50 tilapia fingerlings, a $100 value (shipping not included). Register before September 1st and you are automatically entered in a drawing to win a COMPLETE 64 square foot backyard Micro System. This includes everything you need to get started (just add fish, media and seeds; shipping not included). This is an $1,800 value, and the course only costs $1,495.
First 5-day training: September 23rd-27th (register here for first Tennessee training). . Second 5-day training: September 30th-October 4th (register here for Tennessee second training).

(Click here for more information on Tennessee trainings).

These five-day trainings allow you to travel during the weekend so that you only need to take a week off your busy life to attend.

Both of these five-day trainings include our $999 DIY Commercial Aquaponics package, $998 DIY Farmer's Market Aquaponic Solar Greenhouse package, and new $295 DIY Commercial Tilapia Hatchery manual as course materials, plus our Plywood/Epoxy/ Tank manual, CAD construction drawings for all greenhouses and aquaponics systems, and much more!

If you're located near Tennessee, Randy and Katie give regular free farm tours of their aquaponics systems and greenhouses to introduce the public to the benefits of aquaponics and energy-efficient greenhouse growing. Call Randy and Katie at 256-679-9488 or email Randy to find out when the next farm tour is scheduled.

More details of the Aquaponics Technology course here.
More details of the Aquaponic Solar Greenhouse course here.
More details of the Commercial Aquaponics course here.
(Below) Randy and Katie's Chinese-style Aquaponic Solar Greenhouse in Tennessee in the February snow, 2013. 70 degrees inside and you had to take your coat off when working with the vegetables!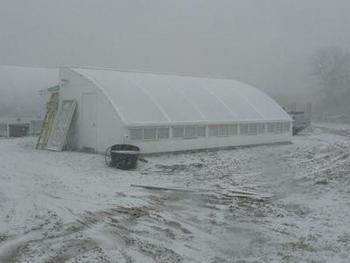 (Below) Randy and Tim showing attendees at the training how easy it is to use a DO (dissolved oxygen) meter to measure oxygen levels in the vegetable troughs.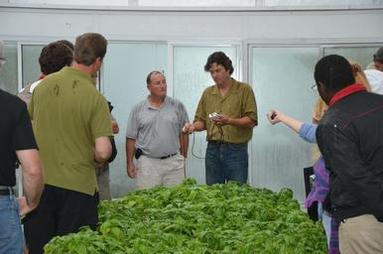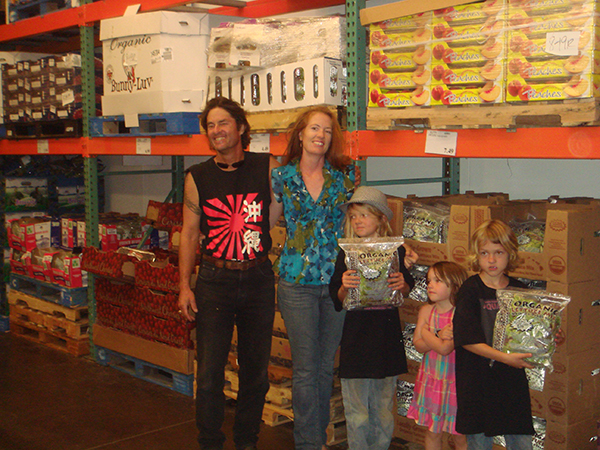 Our Farmily with our product in a "Big Box" store; the first time ever that a little mom and pop (Aquaponics!) farm took an account away from a multimillion dollar agribusiness. You'll see more of this, because you as consumers will demand it!
The Friendly Aquaponics Way Video!
.......................................................
Back Issues Of Newsletters Now Available, Click Here!
.............................................
Trough Liner Distributors:
West Coast USA
East Coast USA

Click here for Trout fry and fingerlings directly from the hatchery to you!
Free Farm Tours
..............................................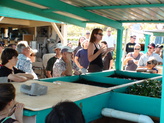 Aquaponics tour at the Friendly farm!
We hold a free workshop on our farm the FIRST Saturday of every month at 10:00, focused on growing food with aquaponics and permaculture.
Click here
for information. See you there!
If you are a school, a non-profit organization, an organization working with the poor, Native Hawaiians, or ex-inmates, or if you are a church, we will hold a free farm tour for you anytime. You DO need to email us first to schedule, or we might be out on errands!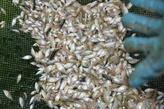 Thousands of inch-long "fifty-cent" baby tilapia from our "backyard" hatchery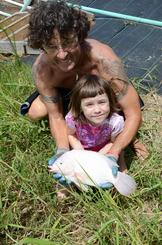 What they turn into about a year later: a beautiful 2-pound white tilapia grown in the fish tanks of our aquaponics systems
SPECIAL OFFER: To get a FREE MICRO SYSTEM! (not just the MANUAL, the whole SYSTEM, an $1,800 value!):
Sign yourself up for the FIRST
Or sign yourself up for the SECOND

TENNESSEE September 2013 Commercial Aquaponics and Solar Greenhouse Trainings
NOW, and enter the drawing for the FREE $1,800 Micro System. Plus, you ALSO receive a free Micro System DIY package so you can begin studying aquaponics, as soon as you register! ($99.95 value)
Also: Micro System Classes!
Join Ben and Alicia Godfrey at Sand Creek Farm in Cameron, Texas for a Micro System training! Call Ben or Alicia directly at 254-697-2927
, or
email them to sign up for this course
. You can
visit their website here
to see a list of all the other cool classes they offer!
Join
David Lindemann in Melbourne, Florida, in one of his Micro System classes:
Call David directly at 321-604-6684
, or
email him to sign up for this course
. You can
visit David's website here
for details of the class and to see all the other cool things he's doing!
These
Texas
and
Florida
one-day
live
trainings use our $100 Micro System DIY manual as coursebook, and are a real deal!
The Farmily on MONEY:
Today's Farmily column is about MONEY in the Farmily. Jack, our twelve-year-old son, is the Farmily's mogul. We were at the surf shop awhile back and Jack said "I want to learn how to surf, Dad, can I buy a surfboard?". Jack and I had been looking at a nice used board that cost $300 (not including $40 worth of fins and surf leash which were sold separately), so I said "Sure, when you have saved the money for one; how much money do you have now?"
Jack looked thoughtful for a moment, then said "$494" I was floored, then I realized: Jack had put money away every time he got some for a birthday or earned some for a job, while his brothers and sister blew theirs on consumables (read
candy!
) and game cards. Their current net worth was about $11 each, while Jack had $494.
After seeing the financial acumen Jack exhibits even at this early age, we're certain he will be capable of supporting Mom and Dad when we're old and crusty. This is good, because our investments in GM and Lehman Brothers went south when those firms did.
The real financial success story in the family is our 18-year old son Victor. Last summer, Victor crewed on a friend's salmon boat in Alaska, nearly died (a great story all by itself), and came home with enough money saved to buy his first car.
He was really smart about it; instead of buying a junker that would need constant repairs, he bought a used Cadillac CTS, a nice luxury and semi-performance car. He even lets Mom and Dad drive his car, but then we
do
bring it home with the gas tank full.
More on money: I (Tim) built my first sailboat, a 25-footer, when I was 17. I was earning $2.50/hour at the time, and the boat cost $2,500 for materials, more money than I could imagine in the whole world.
When I was 19, I built my second boat: a 37-foot sailboat. I was earning $4/hour, the boat cost $13,000 for materials, and that was more money than I could imagine in the whole world.
When I was 25, I built my third boat: a 56-foot sailboat. I was earning $11/hour, and the boat cost $75,000 for materials; (again), more money than I could imagine in the whole world.
If I'd worried about the money before I started any of these projects, there's a good chance I would have just gotten depressed and never have tried building a boat.
However, all I could think about was how much I wanted that boat, more than anything in the whole world. The money seemed to take care of itself (I still had to earn it, but the jobs just kept coming!). Building the boats was easy with this attitude!
And the time I spent sailing these boats around the world, and the adventures I had in them, all made the boatbuilding worth ten times what it cost. As those credit card ads say: "Priceless!"
Aloha, Tim....