Aloha Friend,

Today's "Special" is an announcements newsletter, and we have several today.

1. Our priority announcement:

For those of you in the San Francisco Bay Area, is the one-day Oakland Benefit training for Planting Justice, on Sunday, May 26, 2013. They are a non profit community development corporation that focuses on teaching people how to grow their own food in the city.

At this training we are introducing our super easy new aquaponic system construction method that we call "Aquaponics The Easy Way", AND training on our TableTop Systems, AND doing a training on our backyard Micro Systems.

Jack and Rose with a simple and inexpensive TableTop aquaponic system in our backyard. This system only cost $95 worth of parts in 2010, and has better operating information than any "kit" system on the market, often costing hundreds of dollars more.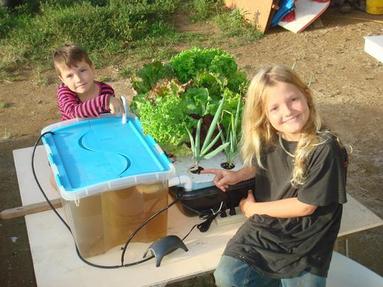 (Below) Parts and materials for the TableTop System Jack and Rose are showing off above; all sourced from Walmart and Home Depot.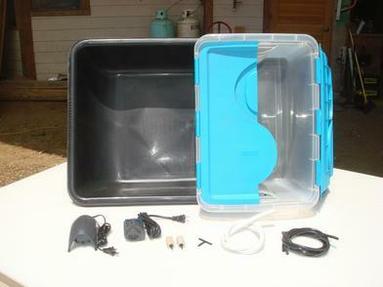 What you get: when you sign up for this benefit training, you will receive downloaded (only!) copies of our Micro System package ($99.95), TableTop Systems manual ($49.95), and Epoxy/Fiberglass/Plywood Tank Manual ($49.99), a total value of $199.89. You get one day of live training with Susanne Friend and Tim Mann teaching aquaponics basics and small backyard aquaponics systems, as well as the world premiere of the "Aquaponics The Easy Way" construction method. (Sign up with the link below:)


Oakland Benefit Training: Saturday, May 29th: TableTop and Backyard Systems (this is a BENEFIT, by donation). Registration is open NOW! Click here to go to our "Benefits" page to register for the Oaklland one-day benefit training. Cost: $40-100 (sliding scale)

2. For Those Who Need LARGE
Energy-Efficient Commercial Scale Greenhouses:

We have developed a new series of truly "Commercial" greenhouse designs that are much larger than our "Farmer's Market" Greenhouses ("Farmer's Market" houses are 3 aquaponics troughs "wide" inside, and come from 550 square feet in size up to 1,650 square feet in size).

All our plans for DIY greenhouses meet standard Universal Building Code (UBC) requirements, and are designed to be built by any competent carpenter or contractor using standard framing methods or our new "modular" method (also meets UBC requirements). They are more expensive to build than conventional greenhouses, but they save on energy costs forever! This quickly makes the difference between failure and success in your greenhouse business once you begin operation.

And ALL come with our latest Aquaponics Technology manual (at a minimum!) so that you don't need to purchase anything else to get your aquaponic solar greenhouse fully operational!

What does the "DIY" in our greenhouse description mean? Simply that you build these greenhouses out of commonly available construction materials that you can source from large, economical suppliers such as Lowe's or Home Depot (or your favorite local lumber store!). There are no specialty "greenhouse items" that you have to buy from a greenhouse supply company at exorbitant markups, then have shipped to you at additional cost!

Our new commercial greenhouse plans and technology package includes two different widths of commercial greenhouses in the plans: the first is 4 troughs/24 feet wide inside, and comes in three sizes of 1,536; 2,304; and 3,072 square feet. The second is 6 troughs/36 feet wide inside and comes in four sizes of 2,314; 3,472; 4,629; and 6,944 square feet. These Commercial greenhouses include all the advancements in greenhouse technology we developed and sent out to previous purchasers of the Farmer's Market greenhouse package. For more information, click here to go to our Commercial Greenhouse webpage.

And for those who need a backyard hobby greenhouse, we have a smaller series of greenhouse designs called the "Micro Greenhouses", from 200 to 400 square feet in size. For more information, click here to go to our Micro Greenhouse webpage.

3. For Existing Clients:

We upgraded ALL prior purchasers of the "Micro System" package on March 25: If you purchased a Micro System before March 22nd, 2013, and did not receive an email from Susanne with a link to a "cloud" site called "Yousendit.com" by Monday March 25, 2013, please email Tim and I will verify that you are a purchaser and send you your updated manual directly.

We upgraded ALL prior purchasers of the "Farmer's Market Aquaponic Solar Greenhouse package" package on March 25, We just completely redrew the plans for the greenhouse, adding three entire sheets of CAD drawings, and sent out a similar update to al our prior purchasers on March 25. If you did not receive this update link, email Tim. and he will send it to you. The new additions include:

A. A new design for a ridge vent (in the back wall!) that was suggested by a contractor that attended our recent January Tennessee FIRST training. It is far less involved and less expensive to build than the previous vents (which are still in the plans, so you have that option if you wish), and you can also use an off-the-shelf transom window for these vents if you wish. This makes them easy to procure and install for the less experienced builder.

B. New detail drawings for our "Easy-Tension System" for installing ETFE film on your greenhouse that have a more economical installation method. Also includes a series of photos documenting an actual installation clearly and concisely.

C. Complete drawings for welded steel tubing trusses that can be utilized instead of the laminated wooden beams we put in our greenhouse in Hawaii. Although the wooden beams are more economical (and are what you should probably use if your greenhouse is not required to get a building permit), neither your local Building Department nor the engineer who has to stamp these plans for them like homemade wooden beams.

This is because it's difficult or impossible for an engineer to be certain that the beam is strong enough (unless he builds it himself!). As a result we've seen some expensive substitutions of things such as glulam beams by engineers who needed to be certain they were not stamping a potential failure.

These metal truss drawings are supplied at no charge, in original AutoCAD 14 .DWG format (also in the Yousendit upgrade folder you'll be sent a link for) for you to forward to any engineer you work with in order to get the plans approved by your local Building Department. This also means that if your engineer needs to increase the strength of the truss to meet local Building Code requirements, it will be easy for him to do so, by starting with these CAD drawings with correct measurements.