Aloha Friend,
I've been catching up on maintenance tasks around the farm after being gone for over a month, and am a little bushed tonight, so I'm going to do something "fun" instead of "technical": I'll finish my column from January 30th which talked about my horse, "Major Dude". We'll do some technical stuff you'll like this coming Thursday the 28th.
Our "In The Farmily" column today will be Part 1 of "Farm Babies", by Susanne, in which she talks about our cows, horses, and goats.
Keep in touch if you're interested in taking one of our commercial aquaponics and greenhouse trainings. We're finalizing the schedule for the balance of 2013 and will be announcing it soon in this newsletter and on our website.
In the meantime, if you're interested in commercial aquaponics and/or energy-efficient solar greenhouses but don't think you'll be able to attend one of our live courses in person, our
DIY commercial aquaponics
and
greenhouse packages
are a good second choice. They contain the complete technical information we use in the live courses, and we support DIY purchasers while they build and operate their systems at no additional cost. These packages also come with a 100% money-back guarantee!
The free information in these three newsletters: last week's, the week before last week's and two weeks before last week's newsletter will meet most people's needs for tilapia breeding. However, if you want the complete story in 72 pages, with highly descriptive photos of the process and equipment we use, our new commercial tilapia hatchery manual is finished and ready for you. There's even a "micro-video" that my gorgeous biologist wife Susanne shot with her treasured Leica Microscope that explains why the techniques we use work so well.
For smaller home backyard and apartment systems, please read on:


Purchase Construction Plans and Operating Info for 4 Different Sizes of Table Top Aquaponics Systems $49.95
Our TableTop System package includes easy-to-understand building instructions and operating information for 4 different sizes of small aquaponic systems based on our years of experience. Anyone can build a system out of plastic barrels or IBC totes, but operating one successfully without good
and
easily-understood information can be frustrating. You simply use the "Daily O
perations Checklist" in the manual and follow the step-by-step
instructions on your way to success. We also cover how to make aquaponics systems out of weird things like old refrigerators and door frames; this makes aquaponics
much more
economical to get started in, and fun too!
We spent hundreds of thousands of dollars, hundreds of hours, and built our first commercial aquaponics systems with FAR less information than this manual contains. We included all the information learned from that experience in this manual so you don't need to make any of the same mistakes we did.

My Horse Major Dude, Part 3 (NOT An Aquaponics Nugget) Have you ever ridden a 2,000 pound, 18-1/2 hand horse?
One day I got terminally excited because I saw my "blind" 18-hand Shire stallion galloping across the pasture just behind the three mares. I thought the galloping meant he could see again, but as the mares slowed to a canter he slowed to a canter too. As they slowed to a trot, then a walk, he slowed down too, so that by the time the mares were stopped he was at a slow walk.

He turned his head this way and that, with his ears perked up, and as he finished the last few steps towards them; he had his radar on, and was listening intently to see how close they were. It was an instant letdown for me: my horse was still blind, and probably would always be.
Although we'd purchased him to breed to our registered Shire mares because we wanted to increase the genetic pool of Shires in the world (this is a separate story: there are only 1,500 of these gentle giants left in the world right now), Major just couldn't connect with any of the girls. He would nose around them, and put his head over their backs, the way any normal stallion would before doing you-know-what (this is a family magazine, right?), but then they would just walk off, and he was left wondering where they went. You could almost hear him: "Baby, where did you go?".
He'd find them with his radar eventually, but couldn't muster the ability to dominate them for the purpose of making babies. So we were resigned to having none. Susanne tried to breed the mares to two different stallions nearby, an Arab and a registered quarter horse, but it didn't work with either of them; and one of them got seriously kicked for just trying.
So Susanne was absolutely unprepared when she went out in the pasture to feed the horses one day and noticed that one of the mares had a "bag", or full teats, which means that she's pregnant and going to deliver soon. About two weeks later, a little stallion appeared next to the mare, with three white legs and a crooked blaze on his nose.

Seven year old Rose and I were in Tennessee, giving the third of three week-long aquaponics and greenhouse trainings, when Susanne called us and we got the news. Rose was so excited she could hardly stand still, and I was just floored because I'd given up on breeding our Shires; this was welcome news to say the least.
This was the mare's first foal, and she wasn't accomodating at all: she rejected the baby horse, kicking and biting at him to keep him away. Susanne is keeping him alive by hand feeding him every two hours, including through the night. We think he's past the most risky stage, and are really hoping he survives, but nothing is certain with little animals; we'll just do our best and hope for the best. Jack named him "Jet", because he's mostly black and they are hoping he'll be a big, fast horse.
Paradoxically, even though the little horse's dad (my horse Major) has little to no training, and no time at all under saddle, I put a saddle on him one day and just rode him around the pasture. We walked, we trotted, we cantered. I was a little scared of kicking him up into a gallop, as this was the
first time
he'd ever been saddled or ridden, so I left it at that.
I was still amazed! It was if he knew what to do from long experience; but I think what it might have been was that he trusted me completely, and hadn't gone all rigid and hard from becoming blind, but rather had become more "soft"; an odd quality in a stallion, as any horse person will tell you. I love my horse! (yeah, I love people too, they're just never as straight with you as your horse is!).
(Next week I'll cover how to do a valid experiment in Aquaponics to try out that great idea WITHOUT ruining your large commercial system in the process. In the one after that, I'll cover exactly how much fish you DO need in your aquaponics system for good vegetable growth. Hint: it's a LOT fewer than you might guess! Thanks for listening!)

The photo below is our Solar Greenhouse. It's cool when it's hot, and warm when it's cold (hope that makes sense to you, it's the best greenhouse we've ever seen!).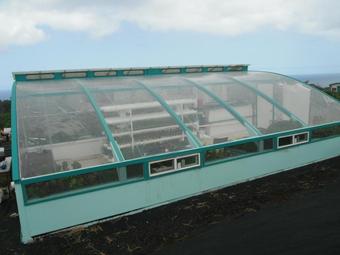 Friendly Aquaponic's FIRST Aquaponic Solar Greenhouse in full bloom, Honoka'a, Hawaii, March 2012, (on a grey rainy day) showing PV panels and growing plants.
Click Here To See Our New Aquaponics Video!
.......................................................
Back Issues Of Newsletters Now Available, Click Here!
.............................................


Purchase Trough Liner Directly From Manufacturer!

Free Farm Tours

..............................................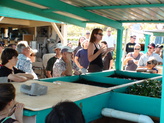 Aquaponics tour at the Friendly farm!
We hold a free workshop on our farm the FIRST Saturday of every month at 10:00, focused on growing food with aquaponics and permaculture.
Click here
for information. See you there!
If you are a school, a non-profit organization, an organization working with the poor, Native Hawaiians, or ex-inmates, or if you are a church, we will hold a free farm tour for you anytime. You DO need to email us first to schedule, or we might be out on errands!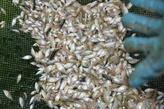 Thousands of inch-long "fifty-cent" baby tilapia from our "backyard" hatchery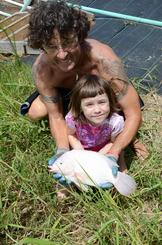 What they turn into about a year later: a beautiful 2-pound white tilapia grown in the fish tanks of our aquaponics systems
In The Farmily - BABIES!!!
What a wonderful whirlwind of Spring we have here on our Farm! And in Spring, Nature makes BABIES!! Here on our farm, that's exactly what we're experiencing. January 5th saw the birth of our first baby calf, whom Rose named "Milky Way" - what a prefect name for a little heifer, born under the stars on a brisk 64° night (that's about as cold as it ever gets here!). Milky Way is perfect in every way - 3/4 Jersey 1/4 Holstein - for ideal cheese-making milk that we'll get from her in about two years.


Milky Way & Pomaikai'i (which means "heart" in Hawaiian, because she has a heart on her forehead)
Milky Way is almost six weeks old now, and has grown a lot already. Her (formerly wild) Mom is giving us three and a half gallons of fresh, delicious milk every day, which is barely enough to supply the six of us along with our seven interns with all the milk we can drink.
Then, just a few days later, our pet goat had a baby, a little doe who Rose has named Sunflower. She was born in the shop, with three interns and all the kids in attendance. She's a sweet little thing.

Sunflower, Felicia (the cat), and The Lovely Miss Rose, relaxing in a beach chair
Then, the biggest surprise of all - completely unexpectedly, on Farm Tour Day, when I was out saying goodbye to everyone in the parking lot. I looked over at one of our pureblooded Shire mares, and thought she looked quite plump.
I really did not pay too much attention, because while we do have a Shire stallion in the pasture with the mares, unfortunately he is stone blind due to an illness he contracted as a yearling, and none of the mares have ever stood still for him to cover them, even when he acted interested.
We just figured that he was never going to be a Dad, and we'd have to find another stallion to cover the mares - no small feat, as the girls are over 18hh (hands) tall at the withers (a hand is 4 inches, so that represents over 6 feet at the highest point of their back - that's a VERY tall horse!
Our Gentle Giants - More Rare Than Giant Pandas
Shires are the tallest breed of horses on the planet, with the 2007 Guinness Book of World Record for tallest horse being held by one of our mare's half sister, measured barefoot at 20 hands tall at age three!). Her name was Tina, and she was a daughter of Diplomat, who is also the sire of our mare (and the mother of our new foal), Glory.

Jenson's Diplomat, 19.3 hands tall, the grandsire of our new foal.

Shires are amazing horses, and are not only the tallest of all the draft breeds, and have the most athletic, balanced appearance. They have an extremely even, peaceful temperament, and are quite rare, with fewer than registered 1500 Great Shires left in the world. They are dying out faster they can be replaced because of a reduction in the number of breeders worldwide.
Aloha, Susanne.....