Aquaponics Nugget #120, Part 4: Why The Game's Over For "Big Ag"; And Why It's Just Beginning For The Small Farmer
We are covering four major areas of concern (also known as "input variables" in the food equation that gets the food to our grocery shelves) in this series: the cost of energy for food production, the effect of weather on food production, the availability of water for food production, and finally, the social forces that are combining to move our society away from oil-expensive, industrialized food production and towards local, energy-efficient food production.
We covered cost of energy for food production first, covered the effect of weather next, then the availability of water. Today's newsletter talks about the social forces involved in this equation.
We act as if there's plenty of water, food, and oil. We turn on the shower, we go to the grocery store or the gas station, and they're "just there". But there's reason for concern, because while we've become accustomed to having a limitless supply of these things, there simply isn't.
These Are The Forces That Will Effect This Transformation:
The following factors that control our food supply all respond to the "law of the market" of "plentiful supply, low price; scarce supply, high price". You don't need rocket science to understand what's coming down the road: we can see it already, all around us.
Number One is oil. Big Ag is totally dependent on large amounts of cheap oil. Oil is becoming more expensive by the day, with no new finds in sight. As oil becomes more expensive, the food that Big Ag produces and the transportation to refrigerate it and move it thousands of miles to the market both become more expensive.
At some point, the small local farmer will become economically competitive with Big Ag, simply because he doesn't have as large a cold storage or transportation cost to deliver food to his local consumers.
Conventional small in-ground farmers can be more competitive if they employ alternate energy technologies like home made biogas and biofuels to produce tractor fuel (more on this in a moment), but these are expensive options for Big Ag because of the labor involved.

The best solution to Number One? The small local aquaponic farmer who has their own alternate energy system is relatively independent of whatever happens to the price of oil; his income will simply go up if oil prices go up.
Number Two is the effect of weather: hotter, colder, wetter, dryer; what's it going to be in your location? How will you grow when there's a drought and you need rain? How will you grow when you need 64 degrees and it's 38? How will you grow when it gets too hot in the summertime, or when there is too much rain instead of too little?

The best solution to Number Two? The small local aquaponic farmer who has their own greenhouse will be able to grow in conditions where conventional farmers cannot. Are you concerned about it getting colder earlier in the winter, or hotter in the summer, to the point where your crops won't grow? Here's the answer: put them in an energy-efficient greenhouse and keep them warm in the cold, or cool in the hot weather, and just keep growing throughout the year! Oh, BTW; 12 months of income from food production is way better than what's produced during the usual 5 to 7-month growing season.
Number Three is the availability of water for food production. Water controls food production as no other single factor can. Where is the water going to come from?

The solution to Number Three? The small local aquaponic farmer has a food production system that will forever only use 5% of the water other farming methods use. When the availability of water decreases and the cost goes up, they will be the ones farming profitably.
Number Four; the real "mover and shaker" here is you! You've noticed the portion "downsizing" that's occurring under your nose in the supermarket; you've noticed that no European country even allows GMO's across their borders; and of course you've noticed the rising prices of food. There are lots more little "wakeup calls" such as these.

You've heard of toxic fish imports; of the millions of pounds of tainted turkey from huge producers being recalled; and the commonly-seen theme in the news when someone discovers that "this" or "that" highly refined food (or FDA-approved drug) is either not nutritious or is actually harmful to us.
You know that USDA organically certified produce is healthier and safer for you and your kids to eat than the chemical stuff; and you trust your local farmer, rancher, and poultry producer a lot more than you trust Big Ag. Big Ag is corporations, but your local producers are real people who are responsive to local needs because they are part of the community.

If a local producer kills someone with tainted food, the response is immediate: they are out of business and are shunned by the community they live in. So it's in their best interests to be extra careful with the food they sell you.
But if you read the list of producers in this Wikipedia article who have each killed from 1 to 53 people with tainted food, you will see that most all of them are large corporations, and many of them (Jack In The Box, Pilgrim's Pride, Dole Foods, A&P, to name a few) are still in business. This is because a big corporation simply settles with the litigants in wrongful death cases, adds their legal costs and settlement costs to next year's expenses, and still makes a profit. Does anything strike you as distasteful or just plain wrong about that?
People (who are not stupid as the politicians and media would like them to be) are realizing this. People are learning how to grow their own food now, because it's safe, dependable, and feels right. People are buying from local producers as much as possible (when we sold to Costco, we found out that they sell from 20 to 30% more of the same item if it's simply produced by a "local" source). People are eating healthier food instead of the chemical, processed stuff from Big Ag.
Our huge modern cargo ships can do 35 miles an hour at sea; and to turn one of them, you turn the rudder, then (because there's a big delay) about a half mile later the ship starts turning. But once the ship starts turning, boy, does it ever turn!
There may not be a lot of us now, but we are like the little rudder on the big ship, and the ship is beginning to turn. There are little signs everywhere, if you keep your eyes open. There are changes afoot in our society and nation that Big Ag simply will not be able to deal with, except by going out of business.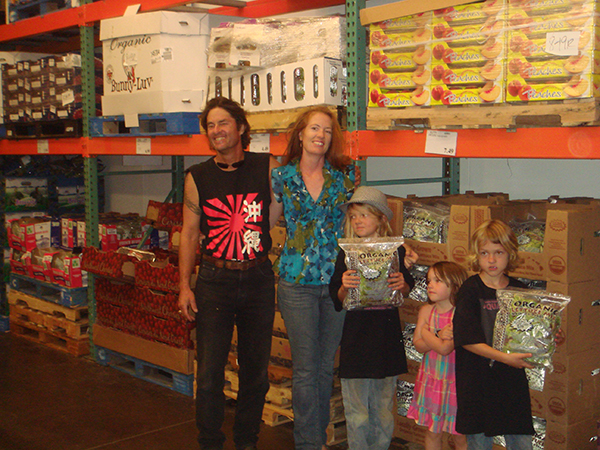 Our Farmily with our product in a "Big Box" store; the first time ever that a little mom and pop (Aquaponics!) farm took an account away from a multimillion dollar agribusiness. You'll see more of this, because you as consumers will demand it!

(In next week's "Nugget", we'll cover something technical, interesting, and valuable that will benefit you, our readers! Thanks for listening!)

The photo below is our Second Generation Solar Greenhouse, at ten in the morning in the Tennessee winter. It's growing plants inside right now, and you have to take your jacket off because it's so warm! It's cool when it's hot, and warm when it's cold (hope that makes sense to you, it's the best greenhouse we've ever seen!).