Aloha Friend,
In today's
"Aquaponics Nugget", we cover the
third
part of how to do a successful experiment with aquaponics (it's really about what
not
to do).
We also announce our 2013 training schedule.
Our "In The Farmily" column today, by Susanne, will be about our intern Taylor.
Friendly 2013 Training Schedule:
Hawaii Training: 3 days from May 29-31, in Honokaa, Hawaii. $495 per person, register here.
(Click here for more information on the Hawaii Training)

New York Training: Saturday, June 8th: TableTop Systems (this is a BENEFIT, by donation); Sunday, June 9th, Micro Systems (this is a BENEFIT, by donation); and finally, June 10-14 , the 5-day Commercial Aquaponics and Energy Efficient Greenhouse Training, $1,495 per person. Registration will open soon.Tennessee Commercial Aquaponics and Energy Efficient Greenhouse Training, $1,495 per person (this special $1,000 off discount only applies until April 15th). First 5-day training: June 17-21st (register here for first training). . Second 5-day training: June 24-28th (register here for second training). (Click here for more information on Tennessee trainings).

We are honoring requests for a five-day training that we received during our last Tennessee training. Our participants suggested this format because it would allow you to travel during the weekend so that you only need to take a week off your busy life to attend.

All of these five-day trainings include our $995 DIY Commercial Aquaponics package, $998 DIY Farmer's Market Aquaponic Solar Greenhouse package, and new $295 DIY Commercial Tilapia Hatchery manual as course materials, plus our Plywood/Epoxy/ Tank manual, CAD construction drawings for all greenhouses and aquaponics systems, and much more!
If you're located near Tennessee
, Randy and Katie give regular free farm tours of their aquaponics systems and greenhouses to introduce the public to the benefits of aquaponics and energy-efficient greenhouse growing.
Call Randy and Katie at 256-679-9488
or
email Randy
to find out when the next farm tour is scheduled.
1. The three days of the Aquaponics Technology training is everything we know about the techniques and methods of growing with aquaponics. Each day has hands-on segments. In addition, you will spend the latter half of Day Three building several 12-square-foot
TableTop Systems
from scratch (under our expert eyes, of course).
More details of the Aquaponics Technology course here.
2. You can take one of these 12-square-foot TableTop systems home, assemble it there, and begin growing with aquaponics immediately, even in the middle of winter! The cost of this kit is only $550; much smaller "kits" from others start at $1,295 and go up from there, not including shipping.

3. The one-day Aquaponic Solar Greenhouse course is everything we know about energy-efficient greenhouses, including information and complete CAD plans showing how to build a Chinese-style aquaponic solar greenhouse; and how to convert existing greenhouses to be as energy-efficient as possible. We even show you how to purchase, move, and erect a good used greenhouse for ten cents on the dollar! More details of the Aquaponic Solar Greenhouse course here.
4. The one-day Commercial Aquaponics Training is everything we know about all the different ways of making money with aquaponics, from CSA's to Costco, from wholesale to retail, from selling simple produce to producing value-added products, including Health Department Certified Processing Facilities, Food Safety Certification and Organic Certification. We also include our commercial-scale tilapia hatchery and nursery information, so you can raise your own tilapia and make money selling the fry and fingerlings to others also.
More details of the Commercial Aquaponics course here.
Click Here To Find Out More About The 2013 Tennessee Trainings!
The free information in these three newsletters: last week's, the week before last week's and two weeks before last week's newsletter will meet most people's needs for tilapia breeding. However, if you want the complete story in 72 pages, with highly descriptive photos of the process and equipment we use, our new commercial tilapia hatchery manual is finished and ready for you. There's even a "micro-video" that my gorgeous biologist wife Susanne shot with her treasured Leica Microscope that explains why the techniques we use work so well.
For smaller home backyard and apartment systems, please read on:


Purchase Construction Plans and Operating Info for 4 Different Sizes of Table Top Aquaponics Systems $49.95
Our TableTop System package includes easy-to-understand building instructions and operating information for 4 different sizes of small aquaponic systems based on our years of experience. Anyone can build a system out of plastic barrels or IBC totes, but operating one successfully without good
and
easily-understood information can be frustrating. You simply use the "Daily O
perations Checklist" in the manual and follow the step-by-step
instructions on your way to success. We also cover how to make aquaponics systems out of weird things like old refrigerators and door frames; this makes aquaponics
much more
economical to get started in, and fun too!
We spent hundreds of thousands of dollars, hundreds of hours, and built our first commercial aquaponics systems with FAR less information than this manual contains. We included all the information learned from that experience in this manual so you don't need to make any of the same mistakes we did.

Aquaponics Nugget #115: How To Sink Your Aquaponics Farm, Part 3
We've been making money growing produce with aquaponics and teaching a profitable commercial aquaponics model to the public for five years now. That's long enough that we've seen several well-funded commercial aquaponics ventures hit the wall. We feel these are valuable for all of us to study and learn from.
Some will ask: "Why are you even talking about "failure"? Can't you just write about positive things in this newsletter? For instance, the things you've learned about how to succeed?".
We'd love to. If everyone listened, then acted intelligently, that's all we'd do. However, some people "know it already". Unfortunately, having a wrong opinion does not save you from the consequences of how things work in the real world. And the truth is that one of the best ways to learn what to do is to learn everything you can about what not to do first, so you don't waste any time on unworkable situations. If you hang onto a wrong opinion hard enough and ignore the evidence, it can lead you into a major waste of time and money. So we feel it's important to write about failures also.

Here are some interesting examples of failure mode in commercial aquaponics that we hope you will research and take to heart:
Kirby Peak Ranch: Came on strong, offered classes, internships, and consulting, was "under construction" for a time, website last updated 2002, phone disconnected. We have no idea what happened, but the website is still up. What's wrong with this picture?
SoCal Fish Farm: They've had the same website for six years; it talks about what they "plan" to do, what they "will" do, and has photos of the UVI aquaponics system on the site. There are no photos of current operations; they're not growing anything. They seem to be waiting for an investor to come along so they can build and operate a profitable commercial aquaponics venture on their money. What's wrong with this picture?
Santa Cruz Aquaponics: One of their YouTube videos states they will grow tilapia. Tilapia are illegal to grow or possess in the part of California they were operating in. Didn't anyone do their research before shooting the video? Or the business plan? The video shows their wooden troughs buried in the ground, with HUGE, unproductive, wide walkways between them which waste expensive greenhouse floor space.

The troughs present a couple of problems: One, the wood will rot at some point. Two, from the viewpoint of heating and cooling the greenhouse and its contents, although being buried is a huge benefit for cooling in the hot summertime, it becomes a huge problem in the winter, because this creates too much cooling then and freezes the fish and vegetables. We have found no information that they ever actually operated. What's wrong with this picture?

(In next week's "Nugget", we'll cover Part 4 of "How To Sink Your Aquaponics Farm". Thanks for listening!)

The photo below is our Second Generation Solar Greenhouse, in the snow in the Tennessee winter. It's growing plants inside right now, and you have to take your jacket off because it's so warm! It's cool when it's hot, and warm when it's cold (hope that makes sense to you, it's the best greenhouse we've ever seen!).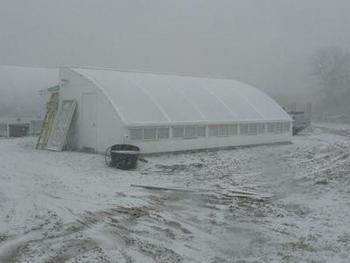 Watch The Friendly Aquaponics Philosophy Video!
.......................................................
Back Issues Of Newsletters Now Available, Click Here!
.............................................


Purchase Trough Liner Directly From Manufacturer!

Free Farm Tours

..............................................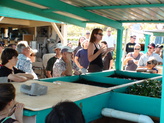 Aquaponics tour at the Friendly farm!
We hold a free workshop on our farm the FIRST Saturday of every month at 10:00, focused on growing food with aquaponics and permaculture.
Click here
for information. See you there!
If you are a school, a non-profit organization, an organization working with the poor, Native Hawaiians, or ex-inmates, or if you are a church, we will hold a free farm tour for you anytime. You DO need to email us first to schedule, or we might be out on errands!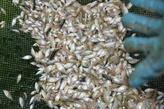 Thousands of inch-long "fifty-cent" baby tilapia from our "backyard" hatchery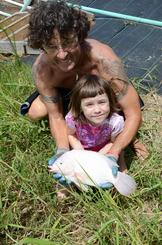 What they turn into about a year later: a beautiful 2-pound white tilapia grown in the fish tanks of our aquaponics systems
Special Offer!
Sign yourself up for the FIRST
Or sign yourself up for the SECOND
TENNESSEE June 2013 Commercial
Aquaponics and Solar Greenhouse Training
s
and receive a free Micro System DIY package so you can begin studying aquaponics! ($99.95 value)
"In The Farmily": Our New Intern
I receive literally dozens of applications for our 2-month, $2500 all expenses paid (minus airfare!) internship, and it takes a rather extraordinary individual to jump out at me early on. Over the course of the next few weeks, I'd like to tell you about some of the amazing interns we have here now, all of whom have been utterly stellar, each in their own way.
Taylor Quiram is a 28 year old man, who came here from Las Vegas, Nevada. In a very early email to me, Taylor told me a story that touched my heart. Jello Biafra (who changed his name when crates of jello were shipped as hunger relief to Biafra, Africa, which had no fresh water to make jello), and Taylor said he wondered why we send food as hunger aid instead of sending seeds and education about how to farm.

He said "If we give people the help they really need, eventually they won't need our help anymore. Right?" I loved this story, and I really wanted to meet the young man who's heart had been touched by this story, and who really saw straight to the core of the problem with "aid".
Taylor attended UNLV studying landscape architecture. In his words, "It was during these studies that I realized the huge, glaring omission in our community planning mentality.

American cities are designed with people in mind. We have awesome streets, running water and sewage systems, electricity, places for people to work, places for people to play, but there is no concern about feeding all these citizens once they move in! It seems like many cities are still totally comfortable with their food being shipped in from thousands of miles away."
Taylor makes an extremely valid point - and one that had never occurred to me. One of the most delightful things about hosting our Interns is how much I learn from them! Taylor became dedicated to finding a way to incorporate food production and processing back into urban design. His burning desire became to find the mechanism that would allow this to happen.
Living in Las Vegas seems to compound the complexity of this mission - or perhaps it makes it more simple. Necessity is, after all, the well-known mother of invention.

Taylor grew up surrounded by agriculture in central California, but said he never realized the importance and the gravity of agriculture until he lived in the desert. "Now that I finally see the challenges facing people and food supply I feel it is a very noble cause. I can't imagine myself not becoming part of the solution. In the desert, the soil quality is poor at best, and water has to be used in an intelligent and conservative manner. After a lot of research, the answer became clear. Aquaponics!"
Taylor immediately grasped the powerful symbiotic relationship of hydroponics and aquaculture, which eliminates the need for expensive imported soils (yes, they have to import dirt to Las Vegas!) and chemical fertilizers. In addition, he is excited by the possibility of growing food in places that a traditional farms can not - rooftops, balconies, asphalt parking lots, and kitchens - and the desert!
"I am inspired by the growing interest people are showing in Slow Food Movements, eating locally, and knowing where their food comes from. The relationship between people and their food should be an intuitive one. I am currently only one third of the way though my Friendly Aquaponics Internship Program, and I can already see that the possibilities go far beyond what I had imagined before I came here.

Every patio, back yard, community, and commercial aquaponics system is increasing food security and quality of life. For many climates and locations, aquaponics may be the only intelligent option. Aquaponics is a great tool for people interested in creating their own food sovereignty and for those interested in creating Urban Agricultural Sysems. Keep learning, and start farming!"

Thanks Taylor! We are honored that you chose to come here, and we love you!
Aloha, Susanne.....