Aquaponics Nugget #105: Comparison With Competitor's Systems:
This is a typical response we send to clients asking about productivity and costs for our commercial aquaponics systems, and for information about how we work with new aquaponics farmers. It references an imaginary "Competitor's" aquaponics systems because people need an honest comparison to help them make decisions of this importance.
We can't say who they are, because they've threatened to sue us if we compare our systems to theirs in print. Even though we guarantee that the comparison made here is true and accurate; you know that the one who has the biggest legal fund still wins. And ours is puny; that's not the way we roll.


Aloha Friend,
I will contrast their "Commercial System" (which is around the same size) with our 4,096 square foot commercial aquaponics system design so we have an apples to apples comparison.
System Cost And Capacity Comparison
Our system costs $17,450 for materials (East Coast USA 2012). Most materials are sourced locally. Their system costs more than $85,000, not including crating or freight. Because of advances in nursery and planting technology that Susanne has made over the last three years, one of our systems holds 26,420 plants. One of theirs holds 7,500 plants+/-.
The greenhouse required for one of our systems is 7,200 square feet. The greenhouse required for one of their systems is 12,000 square feet.
Our systems are organically certifiable. To the best of our knowledge, it's not possible to organically certify their systems because of the materials, methods, and chemicals used.
A quick comparison of three organic and conventionally-grown produce items from the April 26, 2012, USDA Daily Market Report (http://www.usdareports.com/) for Atlanta, Georgia (selected as the closest market to your location in Alabama) shows the following prices (these items are frequently grown in aquaponic systems):
Organic Red Leaf lettuce, 24 ct, $39-41/case; compared to non-organic Red Leaf lettuce, 24 ct, $19-20/case.
Organic Green Leaf lettuce, 24 ct, $39-41/case; compared to non-organic Green Leaf lettuce, 24 ct, $17-19/case.
Organic Romaine lettuce, 24 ct, $39-41/case; compared to non-organic Romaine lettuce, 24 ct, $17-21/case.
In your market, organic vegetables bring in twice the income at the wholesale level that non-certifiable vegetables do. Using their systems gives you half as much income for each plant, because you can never sell organically certified produce. What farmer in their right mind would consciously make such a choice if the alternative was available for only $1,200 of certification fees per year?
Our technology includes a tilapia fry and egg hatchery as well as nursery technology; the equipment cost for a hatchery big enough to stock your farm is about $2,200. Using our technology, you could also build a full-scale tilapia hatchery and nursery capable of producing more than 1,000,000 fry per year for about $35,000 of equipment and materials. They don't know hatchery technology, and don't offer any.
This is important not only because you should have the production for your own tilapia fry under your control, but for two other reasons also:
The hatchery operation forms another income stream for the commercial aquaponics farm, which is important for financial stability.
By hatching the tilapia fry yourself, you reduce the cost for the fry to restock your own farm's systems to the absolute minimum, thereby making your farm's operation more profitable.
Profit/Loss Comparison:
Cost per plant space: Our system will cost you $1.51 per plant space, theirs would have cost you $11.33 per plant space (not including greenhouse cost).
Greenhouses required: Ten of our systems require 72,000 square feet of greenhouse space, or 20 30-foot by 120-foot greenhouses, holding a total of 264,200 plants; while ten of theirs require 120,000 square feet and only hold 75,000 plants. You need 48,000 additional square feet of greenhouses for their systems, and they still only hold one-fourth of the plants our systems do.

Cost per unit production: You will find that three of our systems hold 79,260 plants, while ten of theirs only hold +/- 75,000 plants. Our three systems only require 21,600 square feet of greenhouse as compared to the 120,000 square feet of greenhouse space their ten systems would require.
Installation cost per dollar's worth of produce created: The organically-certified produce from our three systems holding 79,260 plants in a 21,600 square foot greenhouse is worth twice as much as the non-certified product from all ten of their systems holding a total of +/- 75,000 plants in them, because it sells for twice as much per unit (see previous citation of Atlanta, GA USDA market report for April 26, 2012).
Energy Costs: By incorporating energy efficient heating systems and by using energy efficient cooling systems, combined with the natural thermal mass properties of the water contained in the aquaponics systems, the energy costs for heating and cooling your greenhouses can be reduced to a fraction of what they would be with their conventional technology.
Labor Costs: It is obvious that there would be a small percentage of the labor involved in operating only three systems of ours in 21,600 square feet of greenhouse (as cited in #4 previously) as compared to operating their ten systems in 120,000 square feet of greenhouse; and our three systems would be twice as profitable in terms of gross dollar value of organically certified produce created than the conventional produce from all ten of their systems combined.
Partnership: We will partner with your organization to offer commercial and backyard aquaponics training in Alabama that is comprehensive and affordable, using the proven curriculums that we have developed and used for the last five years. They do not want to train anyone to be potential competition to them. We aren't worried about training our competition, and have done so since 2008. We simply want as many people to have access to this technology as soon as possible.
Conclusions:
Thus, it is obvious that three of our systems, costing $52,530 (plus the cost to build and operate the three greenhouses, of course), produces roughly the same amount of produce at double the dollar value in a given time as ten of theirs costing $850,000 (plus the additional cost of building and operating ten greenhouses).
To extrapolate further: If you build ten of our systems you will have 3.5 times the vegetable production as from ten of theirs, which will also be worth double the price per unit because of the organic certification your systems have.
In other words, ten of our systems compared to ten of theirs will give you a gross income of seven times as much, with far less labor required, in a 40% smaller greenhouse space that costs you 40% less to heat and cool. Isn't this an obvious decision to make?
(We'll have something interesting and useful about aquaponics in next week's "Nugget", thanks for listening!)
The photo below is our Solar Greenhouse. It's cool when it's hot, and warm when it's cold (hope that makes sense to you, it's the best greenhouse we've ever seen!).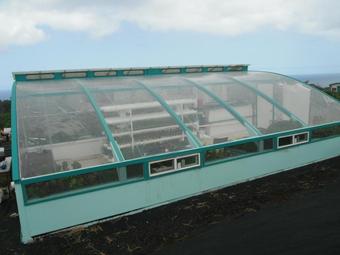 Friendly Aquaponic's FIRST Aquaponic Solar Greenhouse in full bloom, Honoka'a, Hawaii, March 2012, (on a grey rainy day) showing PV panels and growing plants.