Aquaponics Nugget #60:
A Primer On Sustainable Energy-Efficient Greenhouses, Part 1
We're lucky we live in Hawaii, but not everyone has the same growing season we enjoy here. We know that climate limits aquaponics applications to spring and summertime in temperate climates, and to tropical and Mediterranean type climates, and that this makes it unusable in much of the world. We realized that
this
was aquaponic's biggest shortcoming, and would remain so until someone developed energy-efficient greenhouses for use with aquaponics systems, and took this on as our calling.
Our biggest priority for the last year has been increasing our understanding of the technologies available for growing in modified or controlled environments (AKA greenhouses), so we can incorporate them with our aquaponics technologies, and create complete systems that will allow you to grow year-round ANYWHERE without too much concern for the weather.
When we started investigating the "state of the art" in greenhouses we initially got depressed because conventional technology relies on cheap, oil-derived energy for heating in the winter and cooling in the summer. It was very common in photos of greenhouses to see a couple of thousand-gallon propane tanks sitting right outside to provide wintertime "heat", and a huge three-phase electrical service leading into the building, hooked up to
several
400,000 BTU air conditioners to provide summertime "cooling". While they do work, these are methods that are very costly in terms of petrochemical energy AND dollars. And the cost only increases as the price of oil increases.
We found little to no information on "energy-light" methods of modifying the environment inside the greenhouse, such as passive solar heating and geothermal cooling. There was virtually NO inclusion of PV panels (photovoltaic, or solar electric panels) or other sustainable alternate energy sources in the energy schemes for these greenhouses. This is one of the reasons that there are used greenhouses available all over the USA now for pennies on the dollar. They were conventionally heated and cooled, and used for crops that
were
profitable until the energy costs went up; then they went the way of the dinosaur.
We were shocked by how little information was available on the subject of affordable, energy-efficient greenhouses. We realized this was because the "greenhouse establishment" couldn't make any money from selling them. They only make money from selling greenhouses that need electrically-powered fans, air conditioners, thermostatic controllers, electrically-operated vents, propane heaters and ducting, because then they can sell all that stuff to you too. At that point it becomes
your
problem to figure out how to pay for the energy to run all this stuff, ergo: all the used greenhouses that are now for sale everywhere.
We knew an appropriate technology MUST be out there somewhere. But we thought we were going to have to develop it ourselves out of thin air. Although we were game for the task, it was daunting to think about, even though we know a lot about building design and construction, refrigeration, cooling, heating, and alternate energy technologies. When we met Franz Schreier this last September, we realized someone had done the development work we had envisioned, much better than we ever could have, AND had included ideas for energy efficiency we NEVER would have thought of.
Franz, a German physicist, had sold his business a year ago to try out an innovative new idea for growing aquaponic plants inside a special protective structure. He designed the structure, built it, and operated it with an aquaponics system inside; then documented it excellently with images and a common-sense description. We understood the possibilities immediately, and signed on as Franz' partners in developing this new technology. Here's an image of an installation that uses the ETFE (EthyleneTetraFlouroEthylene) film that Franz Schreier's
Aquaponic Solar Greenhouse
is covered with.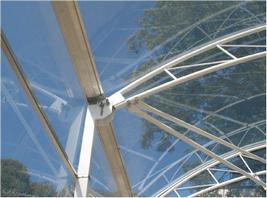 Structure covered with ETFE film; notice how

clear

it is!


What good is ETFE? Well, when you compare it to standard greenhouse film, it's a 50-year installation (instead of a 3-year one), which means it has a really
cheap
per year cost; it transmits
almost
100% of sunlight, which means the plants get much more light; it's
structural
, and it adds strength to the greenhouse; and it's
slick
, absolutely nothing sticks to it, which means it can't get dirty after six months like normal greenhouse film does and block up to 40% of your light, because the dirt (and snow, and rain) just
slides off the ETFE film!
This is not the only innovative technology Franz came up with for the Aquaponic Solar Greenhouse; he invented a new kind of PV (photovoltaic) panel that not only produces electricity, but also serves as a heat exchanger inside the greenhouse for heating in the wintertime and shading and cooling in the summertime. He also developed an ETFE film for use inside the greenhouse to phase-shift the green wavelength of light coming from the sun into blue and red light that can be used by the plants; this makes the plants grow faster with the same amount of sunlight.
He also incorporated an efficient new light called a "sulfur plasma lamp" into the greenhouse for providing supplemental lighting during periods of low sun or cloudiness. This lamp exactly mimics the natural light from the sun, and produces up to twice as many lumens (how light is measured) per watt of electricity consumed as standard metal halide, high-pressure sodium, or LED grow lights.
Finally, instead of being a standard Western-style greenhouse structure with high sides creating lots of volume and lots of area to heat and cool, Franz used the traditional Chinese style of greenhouse. This is a much more efficient structure to heat and cool, and has other advantages such as low profile in high winds, and the fact that when equipped with an ETFE skin, it will shed rain and snow loads like nobody's business!
What's the BEST thing about these Aquaponic Solar Greenhouses? Using our modular construction system, you can
build them yourself
, from economical, easily-available, sustainable and renewable materials: standard construction grade lumber and plywood! You don't need to buy overpriced components from far away and then pay for delivery.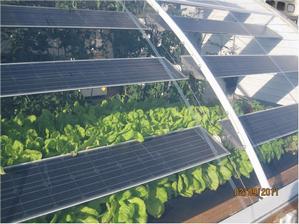 The FIRST Aquaponic Solar Greenhouse in full bloom, Heppenheim, Germany, 2011, showing PV panels and growing plants!
(Next week: More on the Aquaponic Solar Greenhouse, and how you can build your own! Thanks for listening!).