Aloha Friend
It was a regular week.
We harvested and reseeded some "truck crops", did some fish tank maintenance, and I worked on the farm biogas installation. 18-year-old Connor (one of our workers) put in a new fence line. I kept our 64-year-old Cat D4 bulldozer running for another week. We harvested and dried mint. We just did normal work on the farm. Then it hit me! We were working and making money with the farm!
To put this "aha!" in perspective:
six years ago my wife and I were sitting around the breakfast table mulling over what to do next. We just signed a 30-year note on the house we'd spent four years building with our own hands. Construction in Hawaii went flat in late 2007, and hasn't picked up again. Our two construction-related businesses were dead in the water, and we had $20k of credit card debt we racked up finishing the house, plus a huge mortgage to pay. We had no work, and were wondering how long we could live on our credit cards.
We reflected on how vulnerable
we were because we were tied to an industry that needed constant growth to survive. We reflected on what sector of the economy might not be so vulnerable, and realized it was food. It never goes out of style, and people don't stop buying it like new cars or houses when things get a little tight.
It was like a light went on in our heads that said
"We need to make food!"
. We had no idea how to make food yet, but a week later we were on the plane to the best aquaponics course we could find. This was the turning point that led us to the farm that makes our living, feeds us, and teaches us new things all the time.
Why should any of this concern you?
If you've been fired, if your house is in foreclosure because your job disappeared or got reduced to part-time, if your retirement was suddenly worth half what it had been before overnight because of stock market shenanigans, if you've had any of these experiences, you should be concerned. Maybe nothing happened to you personally, but I'm certain you know someone to whom it has.
We don't claim to have all the answers.
We just know that growing food for ourselves and others has been a success even in these difficult times. We think it's a
good
idea for people to take growing food into their own hands, whether or not you learn how to grow food with aquaponics. We also think it's a good idea to be able to grow food year-round no matter what your weather, so we got involved in energy-efficient greenhouse technology a year and eight months ago.
In today's "Nugget", we continue with Part 2 of our series on
"Energy-Efficient Greenhouses For Aquaponic Growing"
. If you want to learn how to do this instead of just read about it, we have trainings scheduled for Tennessee in September of 2013 (see bottom of this column, and right sidebar).

Our "In The Farmily" column today
is about some of the special members of our Farmily.
Aquaponics Nugget #136, Part 2: Energy-Efficient Greenhouses For Aquaponics

Why We Got Interested In Greenhouses At All:
Back in 2011, we gave one of our Personal Intensive aquaponics trainings for a fellow whose family had been in the ornamental flower business for years, using greenhouses. They had about 120,000 square feet of greenhouse space, and perhaps another 200,000 square feet of outside "shade house" space in which they had been growing (this was a BIG operation by our standards!).

At the height of their business, they had 80 employees. When he took the training, their business had decreased so much due to the recession that they only had 5 employees plus the family members. He'd come to Hawaii to learn how to convert his greenhouses to grow food using aquaponics.
During the course of the training he spoke about why the Recession had caused the demand for his product (flowers) to decrease so much, and as a secondary result, he explained how there were many (relatively new) greenhouses all over the US that were available for pennies on the dollar because they had simply failed to pay the bills and gotten repossessed by the banks.

(Below) A conventional "high tunnel"; one of the simplest and least expensive of greenhouses. Unfortunately, it's also a type that requires you to throw LOTS of energy at it, both for heating in the wintertime and cooling in the summer; because it has NO insulation and NO thermal mass (we'll talk a lot more about those two later in this series of articles!)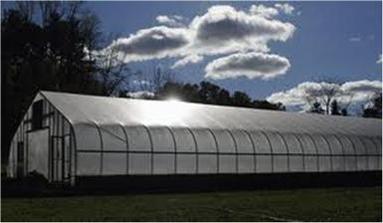 His farm was still in business only because his family owned their farm: they'd paid for building it out of cash flow and not from a loan; so they didn't owe any money.
Getting into growing food was a good move for him.

Hearing about all the greenhouses that were suddenly available at fire-sale prices started Susanne and I thinking and researching in that direction. It had become obvious to us, after teaching commercial aquaponics for three years, that most of our students lived in temperate climates and needed greenhouses to be able to grow year-round.
This is desirable not only because people need to eat year-round, but also because the prices for many fresh produce items are the highest during the winter months (in some places it's also during the summer months!), and that's when the farmer can make the most money from growing the same thing.

We soon realized that our aquaponics offerings (as complete as they were in terms of aquaponics technology) only provided part of the solution to our clients; and that we needed to become proficient in greenhouse technology as well in order to stay on the cutting edge of this movement.
Then we saw a presentation during a conference in 2011 that really turned our heads in the direction of developing our own greenhouse designs: it featured many photos of traditional Chinese-style greenhouses, and emphasized their energy-efficiency and how they were built out of low-tech, affordable materials.

(Below) A Chinese-style greenhouse, complete with roll-down straw insulating mat to keep daytime warmth inside at nighttime. The small entrance building serves as an "air lock" keeping the warmth inside, as well as storage for tools and supplies.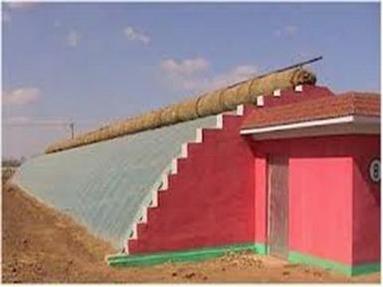 (Next newsletter in this series will continue explaining our Aquaponic Solar Greenhouse Technology. Over the course of this series, we will cover subjects including (but not limited to) thermal mass, insulation, solar heating, geothermal cooling, energy effficient greenhouse systems, passive hot air venting, cold-side air cooling, water walls (or evaporative coolers), night-sky cooling, heat exchangers, visible light, infrared light, radiant heat, and will tie this all together with continuing discussions included on how to get the most bang for your buck on each of these items. Most important for those of you who are "lightly funded", we will explain how to purchase and erect your own energy efficient greenhouse for pennies on the dollar, even if you never purchase any of our offerings! Thanks for listening!)

For smaller home backyard and apartment systems, please read on: