Aquaponics Nugget #22:
Gammarus and Organic Aquaponics Systems (Part 1 )
Gammarus in Aquaponics Systems
The first year we operated our original High Density systems the fine solids capture tank filled up with crud and required regular cleaning. After about 15 months of operation, we had
gammarus
(common name water flea) show up in one of the two systems on our farm, with seemingly no discernible transmission vector. We hadn't brought any fish or other living things into our systems from outside the farm in the previous year. We first noticed when one of our farm interns came in to the lunch room and said "There are little shrimp crawling all over the plant roots and eating them!".
Susanne went into high gear and "keyed them out", which to a biologist means tracing down the class, order, and species of the living thing in question. She found that they were detrivores (means they eat dead things), and were no threat to the plants growing in the system. In fact, the residence of these little beasties is considered by experts to be an indicator of a high level of health in an aquatic ecosystem. After we got over our initial scare that we had a new system pest to deal with, we were proud of our little
gammarus
for making it to our farm from somewhere else all on their own. They're also kind of cute.
Soon, we started seeing differences in the net tank in the system they showed up in; first, there was a heck of a lot of
gammarus
in the tank. We noticed the net tank wasn't getting filled with fish poop as fast, then noticed it wasn't getting deposits of fish poop at all! It's been two years since the first
gammarus
colonized that system, and we haven't cleaned the net tank once since!
Even more telling than this was what happened when we transferred the
gammarus
to system #2 in an effort to help them colonize it: when we first put the
gammarus
into the troughs, this system's net tank had a 3-inch thick solid mat of fish poop floating on the top. Over the next month and a half as we watched, the mat of poop gradually disappeared; neither was there any fish poop adhered to the nets in the tank as there always was before
gammarus
. We did some digging and found the net tank full of
gammarus
, as if they had decided it was the promised land. As we seeded
gammarus
into the other systems, they took up residence throughout each system: in all the tanks, in the hydroponics troughs, and in the roots of all the vegetables. The vegetable roots seem to be much cleaner, as the
gammarus
clean any crud off them that is deposited. We can't help but think that this constant attention to crud on the roots can only benefit our plant growth.
We don't have a complete hypothesis explaining why the fish poop disappeared yet. We are still feeding the fish the same amounts of food, so they MUST be pooping the same amount of poop. Our preliminary thoughts are that the
gammarus
are affecting the crud that used to accumulate in the net tanks, and eating it or just plain breaking it down somehow so that it passes out into the systems. There hasn't been any corresponding rise in nutrient or ammonia levels as one would expect if the
gammarus
were simply breaking the crud up and it was going out into the troughs to decompose. We like what we see, so we're offering to seed every new aquaponics system (that our students on the Big Island build) with
gammarus
as well as mosquito fish and system water containing nitrifying bacteria.
Gammarus
need well-oxygenated water, which generally means cold water, because cold water dissolves more oxygen than warm water, so if you're in a warmer area than we are (68-78 degree F water temps), they might not do so well. They do poorly if there are any pollutants present, and require abundant calcium (which we add in the form of calcium carbonate to buffer pH. They are a good indicator of over-all system health: clean water along with good calcium and oxygen levels. If your
gammarus
start dying off, or it you try to seed them and they don't establish, it's an indicator that something's out of kilter with your system, and you should investigate.
Here's their scientific classification:
Kingdom - Animalia
Phylum - Anthropoda
Class – Crustacea/Malacostraca (there is some ambiguity in classification of class)
Order - Amphipoda
Family - Gammaridae
Common Names: Gammarus Shrimp, Shrimp, Water Fleas, Scuds, Side Swimmers
Here's a line drawing to show you what to look for: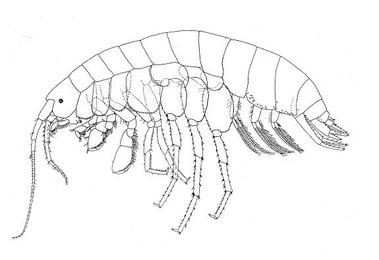 They can get up to 20 mm (3/4 inch) in length but adults usually average about 15 mm (1/2 inch) in length. Ours seem to be about 7mm (1/4 inch) maximum size, with most of them about 5/32 of an inch to 3/16 of an inch long.
And as it turns out, they have been an astonishing blessing to our system. The absolute worst job on the entire farm was cleaning the net tanks. It was a two-hour job that left us covered from head to toe in stinking fish poop. Since the
gammarus
colonized our system, we have not had to clean the net once! They live in the net as well, and keep it pristine.
(Next week: "
Gammarus
and Organic Aquaponics Systems" Part 2, including information on where to get
gammarus
and how to introduce them to your system).