Aloha Friend,
We apologize AGAIN for this not being the newsletter about our Chinese student, Mr. Shumin Wang, with the 30,000 square feet of aquaponics farm that we promised for this week. Shumin has been traveling on business, so we hope to hear from him soon; he said he had detailed information to add. As soon as we do, we'll release that information.
However, we do have a valuable topic to discuss today: O
rganic Certification for a commercial aquaponics farm. We'll talk about what
is
and is
not
organic, and will include lots of free information, sources, and definitions that will help you decide if organic certification is valuable for you.
We don't consider ourselves "the" experts on aquaponics, but we
are
the experts on
organic certification
of aquaponics. Susanne was the first in the world to get our aquaponics farm USDA Organically Certified in August 2008, and since then at least seven of our students have gotten their farms organically certified.
Just for the heck of it, compare the organic prices of produce to the same item without the organic certification (here's a good link for doing this at the wholesale level:
the USDA terminal markets reports
) . On many items, all of which are grown in our aquaponics systems, the organic price is
double
the conventional produce price, not just in Hawaii, but all over the US. We checked the Atlanta, Georgia, USDA terminal reports for three produce items that you can grow anywhere in the world in aquaponics systems, and all three were slightly
more
than double when organic.
Now, if you're thinking about taking that "commercial aquaponics training" someone else offers, ask them how many of their students have been certified organic, and if their farm is certified organic. To the best of our knowledge, none of them or their systems have ever achieved certification. It's kind of hard to understand how they can teach it to others if they don't have it themselves. However, you can attend any of these trainings and learn how to grow aquaponic produce that is worth
half as much
, if that seems like a good business decision to you.
Our courses, our DIY materials, our website, our USDA Organically Certified aquaponics systems, and this column are designed to remove as many of the barriers as possible between you and your success in commercial aquaponics.
There are many teaching "commercial aquaponics" who have never operated a commercial system that their livelihood depended on, and definitely not a USDA Organically Certified one. We suggest you ask for verifiable income, expense, and profit numbers from whoever you're considering taking a course from or purchasing a "commercial" aquaponics system kit from. If they can provide them, that is. We gave you these numbers for Zac Hosler's farm in Honaunau, Hawaii, in our
April 17th newsletter (click here to read it)
.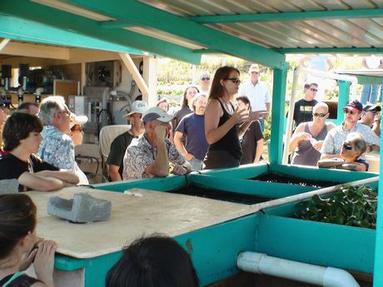 If the teacher you're considering can't provide numbers for their economically successful students, we'd love to meet you in person at one of our live
Aquaponics Technology Trainings
(only $495) For those of you who can't free up the time to come to Hawaii, our
Commercial DIY Training
has all the information combined in our Aquaponics Technology and Commercial Aquaponics Trainings together, along with complete information and guidance on the USDA Organic Certification process. It allows you to duplicate our success anywhere.
The Straight Fish Poop On Organically Certified Aquaponics, From The People Who Invented It:

We begin this column with a question we see in our in-boxes frequently. This is from our reader Edy Hall (with permission)::

Is it really possible to get organic certification with an aquaponics system? Many people say that fish water is not / cannot be organic. I want to know, yes or no, can it be done? If you can give some info as to how it is possible so that I have answers to say to these folks that say this, thanks, Edy



(Our answer follows:)



Aloha Edy: There is no question if it is possible or not. If people are telling you it is not, they are misinformed and wrong. A lot of the confusion about the word "organic" has to do with the fact that most people don't know what it means.

"Organic" is a word that the US Government owns, and it has a meaning strictly defined by Federal law. Although

all

organic certification in the US is by definition USDA (United States Department Of Agriculture) Organic Certification, the USDA doesn't do any certification or inspection of farms themselves; those services are performed by private companies who have been certified as "Accredited Certifying Agents" by the National Organic Program (NOP) of the USDA. These are the "organic certifiers" you will deal with when certifying your farm. There are currently 50 domestic certifying agents and 41 foreign certifying agents (more on

which

agency/company to pick to certify your aquaponic farm in a bit).


The NOP is administered under a

federal law

that defines who can use the word "organic" on their produce
and under what conditions it may be used. You may label your produce organic without requiring certification, and sell up to $5,000 worth per year without any penalty. However, you're playing with fire if you decide your produce is "organic", and you don't need to abide by their silly law.



Fines Are NOT Fine!



There is a provision in the law for a $10,000 fine per occurrence (which can mean

per box

or

bag

of produce), when produce is labeled organic but is not USDA organically certified. If the USDA finds 50 bags of lettuce from your farm labeled "organic", determines you are not certified, and decides to play hardball, you could be liable for a half-million dollar fine. It has nothing whatsoever to do with what you may

think

organic is, the same way you can't exceed the speed limit just because you want to. There are consequences.

We were the first aquaponics farm in the world to get USDA Organic Certification in August 2008. Susanne worked on our first certification non-stop for almost six months with Oregon Tilth.

Since then, seven of our students have gotten certified, and there are now

two

certification agencies (Oregon Tilth of Oregon and Organic Certifiers of Southern California) who certify aquaponics farms. They're both wonderful companies to deal with, and we highly suggest using either one of them. You

can

try getting certified with a different agency, but
you'll have to educate them about aquaponics the way Susanne did during our first certification. And the answer still may be NO if they don't have a high enough comfort level with the idea.



Get Certified Anywhere In The World:



Something most people don't know about certification: your farm can get USDA Organic Certification

anywhere in the world

through these two agencies, not just in the USA. You just have to pay the inspector's expenses for the visit to your farm.



How Do I Get Certified?



Getting organically certified is a simple process: after building aquaponics systems that only use approved materials and devices according to the OMRI (Organic Materials Review Institute) guidelines, you fill in a certification application and send it to your agency of choice. After your farm is fully planted out and in operation, you can schedule a visit by one of your agency's certification inspectors. If you've taken one of our courses or bought one of our Commercial DIY packages, we'll help guide you through this process.



What Do You Mean By "Materials And Devices"?



OMRI publishes two free manuals: one lists all the approved and restricted materials; the other lists all the approved and restricted devices. What are we talking about here?

A material is something that gets consumed in the process of growing, and needs to be replaced, like seeds, fish food, fertilizer, potting mix, pesticides, or chemical additives. A device is something that is durable and does not get consumed in the process of growing, like the pipes the water flows through, the plastic pots we plant in, the rafts in our systems, and the liner of the aquaponics troughs.



What Does Certification Cost?



Our original certification cost us a little more, because we had to pay for the inspector to fly to our island, accomodations, and car, plus the inspection fee; but now our yearly reinspection fee is $1,200, because an inspector lives on a nearby island. This is a small price to pay for a farm that can produce $150,000-plus of organically certified crops per year; especially when you consider the fact that that $150,000 worth of crops would only be worth $70-80,000 if it wasn't certified organic!



How To Prevent Certification/
Shoot Yourself In The Foot
It's easy: just use a material or a device that is not approved by the OMRI guidelines. If you use something in your system that is

not

OMRI approved (a construction material, a liner material, a fertilizer, a pesticide, or a chemical additive, for example), the certifying agency does

not

have to certify you no matter how much you argue in favor of it. Once you've incorporated this device or used this material in your system, you are already on the wrong side of the fence.

Even if you now

do

whatever the certification agency says you have to do to be certified, and make the necessary changes in your systems and methods, it doesn't automatically jump you to the right side of the fence. The agency may

still

require you to go through up to a two-year "transition period" before your farm can be certified. During this transition period, you

must

operate your farm with

only

approved materials and devices, yet during this two years, you are prohibited from claiming your produce is "organic", and you can't get organic prices for it.

What Works, What Doesn't, In The Organic Certification World:

To the best of our knowledge, the only aquaponics systems in the world that are currently USDA Organically Certifiable are our deepwater raft system designs using our operating protocols. Also TBOK, there are

no

organically certified media-based systems, aeroponics systems, flood-and-drain systems, vertical systems, or NFT systems as of this writing.

If we are wrong about this, of course we would love to know more about who has developed these systems and how they work. We are

always

interested in advances made in the technology and methods of aquaponics. If you know of someone who is certified with one of these systems, please email us with details including the farm's name, and especially the name of the certifying agency.

This is important, because a claim of organic certification that omits the name of the certifying agency is a worthless, meaningless claim. We have run into at least two farms whose soil-grown product is certified organic, but whose aquaponic produce is

not, even though they claim it is

. We simply talked to their certifying agencies.



Design Your Own (We Did)



Making a hasty decision when setting up your farm,
or designing your own aquaponic system and hoping it will be certifiable
can cost you two years of organic certification, and up to half your potential income for those two years. This is why knowing about organic certification before beginning a commercial aquaponics venture, and investing in systems and methods you

know

are certifiable
is so important
.

If you are convinced that your design is the way to go, then all you have to do is convince the organic certification agencies that it is certifiable. The questions to ask yourself then are: "How much is organic certification worth to my operation as compared to my proprietary design?", and "How long will it take, and how much will it cost me, to convince a certification agency that my aquaponics systems are certifiable?", and finally "Am I

certain

they will certify me?".
We tried to help a well-known "organic" aquaponics farm get certified once; they had been "trying" to get certified for almost a year at that time. We even told them we wouldn't charge anything for the help. When we asked how their systems were set up so we could suggest changes as necessary to meet the certification requirements, we were told "We need to certify the systems exactly as they are; we can't change anything". Knowing how the certification agencies work, we said "good luck", and went our own way. In the face of this attitude, we couldn't do anything to help.

I hope this has helped you understand what the word organic means when applied to produce and our food.

Aloha, Tim and Susanne
We hope this has been useful to you. In the next "Commercial Aquaponics" newsletter we will share the success of Mr. Shumin Wang, a student of ours from Shanghai, China. Shumin took our October 2010 Commercial Aquaponics Training, then built 30,000 square feet of greenhouses with about 24,000 square feet of aquaponics system in them. Shumin's system just came into production this May, and is what we believe to be the largest operating aquaponic system in the world. We will have construction cost, income, and operating cost numbers for his systems included in the next newsletter, along with information on what he is growing.
If you have any additional questions you would like us to answer in this continuing series of Special newsletters,
please email them to Tim
.
Click to see our new Video!
............................................


Purchase Trough Liner Directly From Manufacturer!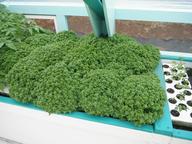 Pistou basil growing in our Aquaponic Solar Greenhouse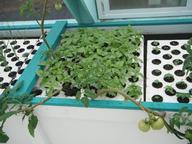 Large-leaf basil interplanted with tomatoes equals yummy pesto in the future!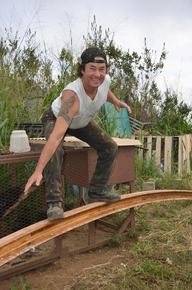 Tim joking around, but really showing off the strength of the 20-foot curved beams used in the Aquaponic Solar Greenhouse.

Special Offer!
Sign up for our June 28-29
Aquaponic Solar Greenhouse Training
or our June 24-26th Aquaponics Technology Training, and receive our Micro System package for free so you can begin studying aquaponics! ($99.95 value)
More Information on Hawaii Aquaponic Solar Greenhouse Training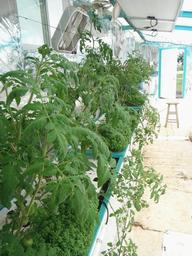 Tomatoes on the north wall of the Hawaii Aquaponic Solar Greenhouse; the wall reflects light and provides a built-in tomato trellis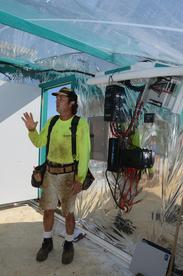 Tim with the PV system charge controller, inverter, breakers, and cabling from the PV panels on the wall to the right. The roll-down white plastic cover (rolled-up in this picture) keeps all this (black) equipment from heating up too much on a sunny day.
"The Fish's View"

It was 1984, and we were on the Kona side of the island, picking up flagline with Tropic Bird, my 56-foot sailing fishing trimaran, on a nice day. I could say the sky was grey and clear at the same time; the ocean was blue and clear at the same time.

This was because the volcano fire pit of Halema'uma'u at Kilauea had been erupting for two years now, and the air on the Kona side of the island on this day was like the air in the LA basin during a big inversion.

Thick.
The confounding air confused me. This was the day I dove into the sky and flew into the ocean.

We'd set our eight or so miles of flagline while under sail just at the break of dawn, and had let it soak for a couple of hours. We'd moseyed back up the line under sail after a nice nap hanging on the far end of the line. We noticed one float a little lower than the rest, and fired up the engine so we had a little maneuverability.

Motoring up to the line, my friend and crewman Dustin snagged it with the gaff, bringing it on board, and we started working our way up the line. After passing three or four hooks that still held bait but no big fish, Dustin cried out!

I remember an inarticulate cry; usually he would yell the name of the fish, but this time he just went Ah! Ah!.

Then: "it fell off!". It was calm, I was calm, I put the boat in neutral, went over to Dustin at the line-handler's position, and looked over the side. I looked at him and said "I'll be right back".

Took a deep breath, and dove over the side. Scuba tank, non; mask and fins, non, big breath, oui!

What I'd spotted, in that fraction of a second it took to make up my mind, was the $200 dead fish that would pay for all the fuel, ice, and bait costs for this whole trip, that had just fallen off the hook as Dustin pulled it up.

It looked like a little silver sliver, about forty feet down when I first spotted it. It was sixty feet down when I jammed my hand hard inside its gills, turned around, and headed back for the surface. I'd never tried to swim towing a 90-pound dead fish sixty feet underwater before.


Saltwater game fish such as this one have backwards-facing hooks inside their gills that keep small bait fish they've eaten

inside

their mouths; they're sharp, strong, and are called gill rakers.

The fish's gill rakers had a serious clamp on my hand.
For just a few seconds I wondered if I could get my hand back

out

of its gills if this turned out to have been a bad decision. Then I realized I was making good progress to the surface.

I checked my internal air reserves and depth gauge, and realized I was going to make it. I was at about thirty feet, and had at least thirty five feet of air left. At this point, I began a lazy spiral in my upwards thrust, so I could see in my vicinity.

The deep blue clarity just went on and on. At that point in my life, I hadn't yet been adopted by Manu, the oceanic shark, and so I was a little concerned about him. There seemed to be no Manu, and no nothing else, for that matter, except me, the fish, and Tropic Bird floating in the crystal dome of the sky thirty feet above.

At about twenty feet, the thumping of her diesel idling over was easy to hear; at ten feet, the light from the sky got much lighter, and pretty soon I scared the crap out of Dustin when two of us, one dead, one alive, came bursting out at the surface!

The last I heard him say was "OK", with a question in his voice. The next thing he heard me say after that was "Shortbill Spearfish!@!".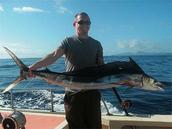 This

might

be a 70-pound shortbill spearfish. They're rare! And tasty!

Funny, I don't remember if that was the trip that we caught the two 270-pound ahi (yellowfin tuna) or not.

If it was, I certainly didn't need to worry about making expenses that early in the trip. But you never know when you're fishing. Like they say, "If it was guaranteed, they'd call it "catching"".

More fishy stories in the next newsletter!