Aloha Friend,
In today's "Nugget",
we continue our series with
Part 3
about Wayne Hall, an aquaponic producer in the Bahamas; and his experience getting a commercial aquaponics operation started there. If you'd like to refresh your memory, you can read
Part One
and
Part Two
of this series to start.
Our "In The Farmily" column today
is about a new member of our Farmily, by Susanne.
Aquaponics Nugget #128, Part 3: Wayne Hall; Profile Of An Aquaponics Producer

By the time my training with Friendly Aquaponics was complete I had all but two of the licenses, permits and registrations, the last hurdle being the aquaculture permit and the fish farming registration, of course a pre-requisite to these was the necessary training.

I then proceeded to apply for the aquaculture permit, which should have only taken 2 weeks to obtain, however it took way longer than expected, and finally on the 7th of December I had to write a letter to my parliamentarian representative requesting his assistance, which I put in his hand personally on the 8th of December. It just so happened that he was also the Prime Minister of the Bahamas.
The aquaculture permit was approved on the 11th of December and issued on the 14th, this was the final piece which allowed the cultivation of Tilapia, Malaysian Prawns and Australian Red Claw.
Christmas of 2011 was bittersweet, as I had finally gotten everything in order to proceed, however it took over a year to get everything in place using the majority of my own funds in the process, and my initial financial backers could wait no longer and invested in another project.
On the road of life we occasionally hit a pothole in the road and get a blowout, forcing us to stop and make adjustments.
Phase 1 – Initial Testing
In the new year (2012) I began construction of the first aquaponics system, a 256 sq ft system. This was built on the specifications provided by Friendly Aquaponics and initially I used fresh water ornamental fish (mollies, platys, swordtails, guppies, goldfish and koi) to for the "engine".
This first system was to be used to test and determine exactly what would grow well in my environment and also provided me with a way to get my "feet wet" in aquaponics.

Wayne Hall's first system troughs filled with water, ready for fish and plants.

If I had not done this myself I would never have believed how productive an aquaponics system can be, suffice it to say that I was able to grow successfully over 170 varieties of plants, which included leafy greens (a variety of lettuce, mustard greens, Asian greens and other like types), broccoli, cauliflower, peas, beans, okra, tomatoes, green peppers, hot peppers, watermelon, cantaloupe, a variety of other squash types, corn, pineapple, culinary and medicinal herbs and flowers (both edible and ornamental).

Wayne Hall's aquaponic produce.

I even planted papaya and bananas which I eventually had to take out and plant in the ground because they grew so fast and so big that it overwhelmed everything. I continued watering these with aquaponics water and they produced very large and extremely delicious fruit. The papaya plants produced fruit with an average weight of 8lbs each.
Wayne Hall's aquaponic papaya plants.


Phase 1 - Final Testing
In the summer of 2012 I received a small entrepreneurial grant from the government. This additional funding allowed me to expand the aquaponic grow space to a total of 768 sq ft along with a 128 sq ft seedling table. The increased grow space would allow me to quantify exactly how many pounds it could produce.
In this configuration I was able to achieve a total of 10,292 growing units (net pots) as follows:
Seedling Table (128 sq ft)
4,180 units (32 per sq ft)
Nursery Troughs (256 sq ft)
4,064 units (15 per sq ft)
Grow out Troughs (512 sq ft)
2,048 units(4 per sq ft)
Using a 6 week harvest cycle this would produce 1,024 units per week and would take 10 weeks to reach full capacity.

(Below) Photo of Wayne Hall's farm location on the island of Abaco, in the Bahamas, from Google maps).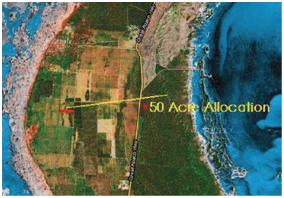 (Part 4 of Wayne Hall's story next week; thanks for listening!)

For smaller home backyard and apartment systems, please read on: