Aloha Friend,
We had an interesting experience last week, and as a result, Aquaponics Nugget #24 is being hijacked. Instead of "Part 3 of Gammarus and Organic Aquaponic Systems", we are going to do "If It Works, Don't Argue With It". It took me years to figure that the easy way to learn something new was watch the people who had been doing it their whole lives, rather than reinventing it myself. The purpose of today's Nugget is to make successful aquaponics as easy as possible for everyone else.
People are signing up for the first ever Commercial Aquaponics Affiliate Training, to be held in Florida from March 21st to March 24th, 2011.
The training will be held
at the Community Center of Ridge Manor, 34240 Cortez Blvd, Ridge Manor, Florida. Susanne Friend and Tim Mann of Friendly Aquaponics will be teaching this course along with Tonya Penick and Gina Cavaliero, who own and operate Green Acre Organics, the FIRST Friendly Aquaponics Affiliate
training center, where the hands-on sessions will be held. The conference room we're using holds 120 participants, and we are registering participants on a first-come, first-served basis.
We are STILL (more-or-less) on target with the Friendly Aquaponics backyard technical support forum, which will be operating within a week or so. With a BASIC read-only section that is open to the public and is FREE, it covers subjects and questions applicable to ALL aquaponics systems. We are offering an additional technical support forum which is geared to the needs of those doing aquaponics commercially. Users of the commercial forum will be able to post questions to us (which will be answered within three business days). The Commercial Forum will be $29.95 per month, with a discounted yearly subscription at $250.
The commercial support forum provides answers on fish and vegetable operation, system design and construction, farm design and construction, product processing, water quality, organic and food safety certifications, permits, and will be added to as users indicate areas of interest and problems they're having with their aquaponics systems. It is designed to be equally useful to users in commercial aquaponics whether you've built our systems, someone elses, or are designing your own.
If you're interested in commercial scale aquaponics, please take a look at both the
Hawaii and Florida Commercial Aquaponics Trainings
(Special Offer in right sidebar of this email), where you will learn more about real-world operation of a commercial aquaponics system than you can anywhere else in the world. For smaller home backyard and apartment systems, please read on:

Hands-on Live Micro System Trainings planned for Hawaii locations in February:
If you want to learn aquaponics easily and inexpensively, these Micro System trainings may be perfect for you. They show you how to build AND operate a stable, durable, and productive 64 OR 128 square foot backyard aquaponics system in two weekends for less than $900 (for the 64), or $1,200 (for the 128) worth of materials you can buy locally.
Both trainings cost $199.95, and include our standard Micro System manual and construction information ($99.95 value), plus six hours of hands-on instruction building and operating these small affordable backyard systems.

These LIVE Micro System trainings are now available on the Big Island of Hawaii from two Friendly Aquaponics Affiliate trainers. John and June Greenfelder are giving Micro System trainings in the Hilo/Hamakua coast area; and Alexis and Chris Smith of Coastview Aquaponics are giving Micro System trainings in the Kona area. The Hamakua training is six hours and is scheduled for Saturday February 12th from 9 to 4; the Kona training is Saturday February 19 from 4 to 5 hours long, and begins at 12:15 pm. Susanne and Tim will be co-teaching both of these trainings with our affiliates.
To register for either of these trainings, just click on the links below or sign up for the Hamakua course by calling John and June at 962-0515; or the Kona course by calling Alexis and Chris at 325-7665.
Enroll in the February 12th Hamakua Micro System course

Enroll in the February 19th Kona Micro System course

Aquaponics Nugget #24:
"If It Works, Don't Argue With It" (Part 1)
Why Do We Say That?
Aquaponics grows more food with less work, less water, less land, and less energy than anything we've seen. What's more important, the experienced farmers who have taken our course and built our aquaponics systems echo that sentiment; so we know that it's not just our lack of experience with conventional agriculture talking.
Aquaponics IS less work; but it's STILL work. Even though we do a lot of it standing or sitting in the shade (instead of bending over or kneeling in the sun), it is farm work. It is physical, it requires attention to detail and the farmer's personal, direct participation. ANY farm discourages and punishes an absentee owner. In these respects, aquaponics is extremely successful when compared to conventional agriculture.
However, we have experienced two kinds of failures after participants take our aquaponics courses. We didn't know what to do at first, but we take full responsibility for heading both of them off now. The first is when the student thinks they heard "You will make $10,000 a month in two hours a day on the phone with aquaponics!", though we never said anything of the sort. This can happen when out-of-work persons who used to earn a lot of money in an office moving pieces of paper from one side of the desk to the other decide aquaponics is their salvation. We head off this type of failure by actively discouraging those from whom we hear this kind of expectation. There are not many aquaponics people who try to talk people OUT of taking their courses.
The second is when extremely intelligent and experienced people get involved, and build or operate our systems differently from the way the plans and manual specify. The failure mode here is "I'm going to adapt it a little and it will work better my way". If these people were learning bomb squad techniques, the situation would be self-adjusting. But for us, this problem shows up as "my system isn't growing plants very well", when they contact us to tell us their aquaponics isn't working.
At first, we mistakenly assumed they all built and operated their systems
exactly
according to our plans and manual, and were perplexed as to why these systems, which always work so well and respond the same way for us, were working so poorly and responding so differently for others. Here's a good example (more than one of our students did this):
"My system water is full of green algae and the plants aren't growing". We couldn't imagine how the system could get full of algae. The troughs were covered with rafts, and the fish tank was covered with a shade cover, right? There should have been no way any light could get into the water to grow the algae. That is, IF the student had only taken the rafts off the system during the few days of the startup nitrite spike (not for weeks before that).
These students inoculated their system with nitrifying bacteria (Aquatic EcoSystem catalog # 239210) just the way our manual said to, but with the rafts off, which the manual DIDN'T say to do. During this time the nitrates in their systems grew an incredible amount of algae in the system water because of all the great light that the algae had available.
When they finally put the rafts in the troughs and their sprouted plants in the rafts, the algae in the system water died off because it had no light with which to grow. The dead algae decayed and turned into a mass of anaerobic sludge which deposited in the bottom of the troughs and on the baby plant's roots (NOT good for baby plants). This decay process not only used up a lot of the oxygen in the system but ALSO created a high ammonia level of over 6 ppm. This high an ammonia level not only interfered with the plant's growth, but also inhibited the nitrifying bacteria which would have turned the ammonia into nitrites, then nitrates, which the plants could have used.
We've observed that when plants get stunted at an early stage of their growth due to environmental factors (such as these students produced with their odd system startup technique), they never recover and exhibit normal growth, and in fact, it is often useless to continue growing them. We recommended the students dump the trough water and sludge in the bottom of the troughs and refill with new water, leaving the fish tank water alone; then sprout new plants, and as soon as they were ready, to remove all the existing plants in the system and replace them with new plants. This worked just fine to correct this problem in more than one system.
This was an easy-to-fix problem in small, inexpensive backyard systems that never would have been experienced if the students had followed the "if it works, don't argue with it" philosophy. Next week, we'll detail an example of an expensive, difficult-to-fix problem that a student of ours created in a commercial-sized aquaponics system, and the fix for the problem. We'll also detail HOW to do experiments on your "great ideas for aquaponics", safely, inexpensively, and without huge consequences in the event of failure, in next week's Nugget or the one after.
(Next week: Part 2 of "If It Works, Don't Argue With It. Also; we WILL conclude "
Gammarus
and Organic Aquaponics Systems", including information on where to get
gammarus
and how to introduce them to your system. We're just not certain whether "If It Works..." will be two or three parts; we'll conclude it before going back to conclude "
Gammarus
and Organic Aquaponics Systems").
Click to see our new Video!
............................................
Free Farm Tours

..............................................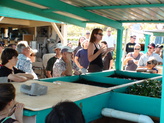 Aquaponics tour at the Friendly farm!
We hold a free farm tour on our farm the FIRST Saturday of every month, focused on growing food with aquaponics and permaculture. These tours start with a one-hour focus on aquaponics from 10-11 am, then we cover a permaculture topic from 11-12. Sample topics include: "How to grow"; bananas, sweet potatoes, taro, green onions, tomatoes, and so on. Each workshop will cover a different vegetable and include a handout with instructions covering that vegetable for you to take home.
Click here
for information. See you there!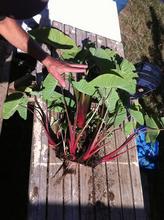 3-1/2-pound Taro grown in a 2" net pot (little bump at bottom) in a Micro System 64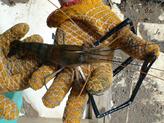 4-month old prawn (macrobrachium rosenbergii) grown in hydroponics troughs of our aquaponics systems
Special Offer!

Sign up for our April 4-7th, 2011 Hawaii Commercial Aquaponics Training OR our March 21-24th Florida Commercial Aquaponics Training now, and we will email you our Micro System package so you can begin studying aquaponics! ($99.95 value)



Sign up for Hawaii Commercial Aquaponics Training
Sign up for Florida Commercial Aquaponics Training
In
The Farmily

The Farmily does martial arts! Ten years ago, before I met Susanne (the backbone of Friendly Aquaponics!) in 2000, I did Kendo (a full-contact Japanese martial art practiced with bamboo and wooden swords and protective gear), for four years, and continued after we met and were married.
One day in 2004, my Kendo Sensei (teacher) told me he would be moving to another island in the State of Hawaii and I would be taking over the dojo (practice center) as the new sensei. I spluttered "I'm not ready, I'm not a sensei, sensei!". He just smiled and said "I'm sure you'll do fine".
The measure of how well you've learned anything is in how well you can teach it to others. I realized that the first few weeks I tried to teach, and wished I'd paid more attention to
how
Sensei was teaching me rather than
what
he was teaching me. I got better (I think), and soon our small dojo had ten to twelve students, mostly high-school age. It was fun to not only teach kids how to hit an adult over the head with a stick, but teach them how to do it excellently, without getting hit back themselves, all with the indomitable "spirit of kendo".
Susanne had Jack (now 9), then Lucky (now 8), then joined our kendo dojo in 2004 and practiced with us until she was eight months pregnant with Rose. After giving birth to Rose in March 2005, she took a one-month break. When she resumed kendo practice, she had a nursing baby, and was co-teaching the dojo with me as sempai (senior student).
When we were finishing our house back in 2007, we had to shut the dojo down, because we just didn't have the income to allow us to spare that much time away from work. We're looking for a good location that isn't too expensive to start the dojo up in again.
In the meantime, Jack and Lucky started taking a kids Aikido class at our local Aikido dojo, and are really doing well there. Our intern Cory started taking Brazilian Jiu Jitsu at a local dojo, lost weight, gained skills and significant muscle mass, and convinced Victor (15 years, 6'-2", 230 lbs) to come with him. The idea was that Victor would get buffed and then be irresistible to girls (major item of interest to 15-year-olds). Then Susanne started going to practices there, and she talked me into it Tonight is my first night at BJJ practice; I'm probably going to come home sore. Actually, I'll probably be fine when I come home, but really sore tomorrow. I'll let you know next week in the newsletter.