Aloha Friend,
Today we continue our series on our Verticalis system! A year ago, we developed a vertical growing system that holds up to 80 plants per square foot of greenhouse space, that can be built by amateurs from common, readily-available materials.

This is the Verticalis, and it will revolutionize growing in greenhouses and inside warehouses in the city, especially when artificial lighting is used. If you missed the first newsletter that described the development process of the Verticalis, here's Number One, and here's Number Two, which continued the series with photos.
Our "In The Farmily" column today, is the wrap of a little story about sailing, Part 3.

We will continue our two complementary regular columns soon (they are covering why the combination of aquaponics and energy-efficient greenhouses is an excellent solution to many of the worlds problems today), but will finish covering the Verticalis information first, so you can benefit from it (down below the turquoise band in the middle of the newsletter).

One-day New York Benefit Training: Saturday, June 8th: TableTop and Backyard Systems (this is a BENEFIT, by donation). Registration will open soon!

New York Training; June 10-14 (Monday thru Friday) , the 5-day Commercial Aquaponics and Energy Efficient Greenhouse Training, $1,495 per person (this special $1,000 off discount only applies until April 25th).
Click here to register for the New York Training!

Click here to find out more about the New York Training!

Tennessee Commercial Aquaponics and Energy Efficient Greenhouse Training, $1,495 per person (this special $1,000 off discount only applies until April 15th). First 5-day training: June 17-21st (register here for first Tennessee training). . Second 5-day training: June 24-28th (register here for Tennessee second training).

(Click here for more information on Tennessee trainings).

These five-day trainings allow you to travel during the weekend so that you only need to take a week off your busy life to attend.
All of these five-day trainings include
our $999 DIY Commercial Aquaponics package, $998 DIY Farmer's Market Aquaponic Solar Greenhouse package, $1,998 DIY Commercial Aquaponic Solar Greenhouse package, and new $295 DIY Commercial Tilapia Hatchery manual as course materials, plus our Plywood/Epoxy/ Tank manual, CAD construction drawings for all greenhouses and aquaponics systems, and much more!
If you're located near Tennessee
, Randy and Katie give regular free farm tours of their aquaponics systems and greenhouses to introduce the public to the benefits of aquaponics and energy-efficient greenhouse growing.
Call Randy and Katie at 256-679-9488
or
email Randy
to find out when the next farm tour is scheduled.
More details of the Aquaponics Technology course here.
More details of the Aquaponic Solar Greenhouse course here.
More details of the Commercial Aquaponics course here.
For smaller home backyard and apartment systems, please read on:

!
Purchase Construction Plans and Operating Info for 4 Different Sizes of Table Top Aquaponics Systems $49.95
Our TableTop System package includes easy-to-understand building instructions and operating information for 4 different sizes of small aquaponic systems based on our years of experience. Anyone can build a system out of plastic barrels or IBC totes, but operating one successfully without good
and
easily-understood information can be frustrating. You simply use the "Daily O
perations Checklist" in the manual and follow the step-by-step
instructions on your way to success. We also cover how to make aquaponics systems out of weird things like old refrigerators and door frames; this makes aquaponics
much more
economical to get started in, and fun too!
We spent hundreds of thousands of dollars, hundreds of hours, and built our first commercial aquaponics systems with FAR less information than this manual contains. We included all the information learned from that experience in this manual so you don't need to make any of the same mistakes we did.

The Amicus Verticalis, Or Friendly Verticals, Part 3:
3. Future Of The Verticalis
The Verticalis is an affordable commercial growing method primarily useful in highest-density greenhouse or urban growing environments. It was designed around the following factors:

1. Because the amount of horizontal space in both cities and greenhouses is limited and expensive, any use of space in a city or a greenhouse must return a profit.


2. Food grows slowly. Thus, vegetable and fish production must be maximized to the utmost in any food production system used in a city for it to have a chance of being economically viable.
3. Although there may be a vacant lot here or there that can be used for gardening, for the most part the outdoors space is taken already. Except for the rooftops; and rooftops often can't take much additional weight.
4. Fish and plants in aquaponic systems don't smell, and don't involve clouds of dust and mud the way conventional farms do.
5. Finally, in America's cities there are often unused large warehouses (because of the current economic "recession"), which can be economically converted to greenhouse space, and which have relatively high ceilings, 20 feet tall or higher.

We can't use conventional food production methods in a city for many of the reasons mentioned here. We looked at using rooftops, because they are existing space, but that goal has an additional problem to solve: that of weight. City rooftops are not designed to hold the weight of a couple feet of dirt and a tractor; in most cases they can handle some additional weight, but these loads will be limited by the building design.

To meet these goals, the Verticalis was developed. If the roof of the building it's going on can bear the weight, it can be configured as a multi-level structure by simply adding another "layer" or two to the existing one-person tall structure shown in the photo below. A multi-layer Verticalis could be designed to weigh whatever the roof or floor holding it was designed to support, then the greenhouse (on the roof) that is holding it built to be whatever height inside that the Verticalis ended up.

A multi-layer Verticalis would maximize the number of plants that can be grown in any horizontal area. But what would a multi-layer one look like, and how would it operate?

In this one-layer, five-rack Verticalis (see photo below), it is easy for a person to reach even the top level to pull out or put in a "rack" (one of the pipe assemblies) for harvesting or planting.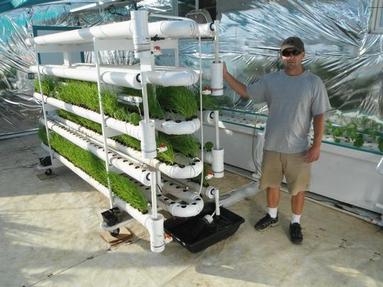 This single-layer Verticalis above will hold 1,000 to 1,200 plants in its 30-square-foot footprint. A multi-layer Verticalis would simply have two or three times as many "racks", and would need to be built a little more strongly, with heavier-duty wheels. It would be from 12 to 18 feet tall instead of 6 feet tall the way our prototype shown above is.
The multi-layer Verticalis gets harvested and planted by wheeling it up to a two- or three-story area (sort of like a catwalk, but bigger) that has elevated areas at the "second floor" and "third floor" areas where the individual "racks" are easily slid out and placed on sawhorses or rests at the most convenient height for your employees to harvest the crop and replant the racks before putting them back in.
These elevated harvesting and planting areas will add a little to the cost of the installation, but will allow densities of up to 100 plants per square foot of Verticalis floor space, which are "absurd" compared to anything in the business currently. And they will work just fine in greenhouse conversions of older buildings with high ceilings, as we talked about using for city growing earlier.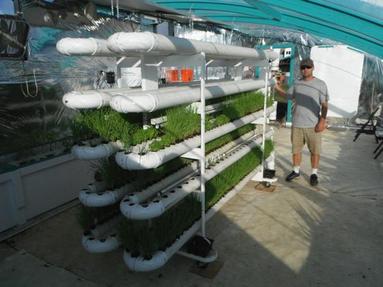 A view of the opposite end of the Verticalis showing the pipe turns and how the pipe "racks" can be completely removed from the structure.
(Next week: Part 4 of the Verticalis will be about how the Verticalis natural and artificial lighting is handled. Thanks for listening!)
The photo below is our Second Generation Solar Greenhouse, at ten in the morning in the Tennessee winter. It's growing plants inside right now, and you have to take your jacket off because it's so warm! It's cool when it's hot, and warm when it's cold (hope that makes sense to you, it's the best greenhouse we've ever seen!).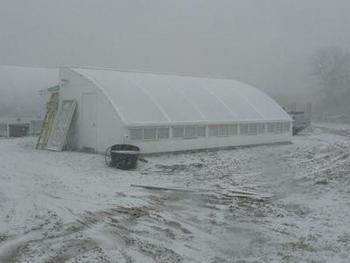 Watch The Friendly Aquaponics Philosophy Video!
.......................................................
Back Issues Of Newsletters Now Available, Click Here!
.............................................
Purchase Trough Liner Directly From Manufacturer!
New Source! Trout Fry/Fingerlings Shipped Directly From the Hatchery To You!
Free Farm Tours
..............................................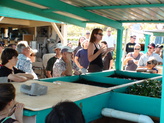 Aquaponics tour at the Friendly farm!
We hold a free workshop on our farm the FIRST Saturday of every month at 10:00, focused on growing food with aquaponics and permaculture.
Click here
for information. See you there!
If you are a school, a non-profit organization, an organization working with the poor, Native Hawaiians, or ex-inmates, or if you are a church, we will hold a free farm tour for you anytime. You DO need to email us first to schedule, or we might be out on errands!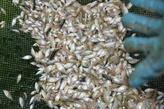 Thousands of inch-long "fifty-cent" baby tilapia from our "backyard" hatchery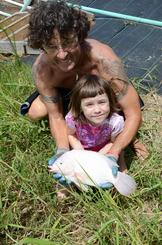 What they turn into about a year later: a beautiful 2-pound white tilapia grown in the fish tanks of our aquaponics systems
Sign up for New York!



Sign up for the New York June 10-14th, 2013 Commercial

Aquaponics and Solar Greenhouse Training

NOW, and get a $1,000 discount, plus you receive a free Micro System DIY package so you can begin studying aquaponics! ($99.95 value)


ORSign yourself up for the FIRST

Or sign yourself up for the SECOND


TENNESSEE June 2013 Commercial

Aquaponics and Solar Greenhouse Training

s

NOW, and get a $1,000 discount, plus you receive a free Micro System DIY package so you can begin studying aquaponics! ($99.95 value)



Half Moon Bay Sleigh Ride, Part 3:

Last week we left off flying through 15 to 18 foot seas going to weather at 9 knots in Spice, my 37-foot cutter-rigged trimaran, with three of my sailing friends barfing all over the boat.

We made it safely back into the harbor, only to end up anchored by the rudder in 45 knots of wind, with vomit on everytjing and of course, my bunk too, where I would have to sleep that night.

My friends were all rather subdued after I rowed them in to shore. I was rather subdued, too, because I knew I had to go back out to the boat and clean up the mess before I cooked dinner. All in all, though, it had been quite an exceptional day. I was tired, but exhilirated!

You see, if you're going to go offshore in a small sailboat, sooner or later you're going to encounter conditions such as those we'd sailed in this day, only you won't be able to just nip into a safe harbor to clean the vomit off the boat and rest up, because you'll be seven hundred miles from the nearest one. You'll have to depend on your own skills, seamanship, and boat to get you out of the situation into calmer waters.

Now, having been sailing for several years, I'd been in conditions such as this before, and I knew, from previous experiences the boat and I had been through, where the "edge" was. We could see it on this day, but weren't even close to it.

My friends were a different story; sadly, they went home, and because of this day (which was safe but scary), two of them sold their boats and gave up on the dream.

The third one took years to finish his boat, then went offshore without properly breaking in the people on the boat with an easy cruise first: he just cast off and went from the relatively protected SF Bay straight out into the California Coast seas and ocean, not one of the easiest places to sail in the world, headed for Hawaii. He thought he was, anyway.

His wife said "enough!" about two days out (she'd had enough!) and they turned around and headed back, to sell the boat and abandon the dream. But if they'd taken a cruise up the Delta first, then gone offshore a half day, then a day at a time, so the wife and kids could get their "sea legs", it might have been a different story, and a much happier one.

You see, most of the time it is gorgeous out there! About 5% of the time you think you are about to die (just like the day I took my three friends sailing) and 5% of the time you are bored out of your skull because there's no wind and you're just sitting there in the swell flapping from side to side.

But 90% of the time you are moving well, the sun's out, and you're on top of the world.

When you leave the harbor and get far enough from land (how far differs all over the world), you cross over a line between the relatively muddy waters of the coast and into what sailors call "The Blue Zone", where the water is a deep blue, and visibility through it is usually around 100 feet, sometimes more. And everything changes! Life becomes more alive; and you do too!

Somebody had to catch that mahi mahi and have it for dinner while watching the most incredible sunset on the planet, out in the middle of "The Blue Zone": it might as well be you.


Aloha, Tim.....