The Mysteries of Aquaponics, Part 1: How Many Fish To Raise
The Mysteries Of Aquaponics, Part 1:
We are experts in the field of profitable commercial aquaponics and energy-efficient greenhouse technology. Our purpose for these Commercial Newsletters is to impart as much of that expertise as possible to you, so you have a clear path when you decide to become involved in making money with aquaponics.
Several of our friends are using our designs and are profitable; we have been sharing their names and contact information freely for years. You can investigate these claims independently (contact info is in many of our back newsletters), and do your due diligence before investing your valuable time and money. Or email me (Tim) and I will be happy to respond with names and contact information ( they are not related to me in any way. Joke!).
Compare what our friends say with the responses you get from the universities, consultants, and equipment sales companies when you ask them "Can you give me the contact information of three of your students who are profitable doing commercial-scale aquaponics". We will be surprised if you get a single name, or a clear answer from any of these people. If you do get a name, we will be surprised if you get a clear answer from that person that isn't "we're still ramping up for production", or "we're still figuring out how to be profitable", or even "it didn't work out".
We'd love to hear of people not using our designs who are profitable, because that means that this new industry is expanding in a positive direction; rather than trending in the direction of the large-scale commercial failures we've seen over the past two years. Unfortunately, we're unaware of any such to date; despite repeated "challenges" over the last four years, we have yet to hear of a single person who is not a student of ours, who is running a truly profitable commercial aquaponics business, based on their production of fish and vegetables only.
The First Mystery:
Everyone claims to be an expert, but they're all saying different things. Who to believe? The first thing that is confusing or mysterious to newcomers is the apparent contradiction between our philosophy (which is to raise just the amount of fish necessary to "power" the vegetable production, because we know the fish are a loss item in most locations), and the philosophy of the University Aquaponics Establishment (UAE) and many of the so-called consultants in this new field (which is to raise as much fish as possible, regardless of, or without ever examining, the cost of doing so).
This phenomenon has a simple explanation: neither the universities nor the consultants ever have to pay for the cost, or the loss, associated with raising their own fish. The university aquaponics programs have their salaries, expenses, and capital costs paid by the university, and thus do not care. The consultants do not need to make any money from fish, because they make their money from selling systems and consulting to people who don't know any better, and thus do not care. As a result, it is easy (although irresponsible) for the universities and consultants to encourage people to "raise lots of fish" with their aquaponics systems without ever examining the economic factors involved in doing so. It's not their money on the line.
Rose and Dad and two of our "Delicious Fishes". Although we eat them with respect, we don't give them names because then it's harder to eat them.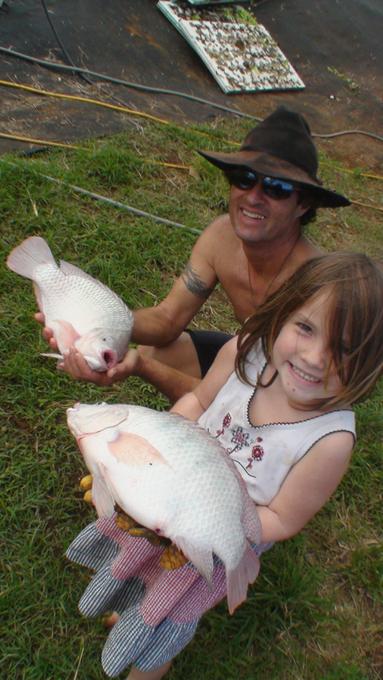 Because we began by taking a university course in 2007, and followed the university methodology as closely as we could, we raised 6,000 pounds of fish our first year, in systems that had a fish stocking density of 1-1/2 to 2 pounds of fish per square foot of raft area in the system. They were beautiful, healthy 1-1/2 to 2 pound white tilapia; we called them our "delicious fishes". But we lost $2 on each and every pound of them! Why?
Where we live, frozen Chinese tilapia are imported for about $1.70/lb (wholesale), and sell for $3.50-4.00/lb in the retail stores. Those same stores offer us $2.50/lb for our fish because our tilapia is fresh and local instead of frozen. Our tilapia cost $4.50/lb to raise; with fish food at $1/lb, labor at $10/hr, and electricity at $0.44/kwhr, we lose $2/lb. The university never mentioned this part of "the real world" that we'd have to deal with.
Thus, if we raise more fish in our location, we get economically punished. It makes sense for us to run our aquaponics systems on as little fish as necessary to assure excellent plant growth, and make our money on the plants. This is the case against growing "lots of fish" anywhere that the economic factors line up in a similar manner. We were disappointed when we first figured this out, for we'd always wanted to raise lots of fish. What does this mean for you? Use your common sense anytime someone is advocating that you can raise lots of fish, and check in with your wallet.
We developed our "Low Density" aquaponics systems (LD systems) out of this learning experience. They run just fine on just 0.3 pounds of fish per square foot of raft area (even on far less, more about this in a bit!). We've had them functioning without any problems for nearly six years now, and all our DIY packages and live courses have plans for them. Our materials include plans for our Low Density systems as well as our "improved" High Density systems (or HD systems, which use from 1-1/2 to 2 pounds of fish per square foot of raft area), if your economics line up right. Both our Low Density and High Density systems are USDA Organically Certifiable, and have been certified by Oregon Tilth and Organic Certifiers.

We have clients in Egypt and Thailand for whom the economic factors line up differently, and for those types of clients, we suggest using our improved High Density systems that operate on 2 pounds of fish per square foot of raft area. In those locations, fish food is $0.18/lb, electricity is government-funded and costs $0.06/kwhr, labor is $4/day, and in a nearby capitol city, the wholesale price of tilapia is $5-7/lb. These clients do make money raising lots of fish. Lots of money!
In locations with economic situations similar to those of our clients in Egypt and Thailand, you should be using our High Density systems and raising as much fish as possible, for you will make a good profit on the fish as well as the vegetables. It's all a matter of the local numbers; and it should always be an intelligent business decision based on the numbers, rather than an emotional "I want to raise a lot of fish". If you decide to approach it that way, I hope you "have a lot of trust fund", for you will need it.
(Next: How much fish (actually, how little fish) you need for incredible vegetable growth, and why USDA organic certification is so valuable to you. This will all make a lot more sense when combined with the information in Parts 2, 3 and 4, coming next. Thanks for listening!)
Friendly 2014
Commercial Aquaponics and Greenhouse Training Schedule:
Texas Training in May, dates to be announced
Tennessee Training in May, dates to be announced
California Training in June, dates to be announced
(Below) One of Ben and Alysha Godfrey's aquaponics systems in a greenhouse in Milam County, Texas. Their system water tastes great! It has a pale blond hue, with a hint of apple and pear blossoms.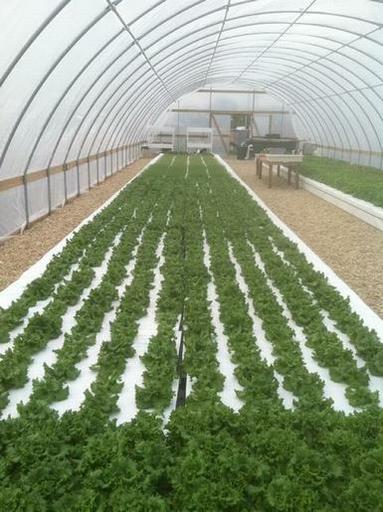 (Below) Another of Ben and Alysha's aquaponic greenhouses.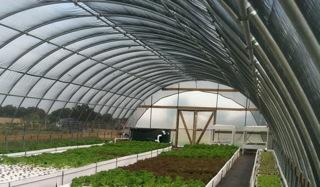 (Below) Tim drinking water from one of Randy and Katie's aquaponics systems at a Tennessee training. "I've been doing this for six years; I'm certain the food from these systems is safe and healthy" (Tim).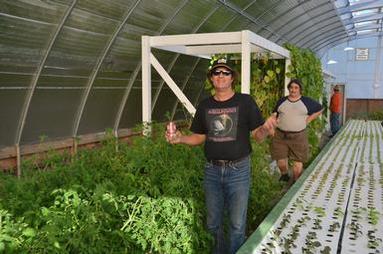 These five-day trainings allow you to travel during the weekend so that you only need to take a week off your busy life to attend, and include our $999 DIY Commercial Aquaponics package, $998 DIY Farmer's Market Aquaponic Solar Greenhouse package, and new $295 DIY Commercial Tilapia Hatchery manual as course materials, plus our Plywood/Epoxy/ Tank manual, CAD construction drawings for all greenhouses and aquaponics systems, and much more!

(Below) Randy and Tim showing attendees at a Tennessee training how easy it is to use a DO (dissolved oxygen) meter to measure oxygen levels in the vegetable troughs.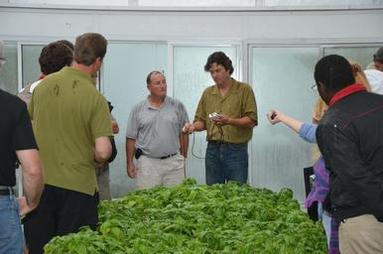 More details of the Aquaponics Technology course here.
More details of the Aquaponic Solar Greenhouse course here.
More details of the Commercial Aquaponics course here.
(Below) Randy and Katie's Chinese-style Aquaponic Solar Greenhouse in Tennessee in the February snow, 2013. 70 degrees inside and you had to take your coat off when working with the vegetables!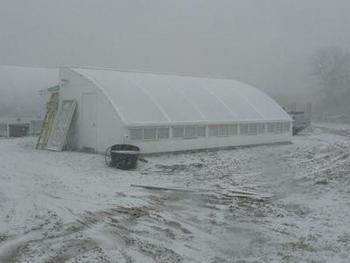 An Aquaponic Solar Greenhouse with the participants in our second June 2013 course in Tennessee!