Aquaponics Nugget #119, Part 3: Why The Game's Over For "Big Ag"; And Why It's Just Beginning For The Small Farmer
We are covering four major areas of concern (also known as "input variables" in the food equation that gets the food to our grocery shelves) in this series: the cost of energy for food production, the effect of weather on food production, the availability of water for food production, and finally, the social forces that are combining to move our society away from oil-expensive, industrialized food production and towards local, energy-efficient food production.
We covered cost of energy for food production two weeks ago, and covered the effect of weather in last week's newsletter. Today's newsletter tells us why we should be concerned about the availability of water on our food supply.
We often act as if there's plenty of water. We turn on the faucet, we turn on the shower, and it's "just there". But there's reason for concern, even in the United States, because over the last 40 years, we've been using water as if there was a limitless supply of it. There's not.

(From Wikipedia:). Take the Ogallala aquifer as an example: one of the world's largest aquifers, it covers an area of approximately 174,000 square miles (450,000 km²) in portions of the eight states of South Dakota, Nebraska, Wyoming, Colorado, Kansas, Oklahoma, New Mexico, and Texas. The regions overlying the Ogallala aquifer are some of the most productive regions in the United States for ranching livestock, and growing corn, wheat, and soybeans.

But we're depleting it; we're using its water for irrigation and it is not getting recharged by the natural sources that put the water there in the first place. The total depletion since we started using it for irrigation is around 253,000,000 acre feet, or three hundred twelve cubic kilometers of water! That figure is depletion, which means how much less water there is in the aquifer since we started, not "how much water have we used". Some scientists think we have only enough volume remaining for 25 years.
From the Wikipedia article: "We use 60% of our water for agricultural irrigation in open water channels; 70% of this water is lost to evaporation". In other words, we're mostly throwing water away when we irrigate, and not getting much bang for our buck!

A recent article from Britain's paper "The Telegraph" states that water may be a greater destabilizing factor in the Middle East in the future than rising food prices. The current protests in Yemen, Egypt, Tunisia, Morocco, and Algeria were triggered by high food prices, but imagine a future in which the aquifers that are currently being used to irrigate this food are depleted (it's happening there too!), and not only is there little food, but also no water.
This problem of shrinking aquifers is exacerbated by recent droughts in areas that depend on rainfall for irrigation water, such Russia when they banned grain exports early in the winter of 2012-2011 when it became obvious that the 2011 harvest season would produce much less than in previous years because of drought (see article here).

There were also droughts in Russia and in the US in the 2012-2013 wheat season. Pakistan had a drought during early 2010 which drastically affected their wheat crop (see article here). Even though these areas depend on rainfall for crops, and don't deplete groundwater for irrigation, water obviously still a huge determining factor in the lives of people there.
We've even had droughts in Hawaii, on the wet "windward side" of the island that is normally considered "rain forest". Water systems on our island get water from the "water lens" under the island. Although it is not possible to deplete the lens the way an aquifer can be depleted, and the lens is an essentially boundless source of water, we still can't use it to farm on our land.
That may not make sense, but is simply because, at $5 per thousand gallons of water (and this is the affordable "Ag rate", the residential rate is higher), we just can't afford to irrigate crops. We'd spend $2,500 a month irrigating $5,000 worth of crops!
If we plant something, then depend on rain to water it, and it doesn't rain, we have to either spend money on water (hoping it will rain soon, and we won't have to spend too much), or just to let the crop go. Farmers all over the world are in this situation now, with serious economic and social costs; if you have any questions about this, just Google "Punjab, farmer suicides".

Las Vegas's water source may also be in trouble, according to this article in Bloomberg.com. If the area of the Colorado River that feeds Lake Mead (which feeds Las Vegas) is unlucky enough to have continuing droughts through the coming years, both the water for Las Vegas, and the power that lights the homes of 750,000 people in Los Angeles (which both come from the Hoover Dam on Lake Mead) could become things of the past. Imagine Las Vegas going dry, and half of downtown Los Angeles going dark (permanently!); not a pretty thought!

Fresh water can be made using reverse osmosis (expensive!), nuclear power plants (expensive and radioactive!), solar distillation (expensive!), and several other expensive methods. So, although there are options here, the options are mostly for the relatively well-to-do First World nations. What does a poor developing nation do, if it doesn't have enough water for its people?

Here's the bottom line: we can no longer depend on water being easy to source, or on it being available in the amounts we're used to having.

We can't recharge aquifers; we can't depend on the weather being the same as it was in the past (when there was usually adequate rainfall); we can't use nuclear plants to make water (there are too many problems with them already!); we can't build 12,000 mile pipelines to take water from the Amazon to Africa; and we can't depend on the government or on the scientific community to magically make water out of thin air.

What will we do?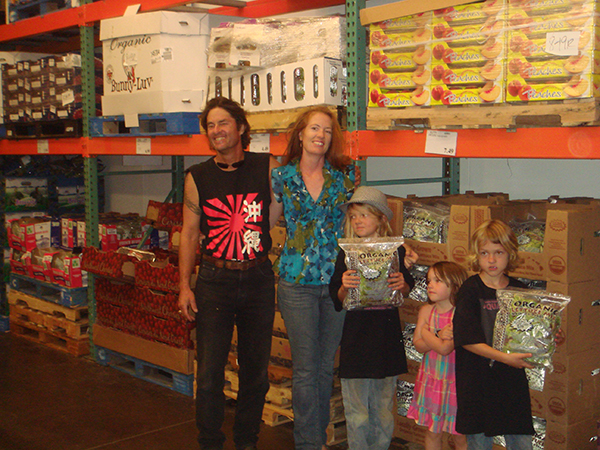 Our Farmily with our product in a "Big Box" store; the first time ever that a little mom and pop (Aquaponics!) farm took an account away from a multimillion dollar agribusiness. You'll see more of this, because you as consumers will demand it!

(In next week's "Nugget", we'll cover the next part of "Big Ag 0, Small Farmers 3". Thanks for listening!)

The photo below is our Second Generation Solar Greenhouse, at ten in the morning in the Tennessee winter. It's growing plants inside right now, and you have to take your jacket off because it's so warm! It's cool when it's hot, and warm when it's cold (hope that makes sense to you, it's the best greenhouse we've ever seen!).