Aloha Friend,
In today's "Nugget" we'll cover "interesting" things people have tried putting in their aquaponics systems; and building their aquaponics systems from. Our "In The Farmily" column today, by Susanne, will talk about moringa, the new-old miracle tree.
We still have a couple of spaces available in our
second
Tennessee training, from January 27th to February 2nd. If it works better for you, you can sign up for the
third
7-day training in Tennessee, from Monday February 4th through Sunday February 10th.
Although our normal price for this complete training is $2,495 we are extending this $1,000 off offer to everyone who signs up for both the second (January 27th-Feb 2nd) and third (February 4-10th) 7-day trainings.
We are limiting
all
the trainings to 35 persons, so everyone gets a chance to have all their questions answered. Sign up early if you want to come!
When you
go to this webpage
to sign up you will be offered
both
the second and third training dates, until the second is full. When it's full, the link will disappear, and you will only be able to register for the third training.
These trainings include our $995 DIY Commercial Aquaponics package, $998 DIY Farmer's Market Aquaponic Solar Greenhouse package, and new $295 DIY Commercial Tilapia Hatchery manual as course materials!
If you're located near Tennessee
, Randy and Katie give regular free farm tours of their aquaponics systems and greenhouses to introduce the public to the benefits of aquaponics and energy-efficient greenhouse growing.
Call Randy and Katie at 256-679-9488
or
email Randy
to find out when the next farm tour is scheduled.
1. The four days of the Aquaponics Technology training is everything we know about the techniques and methods of growing with aquaponics. Each day has hands-on segments. In addition, you will spend all of Day Four building several 12-square-foot
TableTop Systems
from scratch (under our expert eyes, of course).
More details of the Aquaponics Technology course here.
2. You can take one of these 12-square-foot TableTop systems home, assemble it there, and begin growing with aquaponics immediately, even in the middle of winter! The cost of this kit is only $450; much smaller "kits" from others start at $1,295 and go up from there, not including shipping.

3. The two-day Aquaponic Solar Greenhouse course is everything we know about energy-efficient greenhouses, including information and complete CAD plans showing how to build a Chinese-style aquaponic solar greenhouse; and how to convert existing greenhouses to be as energy-efficient as possible. We even show you how to purchase, move, and erect a good used greenhouse for ten cents on the dollar! More details of the Aquaponic Solar Greenhouse course here.
4. The one-day Commercial Aquaponics Training is everything we know about all the different ways of making money with aquaponics, from CSA's to Costco, from wholesale to retail, from selling simple produce to producing value-added products, including Health Department Certified Processing Facilities, Food Safety Certification and Organic Certification. We also include our commercial-scale tilapia hatchery and nursery information, so you can raise your own tilapia and make money selling the fry and fingerlings to others also.
More details of the Commercial Aquaponics course here.
Click Here To Find Out More About The 2013 Tennessee Trainings!
The free information in these three newsletters: last week's, the week before last week's and two weeks before last week's newsletter will meet most people's needs for tilapia breeding. However, if you want the complete story in 72 pages, with highly descriptive photos of the process and equipment we use, our new commercial tilapia hatchery manual is finished and ready for you. There's even a "micro-video" that my gorgeous biologist wife Susanne shot with her treasured Leica Microscope that explains why the techniques we use work so well.
For smaller home backyard and apartment systems, please read on:


Purchase Construction Plans and Operating Info for 4 Different Sizes of Table Top Aquaponics Systems $49.95
Our TableTop System package includes easy-to-understand building instructions and operating information for 4 different sizes of small aquaponic systems based on our years of experience. Anyone can build a system out of plastic barrels or IBC totes, but operating one successfully without good
and
easily-understood information can be frustrating. You simply use the "Daily O
perations Checklist" in the manual and follow the step-by-step
instructions on your way to success. We also cover how to make aquaponics systems out of weird things like old refrigerators and door frames; this makes aquaponics
much more
economical to get started in, and fun too!
We spent hundreds of thousands of dollars, hundreds of hours, and built our first commercial aquaponics systems with FAR less information than this manual contains. We included all the information learned from that experience in this manual so you don't need to make any of the same mistakes we did.

Aquaponics Nugget #109: Understanding The System: Trying New Stuff Out Sometimes Yields Hard Lessons:
One student contacted us
when his fish were not eating well and occasionally dying. We asked him if he had done
anything
different from the way our plans and manual explained it. He said
no
. It took us several emails to discover that he had used a galvanized horse water trough as his fish tank, even though there was a specific warning in our manual against using galvanized tanks and piping.
This caused a problem, because having anything
galvanized
in contact with your aquaponics water will bleed off zinc into the water, which is toxic to both your vegetables and fish.
Another fellow bought polyisocyanate foam
rafts; because they were right next to the ones we had recommended (the Dow Blue Board), but they were $20 cheaper! When they went into a system that had had no problems for a month, he lost ten percent of his fish the next week. We can guess it probably had something to do with the polyisocyanate rafts, as cyanates are toxic, and chemically similar to cyanide.
An aquaponics system where the owners used
black EPDM rubber liner
in the hydroponics trough had a prolonged and difficult start up. This type of rubber is NOT food-grade, and is not organically certifiable. It is used as pond liner, and many people confuse this with food-grade. One of the things the owner described when they contacted us was the
persistent smell that was just like brand-new tires that they experienced for the first couple months or so. This was the EPDM outgassing the chemicals it was made with.
Then there was the system
where the owner had built a concrete tank, hadn't entirely
neutralized
the new concrete, and had high pH as a result. He used
citric acid
to bring the pH down; not yet aware that it is commonly used as an organic herbicide. That's right; it kills plants, and all his roots turned black and his plants died.
Another used EM
(Effective Micro organisms) in his commercial-scale system (on the advice of an amateur backyard gardener friend who had
no
experience with aquaponics). He put in a gallon a week for four weeks, and at the end of that time, all his plant's roots were also black and slimy and they were dying. Although this additive may work well in soil-based systems, something went really wonky when it was added to an aquaponics system.
These kinds of experiences are why we recommend
not using
anything in these systems that we have not tried ourselves and are absolutely sure of. If you want to try something new in your aquaponics system, realize that you have introduced a new variable, and are now running an experiment (more about that next week!). We guarantee these systems work perfectly if built as specified in our manuals and plans.
As they say, a giraffe is a horse designed by a committee. You will get different advice from different people about aquaponics. If they only know about part of aquaponics, say the fish part, then they will give you advice that might work if fish were the only thing in your system.
This advice does not take into account the whole-system nature of aquaponics unless it comes from someone who has extensive experience in aquaponics. By following this kind of partially accurate advice, you risk your whole system on guesses such as galvanized tanks, odd-ball water filters, poisonous materials, "beneficial bacteria" that will kill your plants, and biological evildoers like duckweed and crayfish that you will never get out of your systems once you introduce them (accidentally or on purpose).
Good luck with your experiment! Thank you for being willing to risk compromise or failure of your aquaponics system to advance aquaponic knowledge. Please let us know how it worked; if it was a success, we will be happy to put it in our manuals with your name as the discoverer. If it was a disaster, we'd also be happy to put it in our manuals, but will omit your name and any embarrassment you might experience as a result. Either way, the results of your experiment in aquaponics will be very beneficial to others!
(In next week's "Nugget", we'll cover HOW to do a valid experiment in Aquaponics to try out that great NEW idea you have; WITHOUT ruining your large commercial system in the process! Thanks for listening!)

The photo below is our Solar Greenhouse. It's cool when it's hot, and warm when it's cold (hope that makes sense to you, it's the best greenhouse we've ever seen!).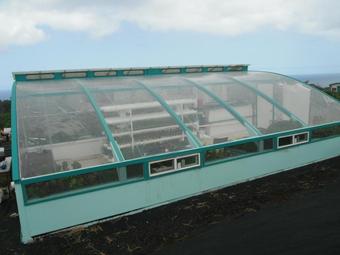 Friendly Aquaponic's FIRST Aquaponic Solar Greenhouse in full bloom, Honoka'a, Hawaii, March 2012, (on a grey rainy day) showing PV panels and growing plants.
Click Here To See Our New Aquaponics Video!
.......................................................
Back Issues Of Newsletters Now Available, Click Here!
.............................................


Purchase Trough Liner Directly From Manufacturer!

Free Farm Tours

..............................................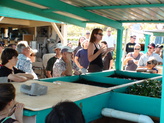 Aquaponics tour at the Friendly farm!
We hold a free workshop on our farm the FIRST Saturday of every month at 10:00, focused on growing food with aquaponics and permaculture.
Click here
for information. See you there!
If you are a school, a non-profit organization, an organization working with the poor, Native Hawaiians, or ex-inmates, or if you are a church, we will hold a free farm tour for you anytime. You DO need to email us first to schedule, or we might be out on errands!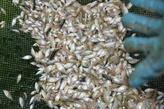 Thousands of inch-long "fifty-cent" baby tilapia from our "backyard" hatchery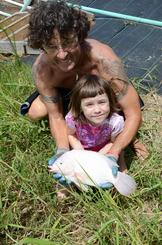 What they turn into about a year later: a beautiful 2-pound white tilapia grown in the fish tanks of our aquaponics systems
Special Offers!

Sign up for the SECOND or THIRD TENNESSEE 2013 Commercial
Aquaponics and Solar Greenhouse Training
and receive a free Micro System DIY package so you can begin studying aquaponics! ($99.95 value)
"The Miracle Tree, Part 1"
In the last three newsletters we told you about our newest adventure into becoming Dairy People, and how we've discovered that our dairy cows really represent "the Heart of Our Farm". We're up to four cows already (five if you include the new baby, Milky Way), and in addition to our three Shire horses (expensive lawn ornaments!), so we're tremendously overgrazed on our 7.25 acre parcel.
What to do? I've researched fodder systems, because wheat grass grows so well in our AP systems, and I've been doing some large scale experiments with barley and rye. It shows potential, but I hated to take over our commercial aquaponics "real estate" to grow food for our livestock, when we need that space to earn a living. So, I've continued to search for the answer, that we could grow in the ground, and water with our AP water, and I think I've found it.
Over the past two years, I've been intermittently reading about an intriguing tree called
Moringa oleifera
. And the more I've researched, the more excited I have become as I've realized the full potential of this crop. We're always on the lookout for potentially profitable new crops to try in our aquaponics systems, or to grow in-ground if not well-suited for growing in our deep-water raft systems. In my five and a half years as a commercial farmer, I have not found a single (legal =) crop that has the potential for profitability like Moringa.
Moringa Leaves

Just over a year ago, we planted our first Moringa seeds,
and our trees have grown extremely rapidly. I've read that Moringa is one of the fastest growing biomasses on earth, and if not heavily pruned, the tree will grow as fast as a foot per month. We have seen that growth rate here, with trees well over 14 feet tall.
Moringa oleifera grows well in both desert and tropical weather conditions, as long as the soil is well-drained. Originating in India, Moringa also grows exceptionally well in Asia and Africa, in some of the places where malnutrition is most prevalent among our human population.
Moringa seedling in sprouting table.

Moringa provides very impressive nutrition for both livestock and people, and was was determined to be the "world's most useful tree," by ScienceDaily (March14, 2010). The drought resistant Moringa tree has been found to be the most nutritious food plant ever discovered. In fact, of 120 plants studied buy the World Vegetable Center in Taiwan, Moringa leaves were identified as having the highest nutritional value of them all.
Unique among plants, Moringa provides all the amino acids and omega fats necessary for human development (usually plants are deficient in one or more of the "essential" amino acids that allow us to build muscle and bone, however, Moringa is complete, with literally
every
nutrient we need to grow and thrive).
There are many foods that are well-known to provide us with a
single
dietary nutrient. For example, oranges are known for vitamin C, which fights a host of illnesses including colds and flu; spinach is known to provide iron and builds blood and stamina (remember Popeye?); milk has a lot of calcium, which builds strong bones and teeth and helps prevent osteoporosis; bananas provide potassium, a critical nutrient for our brain function and nerves; carrots give us vitamin A, which acts as a shield against eye disease, skin disease, heart ailments, diarrhea, and many other diseases; and usually we think of meat as being our best way to get protein, which is the basic building blocks of all our body cells.
Nutritional analysis has shown fresh Moringa leaves to be extremely nutritious, and in fact, to actually contain larger amounts of several important nutrients than the common foods often associated with these nutrients! In a gram for gram comparison, Moringa has seven times the vitamin C of oranges, four times the vitamin A of carrots, four times the calcium of milk, three times the potassium of bananas, and twice the protein of milk.
And even more importantly, the nutritional content of the leaves when they are dried is even more impressive than in the fresh leaves, because other than vitamin C, no nutritional value is lost in the drying process. Drying the leaves actually condenses the nutrients, so that a large dose of nutrition can be gained from a small spoonful of dried leaf powder.This is important because dried leaves can be stored for use much longer than fresh leaves, so that a supply is available year-round, as well as offering the ability to transport Moringa powder to climates where it does not grow.
We've been drying the leaves from our trees, as well as eating them fresh in soup. They're delicious! More in our next Newsletter about the health benefits and potential profit to be made from these miraculous leaves, and how we'll implement Moringa in our organic dairy production.
Yummy moringa leaf soup.

Aloha, Susanne.....