Aloha Friend
Today's "Nugget" will be Part 3 of "Startup Reloaded: Starting Your Aquaponic System Is Easy And Fast!"
. We have a simple and dependable way to do this, that we've continuously improved over the last six years, and we share it with you here.


Watch out for the announcement of our new book: "Aquaponics The EASY Way!" within the next two days. It's done, and Susanne's doing the last bits of proofing and checking. She insists on getting it perfect for you. It's still available at a presale discount of 33% now, for only $19.95 by clicking here. It will be $29.95 when finished; you'll save ten bucks and get it emailed directly to you when it's finished if you buy it now!


Our side column today
is one of the "Tropic Bird Chronicles", when Tim was operating his 56-foot sailing fishing vessel "Tropic Bird" off the island of Hawaii. If it was guaranteed, they wouldn't call it fishing, they'd call it catching!
Aquaponics Nugget #148, Startup Reloaded, Part 3: (Starting Up Your Aquaponic System Is Easy And Fast!)
How To Get "Started":

We skipped the "Clean Water" section of startup here, because we covered it in these recent back newsletters of ours: #125, #126, and #127. Check them out if you want to learn all about water to fill your aquaponics with, and how to avoid difficulties with your source water. Also, you may want to read Part 1 and Part 2 of this newsletter series before you read today's article, which is Part 3.
Ammonia Level Is Important!
IMPORTANT! First, don't add the inoculant bacteria until and unless your ammonia is lower than 3 ppm, preferably 1 ppm. Nitrifying bacteria are inhibited by ammonia levels of 3 ppm or higher, and if your ammonia is higher, you WON'T get system startup. Make sure you have less than 3 ppm ammonia in your system before wasting inoculant bacteria on it. If your ammonia is higher, dump half your water, refill to dilute, pump for 12 hours to mix, measure ammonia again, THEN, when your ammonia is down to 1-2 ppm, add your innoculant bacteria.
Next: The Nitrite Spike
We can experience difficulties during the startup period, because of something called the "nitrite spike", which can last from a few days to three to four weeks. This is an abnormally high concentration of nitrites that only occurs during startup. Once you're through startup, it never happens again. The trick is getting through startup without killing any of your fish, which, as we mentioned, find high levels of this stuff toxic.
This should be easy to control, in the same way we put exactly the right amount of baking powder in a recipe, but unfortunately it's not. People always ask us: "Can we slow this down by putting less bacteria in, or speed it up by putting more in?", but it's not that simple.

The problem is that these bacteria are living organisms, and the time it takes them to double (their reproductive cycle) can vary hugely depending on temperature, how much oxygen is in the water, and how "lively" a bacterial culture you started with. We've often wished there was a "volume adjustment knob" on the startup process, because then it would be much easier to understand and deal with.
When nitrifying bacteria are introduced to a system, the fastest-breeding and feeding bacteria are the ones that eat the ammonia and produce nitrites. The ones that convert the nitrites to nitrates have slower reproduction rates and are much slower to get established, resulting in what is called a "nitrite spike" where you have very high levels of nitrites for a week or two before they start getting converted to nitrates as fast as they're being created.

This is a concern because nitrite is as toxic to fish as ammonia. Theoretically, over 6 ppm of either will stress and eventually kill tilapia. However, we've had our fish in an ammonia spike of 24 ppm for a couple of weeks because we didn't know what we were doing, and they lived. We also had fish in a nitrite spike of over 10 ppm for a couple weeks, and they all survived that. We recommend that you don't do this on purpose, though.
You need to have your rafts in the troughs as soon as you fill the system with water, because the system water will grow lots of algae if there are no rafts on the troughs to shade them.
Keep the water pump and the blowers both on 24/7 during this time because these bacteria need oxygen. Test once a day hereafter for about a week, and you should see nitrites showing within two to three days at about 2-3 ppm. If you don't do something to modulate the nitrite spike, you could end up with so much nitrites you get into the theoretically toxic range for fish of 10 ppm and over.
To measure nitrites and nitrates properly, get a bottle of Hach H27454 test strips (Aquatic EcoSystems catalog #H27454); this strip is sensitive enough to measure the low levels of nitrites and nitrates that sometimes occur during system startup. If you use other, less sensitive test methods, you may erroneously conclude that you don't have nitrites or nitrates, when in fact you do.
The drawing above shows our experience of the ammonia, nitrite, and nitrate curves plotted against time and ppm levels measured. This is an "average" startup for a DWC system with from 6,000 to 24,000 gallons total water in 72 degree F water; yours may be slower or quicker depending on many factors (I know, it's kinda small for the newsletter; email me and I'll send you the full-size file!).
Important- How to modulate the nitrite spike! Here's how you modulate the nitrite spike to keep your fish safe (ONLY necessary if you are starting your system with fish in the system): the first day that the nitrite side of the test strip shows up as 5 ppm or over, take about half the rafts off your troughs. Keep monitoring nitrites each day, and if they continue to go up from 5 ppm, take the other half of the rafts off your troughs (leaving the cover on the fish tank).

Because the nitrifying bacteria that create nitrites are sensitive to light, this measure should bring the nitrites down to about 5, where they will stay for seven to fourteen days or so. At the end of this phase, you will see the nitrites go down to 2-3 ppm. At this point, you can put all the rafts back on the troughs. You only have to do this startup ONCE with a system when it is new.
This part is sneaky, so you need to plan for it: you need to have seeded your plants into the net pots two to three weeks earlier than this to have them ready now. Plant your sprouts into the rafts as soon as nitrates first show up on your test strips, which can be as soon as five days or as late as twenty days after inoculation, depending on water temperature. After system startup is over, (during normal operation) you will see ammonia levels from 0.25 to 1.0 ppm; nitrite levels in the same range; and nitrate levels from 1-3 ppm up to a maximum of 10-15 ppm. You can see this on the graph above.
We planted our little vegetable sprouts into the rafts we'd left in the troughs six days after we first put in the inoculant bacteria, then added the balance of the rafts and planted them when nitrites dropped to 3 ppm. We ended up with 1 ppm nitrites and 20 ppm nitrates ten to twelve days after inoculation; perfect!. This is the easy way to control nitrite spikes during system startup yet still start the system quickly.

Note: only plant about one-fifth to one-sixth of your system every week or so, depending on the particular vegetable varieties you've selected; this will ensure a continuing harvesting and planting cycle, which is what you want. If you plant the whole thing, it will all be ready to harvest at some time in the future, and you'll have way too much of whatever it is, plus an empty system the next day.
(Our next newsletter will cover how to "haul" your fish safely, in order to have as many of them as possible survive the haul; and give you a couple of sources where you can get some VERY inexpensive fish to start your aquaponics system with. Thanks for listening!).
An Aquaponic Solar Greenhouse with the participants in our second June 2013 course in Tennessee!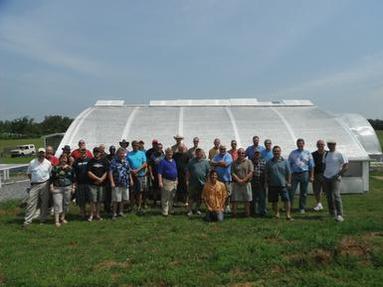 For smaller home backyard and apartment systems, please read on: