The Mysteries of Aquaponics, Part 5: Why Your Plants Will Grow Great On Zero Measurable Nitrates!
We were baffled by our systems growing vegetables so well, even when they had unmeasurable (read: "zero") nitrates for extended periods of time. Although we aren't PhD's, we follow proper scientific procedure to the best of our ability when investigating something new in aquaponics. We look at the data we have, use logic and reason, and try to come up with a testable hypothesis that can explain the facts.
Note: a scientific hypothesis is a proposed explanation of a phenomenon which generally fits the facts, but still has to be rigorously tested before being accepted by the scientific community. In contrast, a scientific theory has undergone extensive testing and is generally accepted to be the accurate explanation behind a phenomenon.
After we formulated this "zero nitrates" hypothesis, we shared the information with our students to determine whether we were the only ones to get these results, or whether they got roughly the same results. This is part of the process by which a scientific hypothesis (untested) is transformed into a scientific theory (tested and accepted to be accurate).
Here are the data and observations we started with:
1. Plants were observed growing explosively and vigorously during (several) extended periods of several months each, in separate large aquaponics systems that each tested zero for nitrates with test kits that clearly show 1 ppm nitrates during the entire duration of those periods.
2. Ammonia levels during these same periods in these systems ranged from 0.25 ppm up to 0.5 ppm, and infrequently as high as 1 ppm; so adequate ammonia for nitrification activity seemed to be present. Ammonia levels never got into the range that is generally accepted to inhibit nitrification (over 3 ppm).
3. Water temperature ranges from 68 to 76 degrees F were observed, as well as DO ranges from 5 to 7 ppm in the fish tanks, and 4-5 ppm in the aquaponics troughs; so the nitrifying bacteria had adequate oxygen, and were in water of nearly optimum temperature for their metabolic and biochemical activities.
4. Nothing besides fish food and chelated iron (to correct iron deficiency in the plants) was ever added to the systems during these periods, or during any other period. There was no other form of available nitrogen being added to these systems that the plants could have grown on.
Rose and Dad and two of our "Delicious Fishes". Although we eat them with respect, we don't give them names because then it's harder to eat them.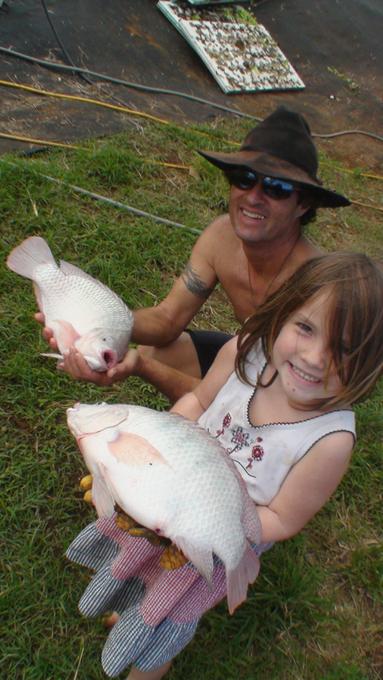 Here is our hypothesis:
Our plants were growing vigorously; and plants need nitrates to grow; ergo, we could safely conclude that there were nitrates present. We could also safely conclude that the nitrates must be coming from somewhere in the systems, because we were not adding nitrogen (fertilizer) in any other form to the systems.
Also, even though the fish were fed large amounts of fish food during these periods, which resulted in decaying organic material (fish poop) and which then was transformed into ammonia, we never once saw an ammonia spike or rise in ammonia. Thus, we can conclude that something in the system was converting the ammonia into another form; otherwise the ammonia level would have risen and kept rising. Observation showed it nearly constant at low levels.
If you can imagine the fish in our fish tanks pooing; and that poo breaking up into microscopically tiny pieces through the vigorous action of the bubbles from the airstones in the fish tank; and then going out throughout our system to get converted into ammonia; then you can imagine all those zillions of bacteria living on the thousands of square feet of plant roots we described in our last newsletter here .
Remember also our numbers from that last newsletter: in a large systems of ours, there was 64,000 square feet of area represented by the plant roots themselves, and only 10,000 square feet represented by the fish tank sides, bottoms of rafts, that is, the "non-root" area. With the bulk of the area available for these bacteria to colonize residing in the root surfaces of the plants, it is logical to conclude that the location where the bulk of the nitrification activity in the system occurs is on the roots themselves. So what are our friendly bacteria doing?
We think they are taking up the ammonia in the water, and turning it into nitrites, then into nitrates, right on the surface of the plant root itself. With that kind of process happening on the root surface, it would be an easy step for the plant root to absorb the nitrates directly as the bacteria make them. It makes perfect sense to us, and explains, without any "gaps" in the hypothesis, why our systems produce incredible vegetables for months at a time with zero measurable levels of nitrates in the water.
This is because the nitrates the plant is absorbing and using to grow aren't floating freely in the water, so they aren't measurable when you sample the water; they're on the plant roots. And when we stick a measuring strip into the water, it is "hundreds of miles away" (on a bacterial scale) from what's happening on the roots, so of course it doesn't measure the nitrates being created by the bacteria on the roots, and then being absorbed there immediately by the plant.
To demonstrate how universal this phenomenon is (in organically operated aquaponics systems), consider the following example: during our recent Texas training at Sand Creek farm (thank you Ben and Alysha Godfrey for being such gracious hosts), we sampled the water in their three aquaponics systems with very sensitive test strips. One system showed 3 ppm, one showed 5, and one showed zero ppm nitrates; all three systems were growing vegetables beautifully, even though they'd had some 20-degree nights, and they had very simple poly-covered greenhouses.
(Next week we'll talk about something technical, and interesting, about aquaponics. Thanks for listening!)
Friendly 2014
Commercial Aquaponics and Greenhouse Training Schedule:
California Training from May 29th-31st, 2014
Texas Training from May 5th-9th, 2014
Tennessee Training from April 28th-May 2nd, 2014

(Below) One of Ben and Alysha Godfrey's aquaponics systems in a greenhouse in Milam County, Texas. Their system water tastes great! It has a pale blond hue, with a hint of apple and pear blossoms.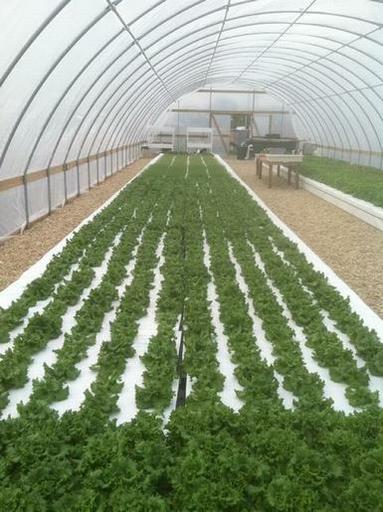 (Below) Another of Ben and Alysha's aquaponic greenhouses.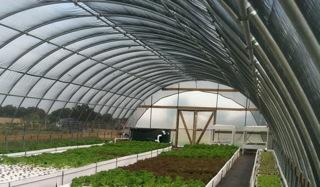 (Below) Tim drinking water from one of Randy and Katie's aquaponics systems at a Tennessee training. "I've been doing this for six years; I'm certain the food from these systems is safe and healthy" (Tim).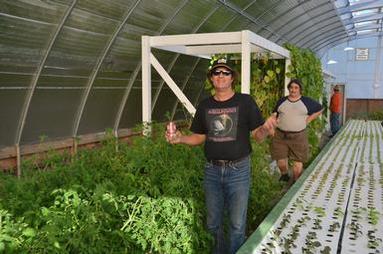 These five-day trainings allow you to travel during the weekend so that you only need to take a week off your busy life to attend, and include our $999 DIY Commercial Aquaponics package, $998 DIY Farmer's Market Aquaponic Solar Greenhouse package, and new $295 DIY Commercial Tilapia Hatchery manual as course materials, plus our Plywood/Epoxy/ Tank manual, CAD construction drawings for all greenhouses and aquaponics systems, and much more!

(Below) Randy and Tim showing attendees at a Tennessee training how easy it is to use a DO (dissolved oxygen) meter to measure oxygen levels in the vegetable troughs.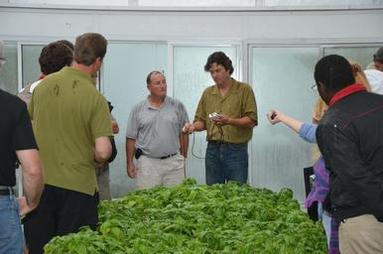 More details of the Aquaponics Technology course here.
More details of the Aquaponic Solar Greenhouse course here.
More details of the Commercial Aquaponics course here.
(Below) Randy and Katie's Chinese-style Aquaponic Solar Greenhouse in Tennessee in the February snow, 2013. 70 degrees inside and you had to take your coat off when working with the vegetables!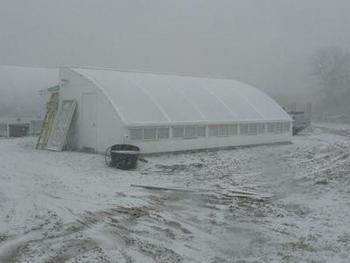 An Aquaponic Solar Greenhouse with the participants in our second June 2013 course in Tennessee!