Aloha Friend,

This is newsletter number 13! We're not superstitious. We know breaking a mirror is not a GOOD thing (it's a MESS to clean up, for sure), but we also know it doesn't bring bad luck. As Albert Einstein once said: "Luck is when preparation meets opportunity". And there is no better time for preparation than now.

Growing food takes preparation. You need seeds and something to grow in. This traditionally means at least a backyard plot. Aquaponics grows food without soil, which means you can grow food anywhere! We keep hoping someone with an abandoned parking lot will take one of our trainings and install an aquaponics system there. You can grow food in an apartment or condo, or on your balcony or rooftop in the city with our Apartment/Condo Aquaponics systems.

We won't pretend (the way some aquaponics outfits do) that these small indoors systems will grow all the food a family of 4 needs. We DO guarantee they will grow food easily and give you fresh food when it becomes more expensive to buy. Most importantly, they will give you a new skill and a new confidence to take out into your life. Imagine knowing how to grow your own food!

If you look around in the city, you'll realize that there is a LOT of rooftop space available that could grow a significant amount of food if it was used for large-scale commercial aquaponic production. Who says that you have to bring food into the city from outside?

Special Introductory Offer on our Apartment & Condo Aquaponics Systems: for August only, this $49.95 package is $29.95!


Construction Plans and Operating Information for 4 Different Sizes of Indoor Aquaponics Systems $29.95
This manual is written so understandably that it makes it easy for a twelve-year old to build and run these systems. Build four different sizes of stable, durable, and productive indoor aquaponics systems that can be operated indoors OR outdoors, or even MOVED between indoors and outdoors, depending on the season. These affordable systems range from a COUNTER TOP 2.5 square foot system to one with 32 square feet in grow bed area. The 2.5 square foot system costs $95 for materials, the 32 square foot one costs $250 for materials. Most materials are available locally; some items may need to come from suppliers whose contact information is given in the materials lists. In addition to the four standard sizes of systems in the manual we show you how to build small aquaponics systems out of Igloo coolers, discarded refrigerators and freezers, plastic garbage cans and barrels, concrete mixing tubs, and other easily-procured items. Most importantly, we show you in complete detail how to OPERATE them successfully!
Indoors: These systems are appropriate for anyone who is limited to growing indoors, or for those who only have limited space outdoors. They are perfect for getting your fingers wet in aquaponics without spending a lot (pun intended!). They can easily be set up inside an apartment or on a balcony, in a garage or outbuilding, inside a spare room, or even a closet. Best of all, they produce food! If you have light and heat you can grow vegetables and fish!
Schools:
These systems are perfect for schools because of their low cost and the easily-understood instructions and plans for construction and operation that come with the package. They are so affordable and understandable that a sixth-grader can easily use one as a science class or science fair project.
The Indoor System package includes new and easy-to-understand building instructions and complete operating information for small aquaponic systems based on our years of experience operating a commercial aquaponics farm. Anyone can build a system out of plastic barrels, but operating one without good
and
easily-understood information can be frustrating. Operating information is given in the form of a "Daily O
perations Manual" where you simply use the checklist and follow the step-by-step
instructions on your way to success with aquaponics.
We've spent hundreds of thousands of dollars, hundreds of hours, and built our first commercial aquaponics systems with FAR less information than this manual contains. We included all the information learned from spending that money and time in this manual so you don't make any of the same mistakes we did.
Learn about our Apartment/Condo Systems!

Aquaponics Nugget #13:
System Start-up (Part 1)
Most of the problems our students encounter come during system start-up, and most of those unfortunately come about as a result of either DOING something the manual does NOT say to do, or NOT doing something the manual says TO do. We've seen enough of these problems that it may take a four- or five-part Nugget series to properly address them. We'll start with the fish:

The fish are the "fertilizer generator" in an aquaponics system, because they provide the nutrients that the vegetables grow on. It's cheaper to buy little fish and put them in your system than it is to buy bigger fish, right? However, if you start with a few fish or little fish, you may spend four to six months growing them to the point where there are decent levels of nutrients in the system and it can support a significant amount of vegetable growth. If your time costs nothing, you can wait for your fish and vegetables to grow. If you want vegetables sooner, you want to get started by getting the largest weight of fish you can afford, up to the maximum recommended for your particular system. Find out what's available locally and make an intelligent decision.

You don't need all tilapia at first, even if that's what you're planning to grow. For instance, you can put in a mixed bunch of koi, catfish, bass, sunfish, mosquito fish, and tilapia, as long as the smallest ones you put in are not so small that they are edible by the biggest ones you put in. The vegetables are 92% of the system production anyway, you just need fish to make fertilizer in your system at first. Sort them out later with a net and have a barbecue or make fish cakes (a Hawaiian favorite!). For those of you down South, alligators are cold-blooded and would work just as well in an aquaponics system as any fish, if you could figure out a cheap alligator food!

Tilapia are legal in Hawaii, but not everywhere. Check with your local University or State Department of Agriculture office or aquaculture extension agent (found at local State Universities). They will let you know what kinds of fish are legal to grow in your state, what others are growing locally, and will probably be able to direct you to a source of baby fish to stock your system with.

When you start your aquaponics system, you either filled it with clean water, or cleaned it by chlorination after filling it, so that you are starting with clean water. Now, if you bring in diseased fish, you've got a diseased system that could be difficult to clean up. Getting healthy fish from a known source will give you peace of mind and eliminate costly problems to resolve later.

Only two more weeks to our Free Workshop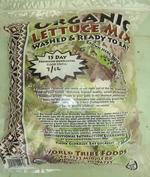 Organically Certified is worth more to your farm!
We invite you to our first "Organic Certification and Tilapia Breeding Workshop". This FREE one-day workshop will be held August 21st at our farm in Honoka'a, Hawaii, just off the main highway between mile markers 40 and 41.


Training starts with a two-hour free farm tour from 10-12, a potluck lunch from 12-1, then the workshop from 1-4. See you there!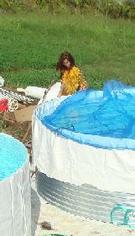 Installing a hapa in a tilapia breeding tank.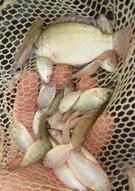 White tilapia fry from our nursery system
Special Offer!
Sign up for our October 4-7th, 2010 Commercial Aquaponics Training now, and we will email you our Micro System package so you can begin studying aquaponics! ($99.95 value)
Sign up for Commercial Training
In
The Farmily
Our Farmily now consists of ten people; here are a few: Rose, Queen of the Known Universes, is five going on 21. She knows what everyone should be doing, and tells them what to do and how to do it frequently. We are doing our best to teach her that she lives in a world where there are actually other people (just like her) that deserve consideration. The trick is to give her a sense of respect for others without chasing her wonderful spirit away.
Jack, our 9-year-old, works in the aquaponics with us. Jack understands how the systems work and always asks intelligent questions. Jack is a saver, and took the money he made working; bought his first surfboard and leash the other day, and is on his way to becoming a grommet (young surfing newbie).
Lucky, our seven-year-old, has traditionally been interested in the kitchen cabinet where the sugar treats are kept, as well as the X-Box, but today he went out and did his first day at the lettuce harvesting shed. He impressed everyone and was SO proud of himself for being so big.
The way we let our kids work is this: they work until they want to stop, then they quit. We look at how much they helped out, and pay them accordingly. We feel this gives them valuable experience in how the real world works, as well as confidence and abilities that will come in handy their whole lives. What do you mean, you worked an hour but want to be paid for four? LOL!
This email, our manuals and construction plans are all copyrighted by Friendly Aquaponics, Inc, Susanne Friend and Tim Mann, 2008-2010
Email:
Friendly Aquaponics