Aloha Friend
In today's "Nugget", we continue with Part 6 of our series on
"Energy-Efficient Greenhouses For Aquaponic Growing"
. If you want to learn how to do this instead of just read about it, we have trainings scheduled for Tennessee in September of 2013 (see bottom of this column, and right sidebar).

Our "In The Farmily" column today
is the continuing story of Bird and Boob, two feathered members of the Farmily that came along before I even knew there was going to
be
a Farmily.
Aquaponics Nugget #140, Part 6: Energy-Efficient Greenhouses For Aquaponics


Part 6
(If you got started late, you might like to read back newsletter #1, back newsletter #2, back newsletter #3 , back newsletter #4, and back newsletter #5 of this series to catch up before continuing!).
Energy Efficient Heating (continued):
IMPORTANT! Please read this! No, we can't give you an exact number for how many solar water heater panels, or how many feet of what size pipe in what depth trench, or what size Grundfos pump to use. How big is your Solar Greenhouse, and how cold and hot does it get in your location? You don't even know that yet, and these systems will need to be sized appropriately for each installation. So be patient, we will cover all this.
CRITICAL! You must use antifreeze as a coolant solution inside your geothermal cooling coil and heat exchanger coil, and in your solar water heater system, if there is any part of it that is ever exposed to freezing temperatures. In other words, if it ever gets below freezing (even if only at nighttime) in your location, you can burst your solar water heater panels and/or plumbing lines when the water freezes inside them.
You can always add another solar water heater panel to your existing installation if your water doesn't warm up enough in the winter; for this installation is above-ground, and if you left room for additional panels, you can easily purchase and install them. If you got the 3-speed Grundfos pump (instead of the cheaper single-speed one), you have some flexibility in how fast you run the water through your panels, and how much heat you pull off them.
How free solar heating works: you heat your aquaponics water (thermal mass) in the daytime using the free energy from the sun, by running the water through solar hot water heater panel(s) with your circulation pump. It goes from the water heater panel(s) to the heat exchanger in your aquaponics water (in the last newsletter). You have to get the aquaponics water warm enough each day so that the lowest temp it cools down to at the end of the night (not just at first light, but when daytime solar heating begins again) is not too low for your fish, and that it gets that warm every day.

(Below) A typical 4-foot by 8-foot solar water heater panel showing plumbing connections, black color to absorb lots of heat, and thermal glass (to keep the heat inside the glass).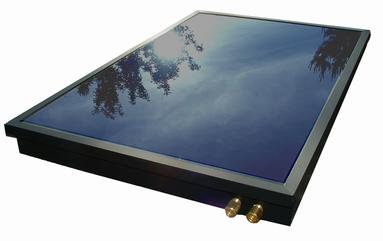 How To Understand Thermal Mass:
The way the aquaponics water holds heat like this is called "thermal mass". Thermal mass is a very easy concept to understand: think of going out on a really cold day; you might slip a hot water bottle into your coat pocket to keep your hands warm, right? The water in the bottle will stay warm for a reasonably long time, since it's insulated by being inside your jacket pocket. However, you're certainly not going to put a ziploc bag of hot air in your pocket instead; because that will cool off in no time and you will have cold hands! It's this simple: the water bottle has thermal mass, the hot air ziploc does not.
Thermal mass is the biggest advantage your aquaponic greenhouse has over a greenhouse growing plants in containers or in the ground: because those types of operations rely on heating and cooling the air in the greenhouse. Air has no thermal mass, and does not hold heat or cold, so these operators have to pour heat or cooling into the air to keep their plants warm or cool. The newly heated or cooled air loses heat or cold to the environment quickly, and requires more energy immediately to keep the temperature warm or cool; this is like keeping a fire going by throwing in dollar bills! It's a vicious cycle, that has led to many greenhouse operators declaring bankruptcy or going out of business in the last few years.
However, once you get your water warm (or cool) in an aquaponic greenhouse it tends to stay that way, because you've insulated your troughs and fish tank and the heat or cool only escapes very slowly. So slowly, in fact, that if your aquaponic system water is nice and warm (say 78 degrees), at the beginning of a 3-day snowstorm, and your troughs and fish tank are well-insulated, the water may only be down to 70 degrees at the end of this cold, cloudy period during which you had no solar heat available. What if you get a 5-day snowstorm? More in a bit about backup heating.
But Solar Water Heaters Are Not Cheap!


A solar water heater panel such as this can cost $1,000; and you may need three or four for your system (or even more, if you have a large commercial-scale greenhouse). This high cost can be a barrier to implementing such a system, if all you know how to do is buy "off-the-shelf" from the store. But with a little bit of ingenuity, some solder, a screwdriver, black spray paint, and a propane torch, you can get these panels nearly for free. We call it "cowboy" in our part of the country. Cowboys seldom have enough money to go buy brand-new stuff, so they are always improvising, inventing, and innovating to make do with what they already have.

Here's the "cowboy" solution for cheap hot water: you can get cheap used solar hot water heater panels that have pinhole leaks in them from a solar installer for $25-50 (Hawaii price, maybe less on the mainland). The installer has removed these because the pinhole leaks, under the normal 80-120 pounds of pressure inside a residential water system, are spraying water all over the inside of the panel. Pull the glass off the panel, find and fix the leaks with drops of solder, then reinstall the glass. You now have a water heater panel for $50 that costs $900 or so new.

This panel will last a long time in your system, because system water pressure from the recirculating pump is only around 5 psi, not the 80-120 psi the panel used to carry. If it develops another leak, pull the glass off again and fix that leak, then reinstall the glass. You can even operate the panel with small leaks and lose hardly any heat, by simply putting a reservoir tank in the circuit somewhere; this can be as simple as a 5-gallon bucket inside the greenhouse that you "top up" every other day or so to "make up" the water that leaks out. Slightly messy, but gets as much heat into your aquaponic water as those $1,000 panels do. Of course, if you want to spend money on new panels, and have it, more power to you.


(Below) A Grundfos 3-speed circulating pump such as we use for circulating water in our solar heating units and geothermal cooling units.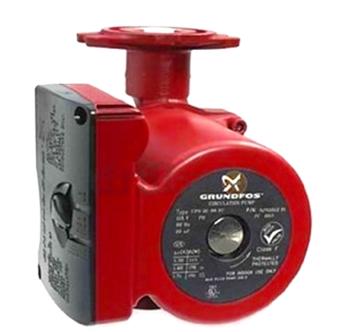 The same trick to save money can be used when purchasing Grundfos circulating pumps; the same solar installer will often have used, stainless steel Grundfos pumps that he cannot put in a "new" installation, and that are therefore useless to him. Offer him $30 for a used $450 stainless steel pump, and he'll jump at the chance to move some junk. These pumps last nearly forever, so you just saved $420! Remember to thank a cowboy the next time you enjoy a nice steak!

(Below) Our nuclear fusion furnace (top left). We're not greedy; we share this dependable source of heat and light with ALL our neighbors!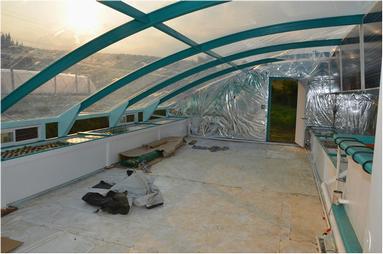 (Next newsletter in this series will cover backup heating technology, the next after that will cover energy-efficient cooling. Most important for those of you who are "lightly funded", a bit later in this series we will explain how to purchase and erect your own energy efficient greenhouse for pennies on the dollar, even if you never purchase any of our offerings! Thanks for listening!)

For smaller home backyard and apartment systems, please read on:

Purchase Construction Plans and Operating Info for 4 Different Sizes of Table Top Aquaponics Systems $49.95
Our TableTop System package includes easy-to-understand building instructions and operating information for 4 different sizes of small aquaponic systems based on our years of experience. Anyone can build a system out of plastic barrels or IBC totes, but operating one successfully without good
and
easily-understood information can be frustrating. You simply use the "Daily O
perations Checklist" in the manual and follow the step-by-step
instructions on your way to success. We also cover how to make aquaponics systems out of weird things like old refrigerators and door frames; this makes aquaponics
much more
economical to get started in, and fun too!
We spent hundreds of thousands of dollars, hundreds of hours, and built our first commercial aquaponics systems with FAR less information than this manual contains. We included all the information learned from that experience in this manual so you don't need to make any of the same mistakes we did.

Friendly September 2013 Tennessee Commercial Aquaponics and Greenhouse Training:

These Tennessee trainings are $1,495 per person for five days of the most comprehensive and profitable Commercial Aquaponics and energy efficient Solar Greenhouse technology on the planet. If you can't wait until September to learn about profitable commercial aquaponics, check out our Personal Intensive trainings in Hawaii.

(Below) Tim drinking water from one of Randy and Katie's aquaponics systems at a previous Tennessee training. "I've been drinking this for six years; it's the reason I absolutely know the food from these systems is safe and healthy" (Tim).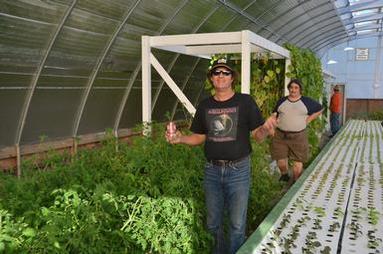 First 5-day training: September 23rd-27th (register here for first Tennessee training). Second 5-day training: September 30th-October 4th (register here for Tennessee second training).

(Click here for more information on Tennessee trainings).

These five-day trainings allow you to travel during the weekend so that you only need to take a week off your busy life to attend.

Both of these five-day trainings include our $999 DIY Commercial Aquaponics package, $998 DIY Farmer's Market Aquaponic Solar Greenhouse package, and new $295 DIY Commercial Tilapia Hatchery manual as course materials, plus our Plywood/Epoxy/ Tank manual, CAD construction drawings for all greenhouses and aquaponics systems, and much more!

(Below) Randy and Tim showing attendees at the Tennessee training how easy it is to use a DO (dissolved oxygen) meter to measure oxygen levels in the vegetable troughs.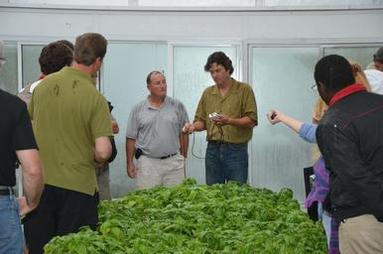 If you're located near Tennessee, Randy and Katie give regular free farm tours of their aquaponics systems and greenhouses to introduce the public to the benefits of aquaponics and energy-efficient greenhouse growing. Call Randy and Katie at 256-679-9488 or email Randy to find out when the next farm tour is scheduled.
Our Affiliate Program:

For those of you who aren't yet aware of our Affiliate programs, here's the deal: we're the ONLY aquaponics professionals who teach our students how to teach aquaponics, AND let them use our manuals (under license) to teach others with. In fact, there are three Micro System trainings being given by our affiliates right now (see sidebar). You'll see that we also encourage and work with "Commercial" level affiliates such as Randy and Katy Campbell (with whom we're offering the September Tennessee courses) to teach our Commercial Aquaponics and Solar Greenhouse Trainings. No other aquaponics teachers offer this, but you can partner with us to do so if you wish!
More details of the Aquaponics Technology course here.
More details of the Aquaponic Solar Greenhouse course here.
More details of the Commercial Aquaponics course here.
(Below) Randy and Katie's Chinese-style Aquaponic Solar Greenhouse in Tennessee in the February snow, 2013. 70 degrees inside and you had to take your coat off when working with the vegetables!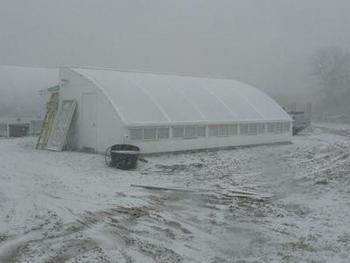 The Friendly Aquaponics Way Video!
.......................................................
Back Issues Of Newsletters Now Available, Click Here!
.............................................
Trough Liner Distributors:
West Coast USA
East Coast USA

Click here for Trout fry and fingerlings directly from the hatchery to you!
Spanish Language Micro System package now available!

Free Farm Tours
..............................................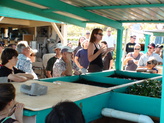 Aquaponics tour at the Friendly farm!
We hold a free workshop on our farm the FIRST Saturday of every month at 10:00, focused on growing food with aquaponics and permaculture.
Click here
for information. See you there!
If you are a school, a non-profit organization, an organization working with the poor, Native Hawaiians, or ex-inmates, or if you are a church, we will hold a free farm tour for you anytime. You DO need to email us first to schedule, or we might be out on errands!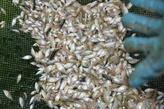 Thousands of inch-long "fifty-cent" baby tilapia from our "backyard" hatchery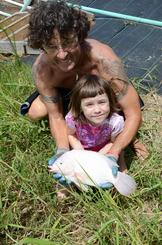 What they turn into about a year later: a beautiful 2-pound white tilapia grown in the fish tanks of our aquaponics systems
SPECIAL OFFER:

Sign yourself up for the FIRST
Or sign yourself up for the SECOND

TENNESSEE September 2013 Commercial Aquaponics and Solar Greenhouse Trainings
NOW, and receive a free Micro System DIY package so you can begin studying aquaponics, as soon as you register! ($99.95 value)
Micro System Classes!
Join Ben and Alicia Godfrey at Sand Creek Farm in Cameron, Texas for a Micro System training! Call Ben or Alicia directly at 254-697-2927
, or
email them to sign up for this course
. You can
visit their website here
to see a list of all the other cool classes they offer!
Join
David Lindemann in Melbourne, Florida, in one of his Micro System classes:
Call David directly at 321-604-6684
, or
email him to sign up for this course
. You can
visit David's website here
for details of the class and to see all the other cool things he's doing!
Join
Kevin Crawford in Longmont, Colorado, in one of his Micro System classes:
Call Kevin directly at

720-363-5069
, or
email him to sign up for this course
.
These
Texas
,
Florida, and Colorado
one-day
live
trainings use our $100 Micro System DIY manual as coursebook, and are a real deal!
The story of Bird and Boob, Part 2:

Bird lived on his perch most of the time now, but if we got cold rainy weather, I'd transfer him to a more protected perch inside the boat shop. He grew and grew and grew, and pretty soon he was taking half of a 12-inch long mackerel in one swallow.

I got tired of hacking frozen mackerel in half and waiting for it to thaw out, so one day I simply thawed a whole fish, then gave it to Bird. I waved it in front of him first, and he got pretty excited, so I thought it was worth a try.

Although he only had about a 4-foot wingspan now (he'd be 6 feet when fully grown!) he was sure he could handle that whole fish! I handed it to him, head first, and he got it going down the right way.

This is what Bird looked like when I first got him.

Only it didn't go all the way down: about three inches of fish tail was still hanging out of Bird's mouth. Didn't seem to bother him a bit; I checked, and he was still breathing OK. I checked back on him in about an hour, and the fish had proceeded about two inches further down Bird's gullet.

On a wild impulse, I grabbed the remaining inch of tail and pulled, gently. Bird didn't like it, but the fish didn't get hung up on it's way back out. The first three or four inches of fish next to the tail looked normal, but the head was completely dissolved, and there were only bones for the first three or four inches after the head.
He was making a lot of noise by now, complaining about me taking his fish, so I gave it back to him, and didn't try that stunt again. I wasn't being mean, it's just that I have a lot of scientific curiosity about the way things work. My conclusion was: Bird was definitely designed for digesting fish efficiently.


Bird looked like this as a "teenager".

Bird got bigger and bigger as the months went by, and his ugly-looking down and feathers turned into adult plumage. He got long tailfeathers, and lost all the fluffy covering he came with. His head, which had been white, turned a light tan or brown. All his body feathers turned black, except for a patch of white chest feathers.
With a 6-foot wingspan, Bird was an impressive and slightly imposing fellow. People would visit the shop, and Bird would move on the perch, unfolding his wings, and sometimes telling me he was hungry. Sometimes they'd let out a little shriek, (especially the women), because he'd just looked like a piece of the background under the big shady tree the house and his perch were under.

Bird as an adult.

One day, I heard a squawk from Bird, and looking over, saw him take off from his perch and fly about 30 feet away, landing on a big log on the beach without too much fuss. He folded his wings and sat there with this kind of "What the heck was that?" look.

I went over and got him; offered him a wrist (inside a leather welding glove, because he also had some serious claws by now!), and he got on for the ride back to the perch. He did this just a few times more, then one day I saw him take off headed up instead of down, and watched while he went out over the lagoon.
I wondered if I'd ever see him again, but of course, he was still a teenager at heart. His wings weren't very strong, and he hadn't developed endurance yet. He was back on the perch in about five minutes; "I saw the big world, Dad, now what's for dinner?".

As time passed, he'd be away for longer and longer, until one day I realized he'd been away for a week.

Another week went by, and he showed up on his perch, squawking just like he'd done when he was a kid and was hungry; so I went and got him a mackerel, and thawed it in some hot water. He wolfed it down, and next morning was gone.

I never saw Bird again. I should say that more precisely: I never saw Bird up close again, and I'm not certain whether or not I saw Bird again, because I saw lots of frigate birds, soaring and gliding on the air currents over the island. He could have been there.
Aloha, Tim....