Aloha Friend,
We were worn out at the end of each 12-hour training day during the seven days we spent giving the Aquaponics Technology, Solar Greenhouse, and Commercial Aquaponics trainings, and doing our normal farm chores at our farm in Honokaa, and we couldn't even turn on a computer at night. So here's Part 2 of aquaponics "Nugget" #95 a bit later than promised, with a common-sense explanation of solids settling tanks, net tanks, degas tanks, and when it is appropriate (to your wallet) to use them.
We got such
a positive response to the September 6-day aquaponics and solar greenhouse training in Tennessee, we've already scheduled the next Tennessee training for January 20th to the 26th in 2013, at Randy and Katie Campbell's "Today's Green Acres", in Elora, Tennessee.
The hands-on parts of the course was everyone's hands-down favorite, so we added a whole day to the January course to include hands-on construction of small aquaponics systems by all the attendees. Here's the day by day description of the course:

1. The four days of the Aquaponics Technology training is everything we know about the techniques and methods of growing with aquaponics. Each day has hands-on segments. In addition, you will spend all of Day Four building several 12-square-foot TableTop Systems from scratch (under our expert eyes, of course). More details of the Aquaponics Technology course here.
2. You can take one of these 12-square-foot TableTop systems home, assemble it there, and begin growing with aquaponics immediately, even in the middle of winter! The cost of this kit is only $450; much smaller "kits" from others start at $1,295 and go up from there, not including shipping. This is a complete kit, with fish tank, water and air pumps, airstones and airstone tubing, growing troughs, prepainted rafts, pots, potting mixture, seeds, bacterial inoculant, and mini water test kit; all you provide is the water and the seeds! You have to pay for your kit when you register, or we cannot guarantee having enough available!

3. The two-day Aquaponic Solar Greenhouse course is everything we know about energy-efficient greenhouses, including information and complete CAD plans showing how to build a Chinese-style aquaponic solar greenhouse; along how to convert existing greenhouses to be as energy-efficient as possible. We even show you how to purchase and erect a good used greenhouse for ten cents on the dollar! More details of the Aquaponic Solar Greenhouse course here.

4. The one-day Commercial Aquaponics Training is everything we know about the various ways of making money with aquaponics, from CSA's to Costco, from wholesale to retail, from selling simple produce to producing value-added products, including Food Safety Certification and Organic Certification. More details of the Commercial Aquaponics course here.


To introduce this expanded training, we're making a "super-saver" offer of $1,000 off the regular cost of the Tennessee Training (this is only $1,495 for all 7 days instead of $2,495). Watch this three minute video and you will be able to sign up at the super-saver rate.
Click Here To Find Out More About The January 2013 Tennessee Training, And Get A $1,000 Discount!
For smaller home backyard and apartment systems, please read on:


Purchase Construction Plans and Operating Info for 4 Different Sizes of Table Top Aquaponics Systems $49.95
Our TableTop System package includes new and easy-to-understand building instructions and complete operating information for 4 different sizes of small aquaponic systems based on our years of experience operating a commercial aquaponics farm. Anyone can build a system out of plastic barrels or IBC totes, but operating one successfully without good
and
easily-understood information can be frustrating. You simply use the "Daily O
perations Checklist" in the manual and follow the step-by-step
instructions on your way to success. We also cover how to make aquaponics systems out of weird things like old refrigerators and door frames; this makes aquaponics
much more
economical to get started in!
We spent hundreds of thousands of dollars, hundreds of hours, and built our first commercial aquaponics systems with FAR less information than this manual contains. We included all the information learned from that experience in this manual so you don't need to make any of the same mistakes we did.

Aquaponics Nugget #96: Filter Nonsense And Gritty Fish Poops: Solids Settling Tanks, Net Tanks, Degas Tanks; Do You REALLY Need Them? (Part 2)

As we said last newsletter, we'll now explain the simple and easily understandable situation in which using solids settling tanks, net tanks, and degas tanks makes sense. Although a lot of people take these tanks as gospel, and don't ever try anything else, read on to see what they're missing, if you don't want to miss it as well:

High Density (HD) Versus Low Density (LD) Aquaponics Systems

Low Density Systems (LD) We developed our LD systems after receiving many requests for an economical, viable, off-grid aquaponics system. The goal of this system was to only use one-fifth of the electricity and fish food that our original UVI-style systems did, but have the same vegetable production. Our first LD system was our Family System.

Our original systems designed after the University of the Virgin Islands (UVI) model had solids settling tanks (UVI calls these clarifiers), fine solids capture tanks (UVI calls these net tanks), and degas tanks, and we ran them with 1-1/2 to 2 pounds of fish in the system per square foot of raft area. Because of this high density of fish, we now call them HD systems.

The design criteria of the UVI systems was based on growing as much fish as possible, while not being overly concerned with the cost of raising those fish. It's understandable how this can occur in a university environment where they pay the bills, and the program never has to stand on its own feet financially.

What we discovered, after a year of operation in a commercial environment where we had to pay all our own bills, is that the fish portion of the operation loses money. Our fish cost between $4.00-4.50 per pound to raise, and we sell them for between $2.00 to $2.50 per pound wholesale. This realization came at about the same time we developed our LD systems, whose original design goal was simply to make a lot of vegetables and not require a large and expensive off-grid alternate energy system to power them.

Our LD systems run on about one-fifth the fish the UVI systems use (around 0.3 pounds per square foot of raft area), but have no clarifiers, net tanks, degas tanks, nor sump tanks. Needless to say, they are not only a lot less expensive to operate, using only one-fifth the fish food and electricity to aerate the fish, but they also are much less expensive to build! These LD systems are now organically certified (and certifiable) by Organic Certifiers of California.

High Density Systems (HD) These systems have solids settling tanks, net tanks, and degas tanks; these tanks are all necessary in order to get rid of the excess fish poop that 1-1/2 to 2 pounds of fish per square foot or raft area will generate. This is the way aquaponics was taught to us by UVI: their system was developed by aquaculturists trying to grow as many fish as possible while keeping the water quality high at the same time.

It seemed like such an "of course", that nobody questioned it: of course you would want to grow as many fish as possible. We didn't question it either until we lost $2 per pound on the 6,000 pounds of fish we raised (and kept track of) that first year.

This is in contrast to the more common philosophy many aquaponicists support of trying to grow as many fish as possible. We think they are encouraged to do this because they are still operating on investment capital rather than income, because they haven't analyzed their financial data or gone bankrupt yet, or because someone else pays their bills for labor, electricity, fish food, and the cost to build and maintain their facilities out of facility income.

THERE'S ONE GOOD REASON TO BUILD AND USE AN HD SYSTEM: Please don't think we are dissing these systems, we're not. There is one good reason to build and use an HD system, and that's if a number of economic factors line up exactly right for you in your location:

If you get good prices for your fish, and have cheap electricity, and have very cheap fish food and labor, (and have run the numbers on all this to make sure), then the most productive and profitable system is an HD system just like our original UVI-type systems, which will grow more fish in that economical climate. They have more tanks, more plumbing, and larger blowers, but they may pay for their increased cost very quickly with the increased fish production (if you run your numbers carefully).

But if you didn't run your numbers carefully, or were simply didn't run them at all because you were seduced by the siren call of: "grow lots of fish", then please don't complain to us when you lose your shirt trying to grow lots of fish, whether it's in an aquaponic system or an aquaculture system. Here's the bottom line:

If you add your costs for raising fish (fish food, electricity, and labor) and find that they are more than the wholesale price you get for your fish, the most productive and profitable aquaponic system is an LD system (because you are losing money on the fish!). These LD systems are now organically certified (and certifiable) by Organic Certifiers of California.

If you add your costs for raising fish (fish food, electricity, and labor) and find that they are significantly less than the wholesale price you get for your fish, the most productive and profitable aquaponic system is an HD system (because you are making money on the fish!). HD systems are organically certified (and certifiable) by both Organic Certifiers of California AND Oregon Tilth.

A
By the way: we supply designs with complete CAD drawings, materials and equipment lists, for both types of systems: both HD and LD, so that you can decide which is best for you (hopefully after running your numbers!).

Next week, we'll cover "The Farmer's Shadow", and explain why it is so important.

The photo below is our Solar Greenhouse. It's cool when it's hot, and warm when it's cold (hope that makes sense to you, it's the best greenhouse we've ever seen!).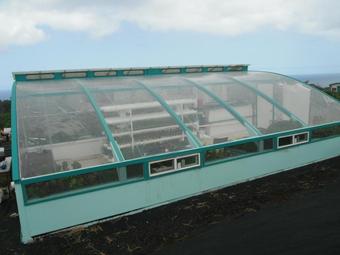 Friendly Aquaponic's FIRST Aquaponic Solar Greenhouse in full bloom, Honoka'a, Hawaii, March 2012, (on a grey rainy day) showing PV panels and growing plants.
Next week: Something else interesting and valuable to know about aquaponics. Thanks for listening!
Click Here To See Our New Aquaponics Video!
.......................................................
Back Issues Of Newsletters Now Available, Click Here!
.............................................


Purchase Trough Liner Directly From Manufacturer!

Free Farm Tours

..............................................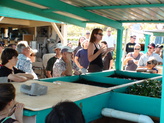 Aquaponics tour at the Friendly farm!
We hold a free workshop on our farm the FIRST Saturday of every month, focused on growing food with aquaponics and permaculture.
Click here
for information. See you there!
If you are a school, a non-profit organization, an organization working with the poor, Native Hawaiians, or ex-inmates, or if you are a church, we will hold a free farm tour for you anytime. You DO need to email us first to schedule, or we might be out on errands!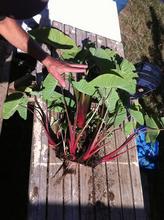 3-1/2 pound kalo (taro root) grown in a 2" net pot (little bump at bottom)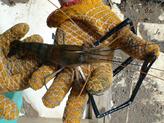 4-month old prawn (macrobrachium rosenbergii) grown in hydroponics troughs of our aquaponics systems
Special Offers!

Sign up for our TENNESSEE January 20th-26th Commercial
Aquaponics and Solar Greenhouse Training
and receive a free Micro System DIY package so you can begin studying aquaponics! ($99.95 value)
More Information on Aquaponic Solar Greenhouse Trainings
"Yellowfin In The Lagoon"

Another day, another boat: I was anchored with my 56-foot commercial fishing trimaran "Tropic Bird" in a lagoon in the Marshall Islands, I think it was on Aur atoll up north of Majuro in 1985. I'd delivered some passengers, some supplies, and the visiting doctor to the island, and was taking a break out on the boat towards sunset. The doctor was staying the night on shore, I was going to pick him back up in the morning, so I was all alone and nothing to do.

As it was late in the day and was already getting a little less light, I decided to put mask and fins on and see if I could get some dinner. I slipped off the back of Tropic Bird into the 120-foot plus deep lagoon water.

The water was really clear, so I could vaguely see the bottom, but soon realized that I wasn't near any coral heads or anything that promised fish. So I swam around a bit more, getting some exercise, I thought.

I saw some specks in the distance, down towards the bottom, and swam towards them. In good shape for diving then, I could free-dive easily down to 70 feet by swimming down and back up (no rocks needed for the descent), so I swam down after the specks.

The scale of things in the lagoon had thrown off my internal measurement equipment, so I kept going, getting down about 40 feet deep before I got close enough to them to make out what they were.

As I got closer, I realized they were tuna, but having never seen a tuna while diving, didn't recognize them clearly as to species. Without having a clear idea what size they were, I put on a burst of speed, and got close enough to one to fire my 2-band, 50-inch long spear directly at it.

The spear was a 3/8-inch stainless steel shaft with a pivoting barbed point on the end, and I shot the lead tuna in the school right behind the eyes, the spear going through its head, and the husky eighth-inch nylon line connecting it firmly back to the speargun, and to me.

That was when I realized I had just shot a 60-pound yellowfin tuna 60 feet underwater while snorkeling, because it started dragging me down!

I spent a second or two thinking "this isn't supposed to happen this way", then I started pulling in the other direction for real. I was reaching the end of my air quickly, and the surface was still 60 feet up, but I was damned if I was going to let go of my speargun, the only one I had!

With one last terrific wrench, the nylon line broke, and I sped for the surface with my speargun. I saw the tuna disappearing unconcernedly into the depths with my $50 spear still stuck through its head (Hey! this was 1986, and $50 was still a lot of money then!). I reached the surface without imploding or sucking water, and was never so glad to breathe!

And I think I found a can of something-or-other to cook with my dinner of rice that night. And I limited myself to fishing for yellowfin with fishing lines after that!

(Something fun next week!)