Aquaponics Nugget #64:
A Primer On Sustainable Energy-Efficient Greenhouses, Part 5
This column is an ongoing series on how to understand, build, and operate energy-efficient greenhouses. If you missed any of the previous newsletters in this series, you can click here:
"Back Issues Of Newsletters"
to read them first if you wish.
If you don't want to build a Chinese-style solar greenhouse from scratch as we're doing, there are other options open that still incorporate most of the benefits of the Aquaponic Solar Greenhouse. We began covering one of them, the " buy a used greenhouse and re-assemble it on your farm" option,
in last week's newsletter
, and will do more with that subject today.
We'll start this week where you finished last week: you should have a U-Haul truck or trailer full of neatly labeled bundles of metal beams, columns, tie straps, braces, and buckets and cans of bolts and screws; and also a camera full of pictures and a sketch book full of sketches of the used greenhouse you purchased for ten cents on the dollar, disassembled and packed up into the U-Haul with your crew, and drove home with. Now, we'll explain the steps you will take as you reassemble the greenhouse at your site to make it more energy-efficient, durable, and economical to operate.
First, think about how you will grow in the greenhouse. If the way you grow has a lot of thermal mass built in, as deep water raft aquaponics systems do, you already have a built-in advantage for heating and cooling, and do not have to install extra thermal mass in the greenhouse (at extra cost). This is one benefit of the deep water raft culture system for greenhouse use: you do not have to install a whole separate system just to get thermal mass in your greenhouse. Another benefit is that you can heat or cool the aquaponics system water directly to keep the greenhouse warm or cool; this is MUCH more efficient than trying to heat or cool the greenhouse air directly.
Other types of aquaponic systems have
less
thermal mass in the same area and/or volume than deep water raft culture systems do, and using them may require you to install extra thermal mass such as an insulated rock bed under the floor, or an insulated underground masonry water tank, AND extra insulation to keep the temperature in the greenhouse stable. In addition, there are other problems involving over-heating and over-cooling to overcome if you wish to use these kinds of aquaponic systems in a greenhouse in an inclement weather situation.
One type of these, the flood-and-drain media-based system, doesn't work well as a thermal mass because it exposes the media and the plant roots to the greenhouse air on every single flood-and-drain cycle. This cools the media and plants down when you want to keep them warm, and warms them up when you want to keep them cool. However, these flood-and-drain media-based systems are not as difficult to heat and cool as NFT (Nutrient Film Technology) systems are, with their extremely shallow water depth in narrow channels. A trough in an NFT system that experiences decreased water flow because of a clog or pump or valve failure can heat up or cool down catastrophically in an amazingly short time, killing plants and wasting your time and money.
Both of these types of systems usually have FAR less total water volume in them than deep water raft systems do, and function poorly as thermal masses, requiring you to make a separate installation of a thermal mass to keep your greenhouse cool in summer and warm in winter, and possibly extra insulation too. Why would you want to use them, if you are going to have to go to extra expense to keep your greenhouse temperature stable? Well, if you were CERTAIN they had a much higher production level per square foot than the deep water raft systems do, you would have a good reason to go to the extra expense. However, we don't know of a single successful commercial aquaponics farm that is based on either of these technologies; that tells you something.
So, let's assume we're just going to put deep water raft troughs in our greenhouse. We mentioned earlier that it was much more efficient to heat and cool the water than trying to heat or cool the gtreenhouse air, so that's what we're going to do. However, once we've heated or cooled the water, we will need to insulate it to keep its temperature stable. This is much easier and less expensive than insulating the entire floor of the greenhouse: simply install 2" cheap white styrofoam under and on the sides of your raft troughs when constructing them. When the 2" styrofoam rafts that hold the plant pots are on top of the trough water, your trough water is now insulated on all sides against heat loss.
Do the same for your fish tank: install 2" insulation underneath it, on the sides, and on top of it. You can make a lift-up panel in the top styrofoam to feed them through; they won't mind the dark a bit. If you are in a location where the ground freezes in winter, you need to insulate your below-ground pipes. You can get round tube-type insulation for pipes as large as 1", but TBMK they don't make it for the 3" PVC that we use in these systems between troughs, so consider lining the trenches you put these larger pipes in with styrofoam before laying them down.
In winter, you would get the greenhouse "closed-in" as quickly as possible so it was WARM inside; THEN install insulation, build the troughs, install fish tanks and plumbing. If it was summertime, you could install the structural members of the greenhouse and cover them with a temporary white tarp that left a 4-foot air gap near the ground for ventilation. Then you could install the insulation, troughs, fish tanks, plumbing and all in the shade before doing the greenhouse skin, vents, and ends, (if you're careful).
Unless your greenhouse already came with glazing that was in very good shape, that you were easily able to remove and reinstall, I would seriously consider recovering it with ETFE film. The long life of this film, and the fact that it transmits more light than glass does, made up my mind for me.
Now that you have a well-insulated aquaponic installation inside a nice cheap used greenhouse with good opening vents, roll-up sides, and perhaps a water wall for summer, you are ready to heat it in the winter by heating the aquaponic water; and cool it in the summer by cooling the aquaponic water. How do you do this? Next week! (But I can guarantee it's NOT by burning hundreds of gallons of propane in the winter and spending thousands of dollars on electric air-conditioning in the summertime!).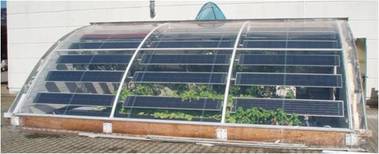 Franz Schreier's FIRST Aquaponic Solar Greenhouse in full bloom, Heppenheim, Germany, 2011, showing PV panels and growing plants!
(Next week: More on energy-efficient greenhouse technology, and how you can build your own! Thanks for listening!).