Aloha Friend,


After an hugely positive response to the 6-day training we held in Tennessee, we've already scheduled the next one on January 20th to the 26th in 2013, at Randy and Katie Campbell's "Ellibell Farm", and added a whole day for $1,000 less than before!

There are a lot of aquaponics "teachers" teaching "organic certification", and "greenhouses" now. This is flattering, since we first developed these improvements in commercial aquaponics, and we taught many of these people.

However, if you want to get it directly from the source, you can get it at our trainings. We allow you to video our trainings (they don't), and we don't make you sign a contract saying you won't teach aquaponics. We want you to teach others, and offer an affiliate program to help you do so.

We got such a great response to the hands-on parts of the Tennessee course that we added a whole hands-on day to the upcoming January course in Tennessee to include construction of small aquaponics systems by all the attendees.
As a result, you get 7 days of intensive instruction in how to build and operate successful commercial aquaponics systems that are integrated with energy-efficient greenhouses.



The best part is: You can purchase one of these small aquaponics system kits for only $450, and go home with a complete 12-square foot aquaponics system that you learned how to build during the course!

Maybe some of these others will follow our lead and offer similar kits and hands-on days at their trainings, but we doubt it. This is because the "kits" they sell cost much more; they're not going to reduce their markup to be competitive with what things actually cost in the real world. Here are some examples: Murray Hallam's 7.23 square foot system costs $970; The Aquaponic Source's 8.5 square foot system costs $1,295; and Aquaponics USA's 7.5 square foot system costs $1,094. None of these prices include shipping, which is not cheap for these systems because they include heavy media for the systems (basically rocks; I mean, who ships rocks via UPS?).

Our 12-square foot kit system costs $450, and you will assemble one during the course and pick up your prepackaged kit to take home with you. You can also ship them if you prefer, for they are deepwater raft systems you fill with water at home: they are light and cheap to ship because they don't have any rocks in them.

Why wait to start growing aquaponically? Take home an affordable kit aquaponics system from the course and begin growing and gaining experience as soon as you return home. In addition, our modular greenhouse technology taught in this course allows you to build your greenhouse in modular sections in an old barn or building during the wintertime then assemble it on-site as soon as the ground unfreezes in the Spring.

In fact: we got a message from one of our participants in the September course that he already had the two end walls of his Friendly Aquaponic Greenhouse finished! This is only two weeks after the course wrapped up!

To introduce our expanded training, we've decided to make a "super-saver" offer of $1,000 off the regular cost of our next Tennessee Training (this is only $1,495 for all 7 days instead of $2,495).

Watch the three minute video on this webpage, then click on the "Sign Me Up For Savings" link below it, and you will be able to sign up at the super-saver rate of $1,000 off. Feel free to pass this video link along, or post it to your social media sites!

Here's the description for the new, comprehensive, 7-day "Commercial Aquaponics and Solar Greenhouse Training":

1. We begin with the four-day Aquaponics Technology training: it's everything we know about the techniques and methods of growing with aquaponics. Each day has hands-on segments. In addition, all of Day Four you build several 12-square-foot TableTop Systems from scratch (under our expert eyes, of course). You get six sheets of CAD drawings showing eight differently sized aquaponics systems, from 64 up to 4,096 square feet in size, along with complete materials lists and construction manual. Includes ongoing email support at no charge.

2. You can take one of these 12-square-foot TableTop systems home as a kit, assemble it there, and begin growing with aquaponics immediately, even in the middle of winter, and even if the only growing space you have is inside! The cost of the kit is only $450; much smaller "kits" from others start at $1,295 and go up from there, not including shipping.

This is a complete kit, with fish tank, water and air pumps, airstones and airstone tubing, growing troughs, prepainted rafts, pots, potting mixture, seeds, bacterial inoculant, and mini water test kit; all you provide is the water and the seeds! These systems can be used either outdoors, or indoors with simple and inexpensive lighting arrangements (which we will describe and demonstrate during the training). They can also be moved from indoors to outdoors easily during good weather. When you sign up for the course, one of your options will be "Add 12 Square Foot Aquaponics Kit". If you want a kit, you need to purchase it when you register so we know how many to have ready for the class.

3. The two-day Aquaponic Solar Greenhouse course is everything we know about energy-efficient greenhouses, and includes information and complete CAD plans showing how to build a Chinese-style aquaponic solar greenhouse; along with more information on how to convert existing greenhouses to be as energy-efficient as possible. We even show you how to locate, purchase and erect a good used greenhouse for ten cents on the dollar!

4. The one-day Commercial Aquaponics Training is everything we know about the various ways of making money with aquaponics, from CSA's to Costco, from wholesale to retail, from selling simple produce to producing value-added products, including Food Safety Certification and Organic Certification.

You can now sign up for this 7-day comprehensive training at only $1,495; a special offer that is ONLY good for the next two weeks, until October 18th , 2013. Watch the video, then click on the "Sign Me Up For Savings" link below it, and you will be able to sign up at the super-saver rate. Please pass along the video!

Click Here To Find Out More About The January 2013 Tennessee Training, And Get A $1,000 Discount!
If you want to earn a living from aquaponics (or just learn the best aquaponics technology available),

we also have one training scheduled in 2012 in Hawaii:
We hold our 3-day Aquaponics Technology Training, plus the 2-day Solar Greenhouse Training, plus the 1-day Commercial Aquaponics Training, at our farm in Honokaa, Hawaii, starting on October 21st, and ending on October 27th. Attend one or more of these trainings to suit your needs. You can sign up now on our webpage here or using the "Special Offer" buttons in the right sidebar of this email. You can also call us directly at 808-775-7745, or email Tim for information.


For smaller home backyard and apartment systems, please read on:

Purchase Construction Plans and Operating Info for 4 Different Sizes of Table Top Aquaponics Systems $49.95
Our TableTop System package includes new and easy-to-understand building instructions and complete operating information for 4 different sizes of small aquaponic systems based on our years of experience operating a commercial aquaponics farm. Anyone can build a system out of plastic barrels or IBC totes, but operating one successfully without good
and
easily-understood information can be frustrating. You simply use the "Daily O
perations Checklist" in the manual and follow the step-by-step
instructions on your way to success. We also cover how to make aquaponics systems out of weird things like old refrigerators and door frames; this makes aquaponics
much more
economical to get started in!
We spent hundreds of thousands of dollars, hundreds of hours, and built our first commercial aquaponics systems with FAR less information than this manual contains. We included all the information learned from that experience in this manual so you don't need to make any of the same mistakes we did.

We include the following links to our back newsletters, for those of you who missed them, or signed up recently. They are also posted on our "Back Newsletters" webpage.
Friendly Aquaponics Newsletter #78; "Pump Intake Filters, Part 2"
Friendly Aquaponics Newsletter #79; "Solids Settling Tanks, Net Tanks, and Degas Tanks"
Friendly Aquaponics Newsletter #80; "How To Make Water Pump Intake Filters"

Friendly Aquaponics Newsletter #81; "Economical Trough End Fittings"

Friendly Aquaponics Newsletter #82; "Biosecurity Update: Snails, More Snails, And Catfish, Part 1"

Friendly Aquaponics Newsletter #83; "Biosecurity Update: Snails, More Snails, And Catfish, Part 2"

Friendly Aquaponics Newsletter #84; "What If You Don't Have A Hatchery Nearby?"

Friendly Aquaponics Newsletter #85; "Concrete Tanks And Troughs"
Friendly Aquaponics Newsletter #86; "Pumps That DON'T Pump"
Friendly Aquaponics Newsletter #87; "Poison Your Fish, Poison Your Vegetables, Poison Yourself"
Friendly Aquaponics Newsletter #88; "What To Do About Weeds"
Friendly Aquaponics Newsletter #89; "Prawns Revisited, Part 1"
Friendly Aquaponics Newsletter #90; "Prawns Revisited, Part 2"
Friendly Aquaponics Newsletter #91; "Poisonous IBC Totes Revisited"
Friendly Aquaponics Newsletter #92</strong> "Organic And Make-Our-Own Fish Food Revisited"
Back "Special" Newsletters:
Friendly Aquaponics Special Newsletter #8; "Friendly Aquaponics Milestones, July 2012"
Friendly Aquaponics Special Newsletter #9</strong> "Complete DIY Solar Greenhouse Package Available!"
The photo below is our Solar Greenhouse. It's cool when it's hot, and warm when it's cold (hope that makes sense to you, it's the best greenhouse we've ever seen!)
.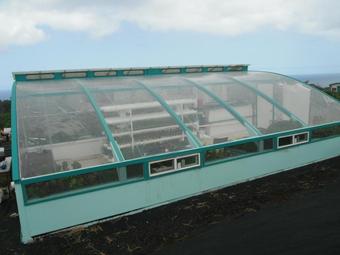 Friendly Aquaponic's FIRST Aquaponic Solar Greenhouse in full bloom, Honoka'a, Hawaii, March 2012, (on a grey rainy day) showing PV panels, and growing plants.
Next week: Something else interesting and valuable to know about aquaponics. Thanks for listening!
Click Here To See Our New Aquaponics Video!
.......................................................
Back Issues Of Newsletters Now Available, Click Here!
.............................................


Purchase Trough Liner Directly From Manufacturer!

Free Farm Tours

..............................................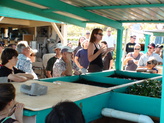 Aquaponics tour at the Friendly farm!
We hold a free workshop on our farm the FIRST Saturday of every month, focused on growing food with aquaponics and permaculture.
Click here
for information. See you there!
If you are a school, a non-profit organization, an organization working with the poor, Native Hawaiians, or ex-inmates, or if you are a church, we will hold a free farm tour for you anytime. You DO need to email us first to schedule, or we might be out on errands!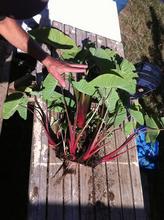 3-1/2 pound kalo (taro root) grown in a 2" net pot (little bump at bottom)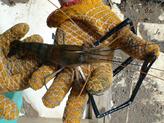 4-month old prawn (macrobrachium rosenbergii) grown in hydroponics troughs of our aquaponics systems
Special Offers!

Sign up for our TENNESSEE January 20-26th Commercial
Aquaponics And Solar Greenhouse Training with a $1,000 discount!
Sign up for our HAWAII October 25th-26th
Aquaponic Solar Greenhouse Training

or our


HAWAII October 21-23 Aquaponics Technology Training

,

or our


HAWAII October 27th Commercial Aquaponics Training

,
and receive a free Micro System DIY package so you can begin studying aquaponics! ($99.95 value)
More Information on Aquaponic Solar Greenhouse Trainings
"In The Farmily"

It was 1976, and I was anchored in my 37-foot SeaRunner cutter "Spice" in a bay on the North side of Nuku Hiva, in the Marquesas Islands, with my friends Chuck and Nancy, who were cruising on their dugout canoe "Tyone", named after Chuck's son.

At least I thought I was anchored in the bay with them: I had come in late at night; there were no anchor lights on any boats to be seen, in fact, there were no visible lights anywhere on shore in the bay either! I had inched my way in using my 30,000 candlepower searchlight and my depth sounder. I had anchored in 35 feet of water about a quarter mile from shore near one side of the bay (it was a big bay!).

I felt really comfortable on the boat: the night was gorgeous, with little pinpricks of fire all over the sky; a gentle breeze coming offshore (the sailor's favorite wind direction!), and I made myself a nice dinner from the ono I had caught earlier in the trip over from the South side of Nuku Hiva, and some rice with onions.

After some tea, some dreaming about tomorrow, I turned in. But first, I untied my dinghy and put it in the water, oars inside, tied to the stern of Spice, so it would be all ready for exploring first thing in the morning. My dinghy had a 30-foot long "painter" or piece of rope, attached to a strong eye in her bow (remember this: 30 feet).

When I woke up to the first light of day, I went up on deck and just about had a heart attack. The wind, which was still quite light, had switched during the night and now was blowing towards the shore; Spice had turned 180 degrees on her anchor and was hanging off it in the opposite direction. The dinghy, which was only 30 feet behind the boat, was bumping up and down on a huge ledge of coral heads that was only a foot underwater!

I'd picked what I thought was a safe spot when I anchored the night before; a quarter-mile seemed like a safe distance in a quiet, sheltered little tropical bay! Even now, we were still 300-400 yards off shore.

Spice, luckily, was still in 35 feet of water; because the coral heads coming up to the surface just behind us dropped off precipitously into 25-foot deep water, which got deeper right away.It was spooky to say the least.

When I got over my shock, I got out the binocs and "glassed the bay" for Tyone. I found her about a half mile away down the shore. Nancy and Chuck had made it in while it was still light, and had picked a better place to anchor and land. I saw their dinghy on the beach, and rowed in myself, then found them.

They'd made some friends of some local folks, and everyone was busy making banana fritters, which they offered to me. Delicious!! The Marquesans have their priorities straight: they spend a lot of time gathering, preparing, and eating food, then sit around talking about important things afterwards, and laughing a lot.

We hung out with our new friends all day, then when it was getting close to dark, begged off to row back home. But we'd made a date to go chicken-hunting the next morning at 4:30. They don't have feed and grain stores in the Marquesas, so as a result most of the chickens live in the wild (since people don't feed them).

The chickens all hang out in the jungle, and you can't even catch a glimpse of one during the daytime. But at night, they're essentially blind, and after sleeping all night, they're pretty stupid and slow, too. Chuck had an over and under .410 shotgun with a .22 on top; this was the chicken-hunting firearm.

All I had was an ancient .30-06 with hollow point ammo for hunting large game, and you DON'T want to hit a chicken with a 180-grain hollow-point bullet, it will land as chicken rain somewhere in the next county. We did use this to hunt wild boar there, though; that's another story!

We went ashore as planned, with flashlights, and moving quietly found a tree with some roosting chickens. I pointed the light, clicked it on, saw five chickens on a branch about 20 feet up in the tree, and was immediately deafened when Chuck let off the .410 about two feet away from my head. But he got a chicken!

Unfortunately, only one chicken. All the other chickens on that branch, and in the vicinity (and maybe on the entire island, for we looked for another hour or so) had fled when they heard the gunshot, so we had to be satisfied with our single chicken, which we shared with our new Marquesan friends.

Luckily, I still had some of the ono from the day before, which I had started drying in the rigging to make ono "jerky"; for it hadn't yet gotten so dry it couldn't be fried up again with the onions and rice. We had another good meal.

Damn! This was living; just need to be a little more careful of the reefs!