Aquaponics Nugget #94: What Kind Of Aquaponics System And Operating Technology Will Make Me Money? (Part 1)
The answer is simple: a profitable one. We know our aquaponics technology, system construction methods, value-added processing, and marketing methods fall into this category.

The problem is, we're kind of lonely here: we seem to be the only ones who run a profitable system ourselves (we send our cash flow spreadsheet to anyone who asks for it), and whose students also have profitable systems (links here: Zac's Farm, and Shumin's Farm).
So, we're issuing a "Friendly" challenge, to all those who give "commercial aquaponics" trainings: show us the money! Publish the names of your profitable students, with their contact information, and at least the gross income their farm is currently making on aquaponic vegetable and fish production.

If you're doing your "due diligence" before taking an aquaponics course, call up your favorite aquaponics trainer and see if you can wiggle this information out of them. Bet you can't! (Because they're not profitable!).

I'm willing to be wrong about this; just publish the facts, and/or email me at training@friendlyaquaponics.com with your information about a profitable aquaponics farm that I am not aware of.

Today's case study for a farm where things went wrong:
Mr. B built an aquaponics farm. He sent a friend to one of our courses, but the "friend" never delivered our manual with the complete materials lists, nor the 6 sheets of CAD drawings with 8 different sizes of aquaponics systems in them, back to Mr. B. As a result, Mr. B had to reinvent the wheel by himself, with advice from another student of ours who took our course 3 years ago.

As a result, Mr. B's farm missed out on several crucial improvements we developed during the last three years. Because neither he nor his advisor followed recommendations in our manual, his farm ended up with trough liner that is carcinogenic, and which also "...contains a chemical toxic to aquatic organisms...". More about this in a moment. First, what did he miss out on?
1. We developed a trough plumbing system in which you can plumb up to 1,200 linear feet of 4-foot-wide trough into a single series, fed by a single 5-gallon per minute water pump that only uses 24 watts, and costs us $94/year for electricity in Hawaii. He has a 1,200-watt water pump for a system smaller than this, and at Hawaii rates, that's $4,730 a year for electricity.
2. He used the kind of trough end fittings we were using 5 years ago; since then we developed a better one that costs one-fifth as much for materials, and takes about a quarter of the labor to install. But this only cost him about $1,400 additional.
3. If he's not using the trough aeration scheme we developed three years ago, he's either spending too much on electricity for trough aeration, or is not putting enough air into his troughs for adequate plant growth. We couldn't tell from his photos how his system is set up.

4. The most important one, financially: He missed out on the plant sprouting and nursery technology we developed two years ago which puts 3.5 times as many plants into the troughs per square foot as "a well-known aquaponics consultant's systems", and 4 times as many as the UVI systems we learned on. This means his farm will have one-quarter of the production it could have had, in the same raft area.
What he did get is worse than what he missed out on: he used EPDM liner in his aquaponics troughs. We covered EPDM in our manuals since our first one; and recommend against using it. We have reports from students (who used it in spite of our advice) who had prolonged or difficult startups with this as a trough liner. But there's a worse problem: if you put it in your system it will never be organically certifiable.

I went looking for data on EPDM, and found several MSDS's on the material. An MSDS, for those of you who haven't encountered the term before, is a Material Safety Data Sheet. These tell you what the toxic chemicals are, and the risks of exposure is, to different materials. The problem is, they are written by the manufacturers of the materials rather than to a rigidly defined template, and what the manufacturers say about the exact same substance can vary highly from manufacturer to manufacturer.

For example, I had to go through three MSDS's for EPDM (which listed it as totally safe for everything), in order to find two more that didn't. One of these referred to EPDM as having caused "..skin cancer in laboratory animals after prolonged and repeated exposure..."; the other said "ATTENTION! Possible cancer hazard - may cause cancer based on animal data." and "Environment: The product contains a substance which is toxic to aquatic organisms and which may cause long-term adverse effects in the aquatic environment." Wow.
Two links here for these two MSDS's for EPDM inside the brackets: (http://www.gravitationalsystems.org/Ethylene_Propylene_Diene_Monomer_EPDM_Rubber.pdf), and (http://www.genflex.com/uploadedFiles/Data_Sheets/Material_Safety_Data_Sheets/GenFlex%20II%20EPDM%20Membrane1.21.2011.pdf).

You are what you poison your fish and plants with:

Anything that is described with the words "carcinogenic", or "hazard to aquatic life" is an automatic fail of any organic certification application. Now, of course, the certification agencies are all new at aquaponics, and if they miss this, you may get certified. The problem with this is that if they miss it and someone else catches it later, you lose your certification, and they may lose their ticket as a certifying agency.
Even if you are not concerned with organic certification, are you willing to raise your plants and fish in an environment that contains a cancer hazard, and that is toxic to aquatic animals? Would you eat them yourself?

If you want to know if a material Is approved for organic certification, all you have to do is read the OMRI publications for this at this link (https://www.omri.org/omri-lists). They have a "Products" list, and a "Generic Materials List". If the thing you want to use is not listed as "approved" on one of these lists, then you can't use it anywhere in your operation if you hope to get organically certified. If the thing is not listed, all you have to do is make a phone call to find out.
People often don't know that if you have ever operated your system with one of these "things", your organic certification agency can require you to go through a "transition" period of up to seven years, during which you have to operate organically, before you are allowed to sell or advertise organic produce. Most of the time, the transition period is from one to two years, but this can really bite you in the butt if you're not aware of it.
In other words, if Mr. B wants to get organically certified, having the EPDM in his system can prevent him from obtaining certification for a year to two years, and up to seven at the certification agency's discretion. Lots more on organic certification on our webpage covering this subject.
The photo below is our Solar Greenhouse. It's cool when it's hot, and warm when it's cold (hope that makes sense to you, it's the best greenhouse we've ever seen!)
.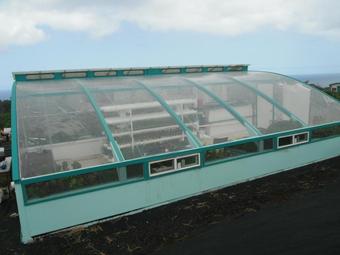 Friendly Aquaponic's FIRST Aquaponic Solar Greenhouse in full bloom, Honoka'a, Hawaii, March 2012, (on a grey rainy day) showing PV panels and growing plants.
Next week: Something else interesting and valuable to know about aquaponics. Thanks for listening!